WASILLA, Alaska – Airforms has obtained EASA STC approval for a procedure that provides repairs to worn Nose Gear Torque Links and Nose Gear Shock Struts, and replacement of their attaching parts with FAA PMA approved oversize components.
"Torque link joints can have a tendency to loosen over time as the torque link pins, bolt and bushings wear. This wear is also often found in the attachment lugs on the upper and lower strut barrel of the nose gear. Once this occurs, the nose gear is prone to shimmy, especially when operating the larger diameter nose wheel," said Steve Hunter, sales and marketing executive for Airforms, Inc.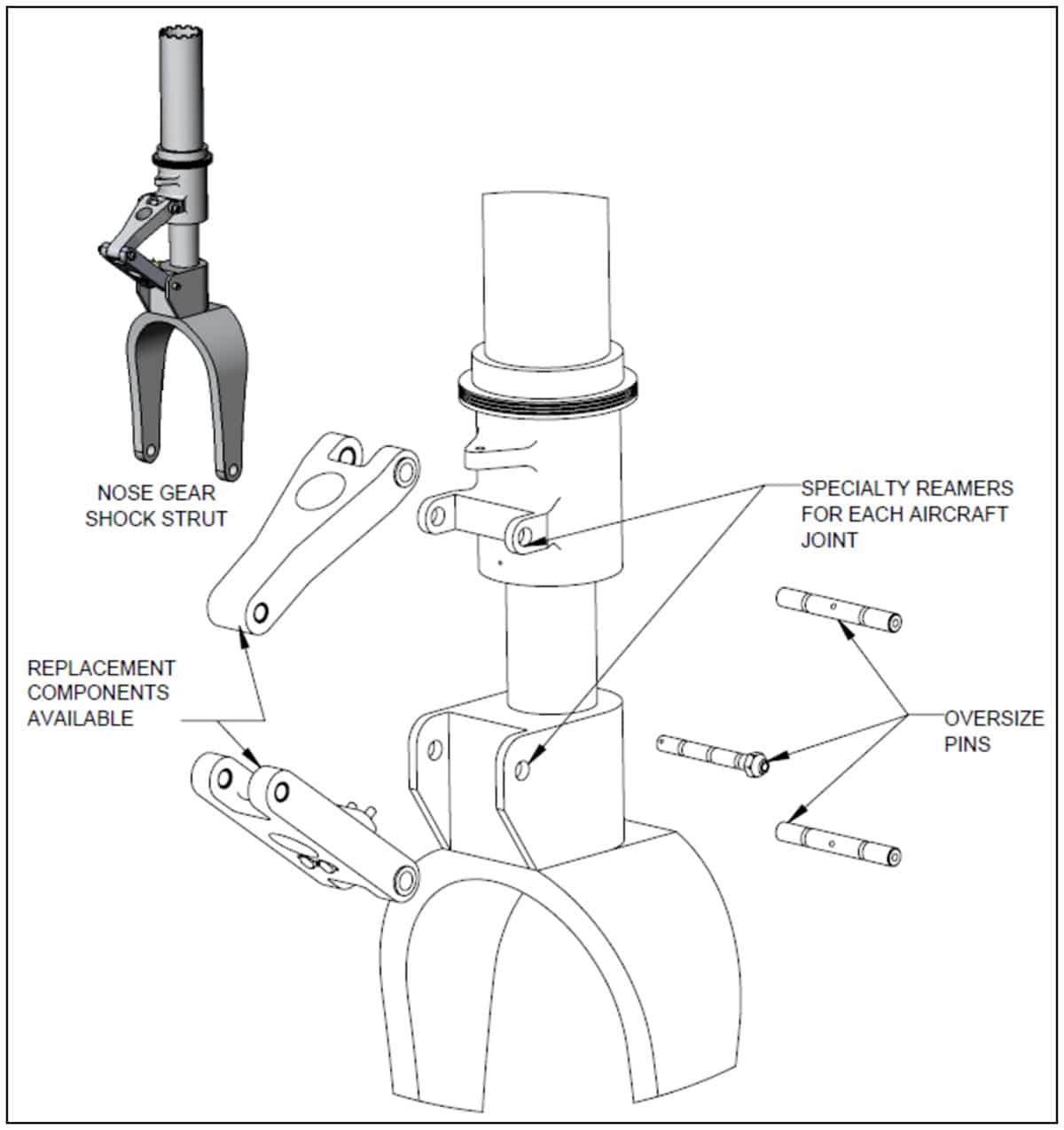 "The self-piloting oversized reamers we developed assist with proper re-sizing and alignment of the torque link bushings and the upper and lower attachment lugs on the nose gear strut barrel in one easy step, allowing for installation of the FAA PMA Approved oversized torque link pins and bolts," he explained. " The entire procedure is easily accomplished with the nose gear assembly still installed on the aircraft. We are helping many Caravan operators actually reach the 40,000 cycle life limit on the nose gear assemblies, and many operators and maintenance facilities that tried it out on one aircraft have come back to purchase everything they need to do multiple additional aircraft." 
This STC has previously been approved by the FAA (STC # SA02469AK), and is now approved for the European market.
Highlights of the STC include:
Substantial cost savings over the life of the aircraft;

Oversized FAA PMA'd pins and bolts available in .010, .020 and .030 oversizes;

Standard sized pins and bolts also available;

Precision machined pins and bolts are Cad plated for long life;

Tool kits available with piloted reamers for all three oversizes.
Airforms is a supplier of replacement engine baffles for a wide range of general aviation aircraft; products also include an expanding line of turboprop aircraft PMA parts, STCs, and hard to source parts. Airforms maintains an FAA approved manufacturing system for PMA parts.