WASILLA, Alaska — Airforms has received EASA approval for a Supplemental Type Certificate (STC) that allows the replacement of standard AN5 wheel bolts and hardware on Caravan main wheels with high strength Mil-Spec bolts and hardware.
"We have received numerous requests for assistance from Caravan operators that have experienced problems with wheel fretting caused by hardware elongating or, in extreme cases, shearing of the wheel bolts themselves. This has been particularly prevalent with aircraft operating at high weights with gross weight increase kits. The stronger Mil-Spec hardware greatly reduces the incidence of wheel damage for these operators," said Steve Hunter, Sales and Marketing Executive for Airforms.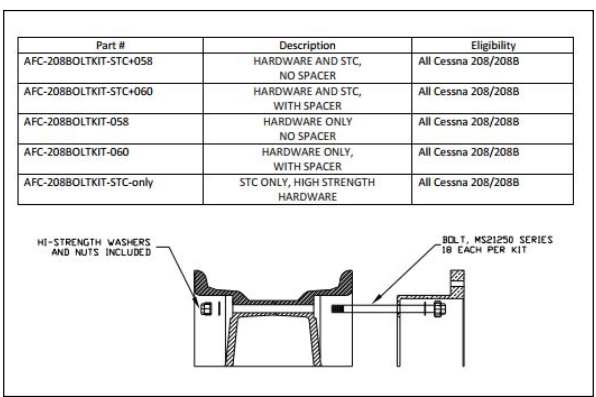 The STC, previously approved by the FAA, includes:
Bolts available in standard length (058), or longer length (060) for use with brake disc spacer;
Kits include high strength bolts, washers and nuts;
Eligible for all S/N aircraft, Cessna model 208 and 208B;
Available as a kit, or buy STC and hardware separately.
Airforms is a supplier of replacement engine baffles for a wide range of general aviation aircraft. Products also include a line of turboprop aircraft PMA parts and STCs.