Ron Pagano, a flight-test engineer for 34 years with the Hamilton Standard Division of the United Aircraft Corporation (now United Technologies Corporation) shares his lifelong love of aviation in his debut book, The Adventures of an Airplane Nut.
While many books on aviation tell the stories of flight heroes and aces, Ron tells his story as an average guy who caught a chronic case of flight fever.
Ron had the opportunity to fly in more than 100 different types of airplanes over the course of his career.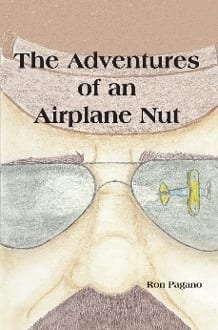 The experiences that Ron describes in The Adventures of an Airplane Nut range from flying in Piper Cubs and World War II airplanes to viewing the largest flying boat ever built, involvement in the flight of a car/plane hybrid, and witnessing the aftermath of a bizarre airplane murder/suicide.
Both during and after his tenure as a flight-test engineer testing aircraft components built by Hamilton Standard, Pagano was an active member in the Experimental Aircraft Association and Warbirds of America, as well as the Airdale Flight-Line Operations crew at several air shows.
The Adventures of an Airplane Nut is available on Amazon and Shop.BookLogix.com.