A new report that reviewed general aviation accidents for 2014 shows that "significant improvements and historically low accident rates" posted in 2013 were not an anomaly.
"Across the general aviation community, we can take pride that our collaborative efforts appear to be having a positive, sustained impact," said Richard McSpadden, executive director of the Aircraft Owners and Pilots Association's Air Safety Institute in the Joseph T. Nall Report.
The 26th edition of the Nall Report reviewed accident data from 2014, the most recent year complete data is available from the National Transportation Safety Board.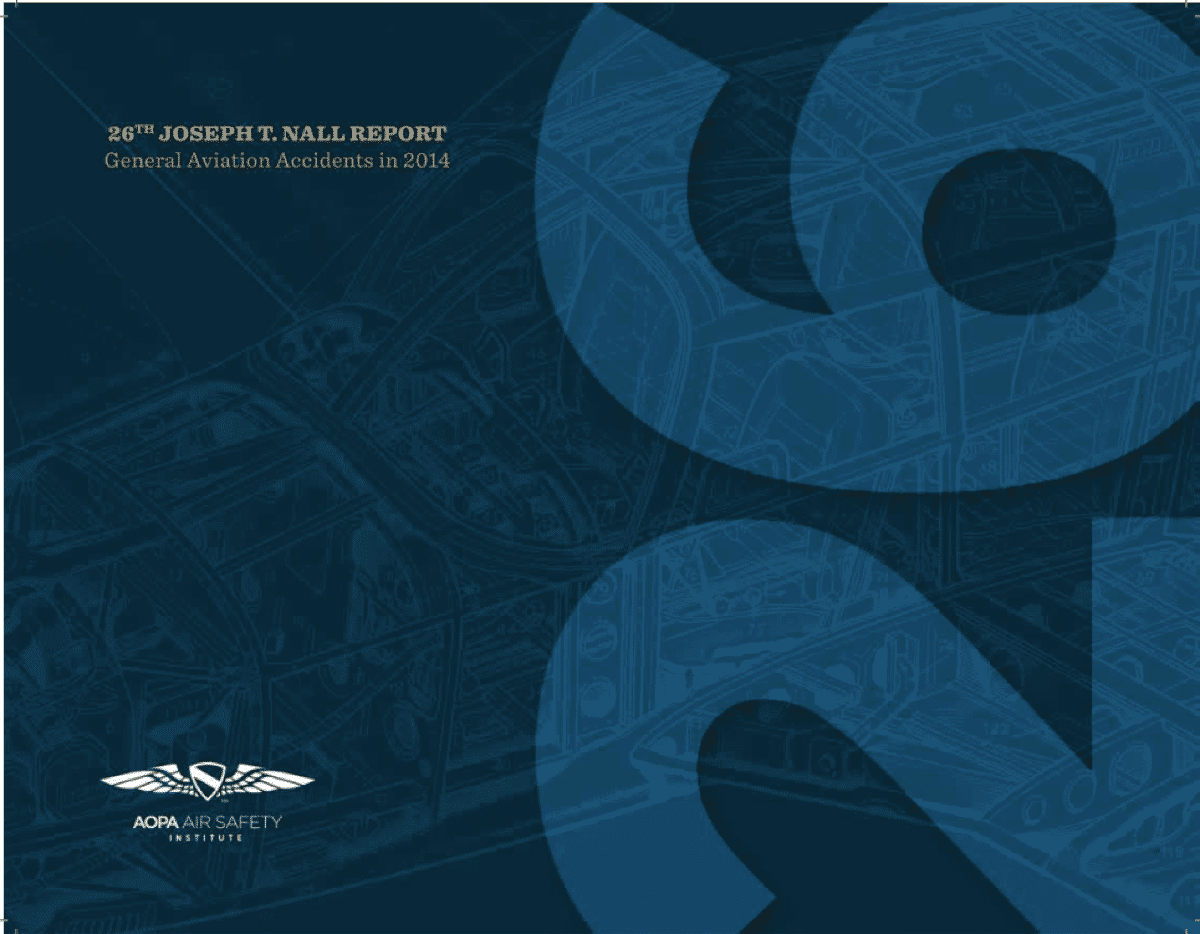 That report shows that in 2014, there were 1,163 general aviation accidents involving 1,171 aircraft. These included a midair collision between a Cirrus SR22 and a Robinson R44 helicopter, as well as six midairs between airplanes.
The 229 fatal accidents caused 354 individual fatalities, marking a 3% decline from the year before despite an 11% rise in the number of fatal accidents.
The number of deaths on non-commercial fixed-wing flights rose by 15, or 5%, nearly offset by a decrease of
 11 (39%) on fixed-wing commercial flights.
Helicopters saw the opposite relationship: Non-commercial fatalities declined by 18 (43%), while the number on commercial flights climbed from eight to 13.
[contextly_auto_sidebar]Non-commercial fixed-wing flights made up 75% of estimated GA activity in 2014, up 2% from the year before. They were responsible for 82% of all accidents and 86% of fatal accidents, up from 81% of each in 2013, according to the report.
The causes of accidents tend not to vary much from year to year, a trend the new report confirmed, noting that pilot-related mishaps continue to account for about 75% of all accidents — 20% of which were fatal.
"The overwhelming majority of these accidents are avoidable, so if we can convince more pilots to access safety information, we can drive the accident rate even lower, and save lives," he said. "That is why numerous industry leaders and type club presidents are joining the Air Safety Institute in a push to reach more private pilots with safety information in a program we call 'Find One, Bring One,' which encourages pilots to find a pilot not accessing safety information and bring them to safety."
The "Find One, Bring One" strategy consists of having pilots bring the so-far "unreachable" members of the aviation community into the safety-awareness fold under the "Find One, Bring One" plan; get more pilots to join type clubs; and encourage all pilots to focus their training and study on the specific flight realms that continue to cause the most trouble: Landings; takeoff and climbs; low-altitude maneuvering; and fuel management.
"Our vision is a world without a single GA fatal accident," McSpadden said.
One of the big surprises in the recent report is an increase in GA activity, according to McSpadden, noting that increase continues, with a 3.7% bump in 2015 activity over 2014.
What's fueling the drop in accidents as flying activity increases?
Technology, according to McSpadden.
"Technology, including synthetic vision, gives pilots so much better situational awareness," he said.
That also includes ADS-B, he said, noting installing ADS-B in his plane made him realize "just how much is out there you didn't see before."
Training also has helped increase safety, he said.
"We keep getting smarter and better about ways to train," he said.
Scorecard
The Air Safety Institute also released its 2015-2016 GA Accident Scorecard, a brief statistical summary that supplements the Nall Report's detailed examination of 2014 data.
It notes that after arresting a seven-year decline in 2014, non-commercial fixed-wing flight time increased more than 5% in 2015, while the rate of accidents remained at the low level achieved the previous year. The number of fatal accidents declined by two.
In 2016, there was a 3% increase in accidents, but fatal accidents declined from 20% of the total to 16% percent.
For the fourth straight year, 2016 had fewer than 1,000 noncommercial fixed-wing accidents, of which fewer than 200 were fatal, "levels not previously seen in the post-World War II era. There were 156 in 2016, 6% below the previous record low of 167 recorded three years earlier," according to the scorecard.