ForeFlight Mobile version 9.3 is now available on the App Store. Included in the update is a Graphical Route Advisor, Performance-based Step Climb, flight notifications, and more.
The company recently released several videos explaining the upgrades:
Plan Faster with Graphical Route Advisor
[contextly_auto_sidebar]The Route Advisor tool gives a visual preview of all route options on an interactive map. Tap through the list to highlight each route on the map, then tap "Select Route" to add it to your flight plan.
The interactive Route Preview map also appears in the Flights view form-based planner to provide a quick visual reference of your route. Your departure and destination airports are shown overlaid on a simple basemap.
Performance-based Step Climb Legs in Navlog
ForeFlight's performance planning now supports step-climbs. The flight planning engine calculates the highest possible initial altitude, then automatically creates step-climb legs as the aircraft weight decreases, company officials explained.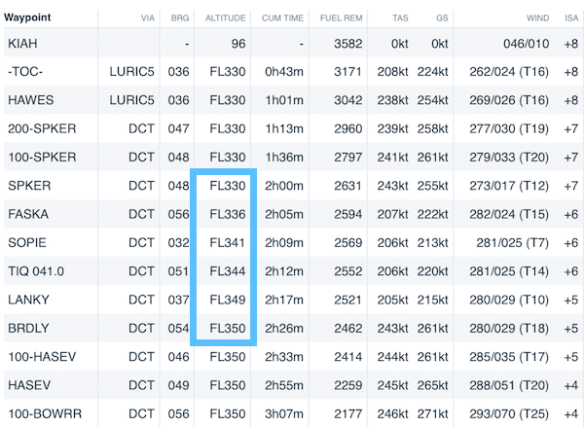 Step-climb information is detailed in the printable Navlog, accessible from the Flights view by tapping the Navlog button.
The step climb leg information is available in Performance Plus, Business Performance, and MFB Performance plans.
Flight Notifications
After filing your flight plan in ForeFlight, you will receive a push notification to your device when ATC issues a revised expected route and when adverse weather conditions arise that may affect your flight.
Flight Notification adverse weather
Access weather alerts in the Messages tab in the Flights view. Flight Notifications are available to customers on all ForeFlight plan levels who file flight plans via ForeFlight.
Flight Planning Workflow Enhancements
The "Add Next Flight" button in the Flights view makes it faster and easier to plan multi-leg flights by carrying forward departure, aircraft details, payload, fuel policy, and more.
In addition, you can now export your flight plan in the official ICAO format and print, email, share via AirDrop, or save a copy in ForeFlight Documents.
Data-Driven Basemap & New Shaded Terrain Display
The ForeFlight map engine has an upgraded basemap, which now renders more quickly, smoothly, and with sharper depiction of features, such as major roads, railways, national parks, and state and national boundaries, according to company officials.
In the Map Settings menu, choose from multiple terrain presentations: Colored, Shaded, or None. Shaded Terrain uses grayscale shading to depict terrain, providing the same level of detail as the colored terrain option with less visual distraction.
Scheduled Flight Search in Maps View
Enter a tail number, aircraft call sign, or commercial flight number into the Maps view search box to see recently filed flight plans. ForeFlight displays filed flight plans for aircraft that are either currently enroute or depart in the next 24 hours.
Tap on a result to load the route into the Flight Plan Editor. Great for commercial pilots who want to quickly load an upcoming flight, or for passengers who want to follow along in the air.
Weather Layer Time Slider
A new interactive Time Slider control provides frame-by-frame control over playback of radar and satellite weather layers. Use the play button to automatically play through each frame.
To manually control playback, tap-hold on the Time Slider and drag left or right to move between frames, or tap on the line to the left or right of the slider marker to advance it one frame at a time in either direction.
New for SiriusXM SXAR1
Turbulence, Icing, and Surface Analysis Weather Layers
For customers flying with the SiriusXM SXAR1 aviation receiver, you will now see Icing, Turbulence, and Surface Analysis layers as part of your SiriusXM Pilot for ForeFlight subscription.
For a fast analysis of Icing and Turbulence conditions at each altitude, you can scrub between altitudes using the Altitude Slider in the lower right corner of the Maps view.
In addition, the Icing layer is enhanced with small red dots to indicate dangerous regions of supercooled large droplets.
Better Logbook Workflow with Next Entry Button
Logbook Add Next Flight
Like the new "Add Next Flight" capability for the Flights view, the "Add Next Entry" button in Logbook allows you to add a follow-up entry for any existing flight in your logbook.
The new entry uses the same aircraft as the previous flight, and auto-fills the departure airport and Hobbs/Tach time based on the details of the previous flight. The button is available at the bottom of every flight entry.