Gen. J.R. "Jack" Dailey, director of the Smithsonian's National Air and Space Museum, will retire in January 2018. With 18 years as head of the museum, he is its longest-serving director.
Dailey, a retired U.S. Marine Corps four-star general and pilot, assumed the duties of director in January 2000. As head of the museum, Dailey has led efforts to expand its size and scope, maintaining its status among the most visited museums in the world.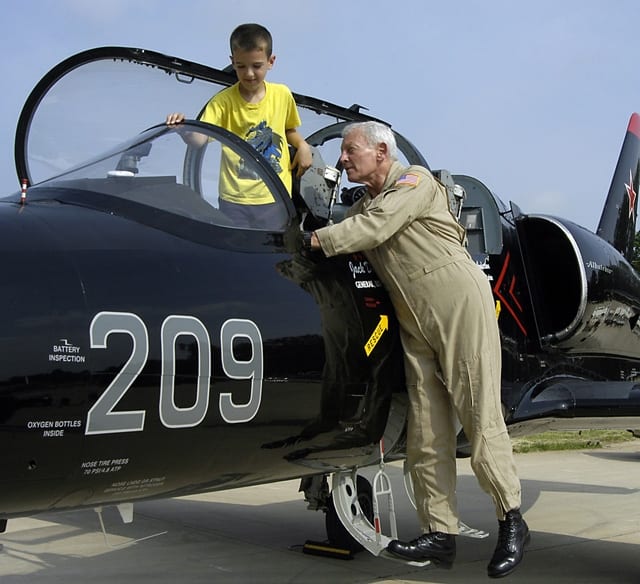 Under his leadership, the museum opened its second location, the Steven F. Udvar-Hazy Center, in 2003. Located in Chantilly, Va., the Udvar-Hazy Center houses more than 300 aircraft in its two public display hangars and includes the Mary Baker Engen Restoration Hangar, the Emil Buehler Conservation Laboratory and collections storage space.
The opening of the Udvar-Hazy Center allowed for much more of the collection to be displayed, including icons like the Enola Gay, Lockheed SR-71 Blackbird and a Concorde.
[contextly_auto_sidebar]In April 2012, Dailey and the museum welcomed Space Shuttle Discovery, the longest-serving orbiter, into the collection. Its arrival to the Udvar-Hazy Center was one of the most popular events in the museum's history, garnering attention from national and international audiences, as well as locals "spotting the shuttle."
The Udvar-Hazy Center was funded solely through private support. Dailey was instrumental in the fundraising efforts for this and the many other major museum projects and initiatives. Since his appointment as director, the museum has raised over $350 million from private contributions.
With Dailey at the helm, 35 exhibitions opened in the museum's building in Washington, D.C., including "America by Air," "The Wright Brothers & The Invention of the Aerial Age" and "The Barron Hilton Pioneers of Flight Gallery." The flagship building celebrated its 40th anniversary in 2016 with the reopening of the "Boeing Milestones of Flight Hall."
In support of the Smithsonian's long-range planning efforts, Dailey has led expansion of the museum's public programs and its web and distance-learning activities. Sharing the museum's collection, expertise and educational initiatives beyond its buildings' walls has been a top priority in recent years. Nearly all lectures at the museum are broadcast for online audiences, the museum's GO FLIGHT app interacts seamlessly with the collection records and exhibitions, and "STEM in 30," a 30-minute educational webcast series that launched in 2015, reaches schools around the country.
The Smithsonian has formed a committee to conduct a search for the museum's next director.
Under Secretary for Museums and Research/Provost John Davis will oversee the process.