Van Nuys Airport (VNY), Pegasus Elite Aviation, and the Van Nuys Airport Association have kicked off a collection drive to deliver needed items to the victims of hurricane-affected areas in Daytona Beach, Florida.
The collection drive runs through Monday, Oct. 9.
To ensure that the items collected are those most needed, Van Nuys Airport staff is working with Foundation 37, a non-profit group out of Port Orange, Florida, to identify the greatest needs of residents and coordinate the response.
For the donation drive, coordinators are asking for essential items including blankets, water, new socks and t-shirts, toys for small kids, non-perishable canned goods and basic toiletry items.
Supplies will then be transported via a jet aircraft donated by Pegasus Elite Aviation to Daytona Beach and distributed where the need is greatest.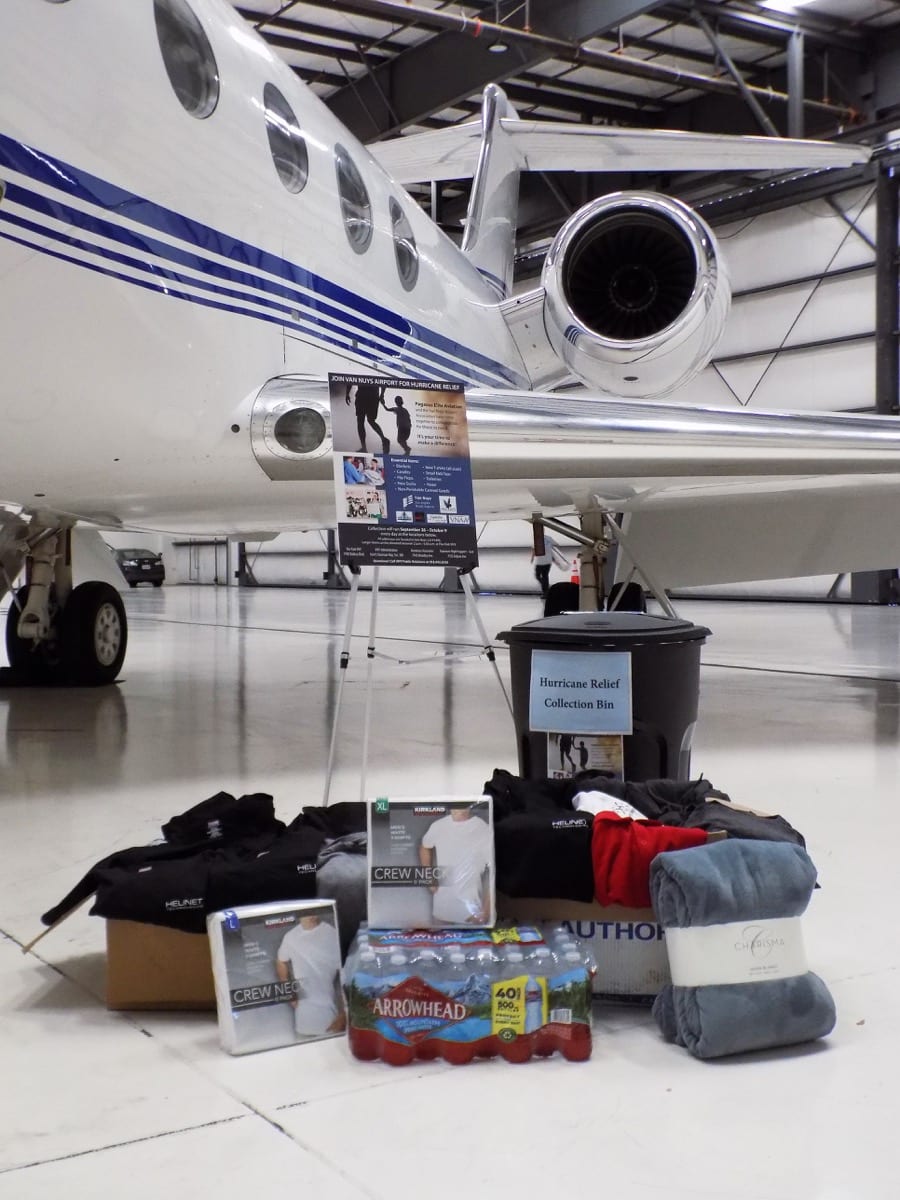 "It will take years to repair the damage Hurricane Irma left in Florida," said Tim Prero, owner of Pegasus Elite Aviation. "The least we can do is help any way we can. Even a little will go a long way."
"During times of tragedy, it's incumbent on all of us to step up and find ways to help those who are hurting or are in need," said Diana Sanchez, Van Nuys Airport's Public and Community Relations Director. "Van Nuys Airport, Pegasus Elite Aviation, the Van Nuys Airport Association and Foundation 37, are answering this call, and joining together to provide much needed supplies. We are asking our neighbors to give generously, to support those whose lives have been so greatly impacted by these tragic storms and flooding."
Donation drop-off points are open from 8 a.m. to 5 p.m.:
Aerolease Associates, 7943 Woodley Ave., Van Nuys, 91406
Van Nuys Airport Administration, 16461 Sherman Way, Suite 300, Van Nuys, 91406
Signature Flight Support-East, 7155 Valjean Ave., Van Nuys, 91406
Larger items can be donated to The Park VNY at 7900 Balboa Blvd., Van Nuys, 91406, between 2 and 5 p.m.
Items also can be dropped off at the Encino Family Festival on Sunday, Oct. 8 between 10 a.m. and 4 p.m. at the Van Nuys Airport and Encino Chamber booths.
VNY is one of the world's busiest general aviation airports, handling more than 220,000 operations in 2016. More than 100 businesses are located on the 730-acre airport, including four FBOs and numerous aviation service companies.
Annually, the airport contributes approximately $2 billion to the Southern California economy and supports more than 10,000 jobs.