BLR Aerospace has added four companies to its fixed-wing dealer network for King Air and piston aircraft upgrades.
The new dealers include AMK Aviation of Ontario, Canada; Rose Aircraft Services of Mena, Arkansas; Tiffin Aire of Tiffin, Ohio; and Upper Valley Aviation of British Columbia, Canada.
The company now has more than 40 dealers worldwide, according to company officials.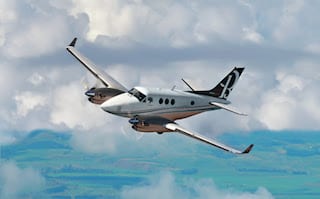 BLR's Winglet System is an aluminum wing tip, carbon fiber winglet with integrated position, recognition and strobe LED lighting. The Winglet System increases overall wingspan and wing aspect ratio to reduce induced drag for faster flight on less fuel.
More than 1,000 Winglet Systems are installed on King Air 90, 200, 300 Series and Duke aircraft operating worldwide.