ASA's free Endorsement Labels have been updated to reflect Advisory Circular (AC) 61-65G, which provides guidance for pilot applicants, flight instructors, ground instructors, and examiners on the certification standards, knowledge test procedures, and other requirements in Title 14 of the Code of Federal Regulations (14 CFR) part 61.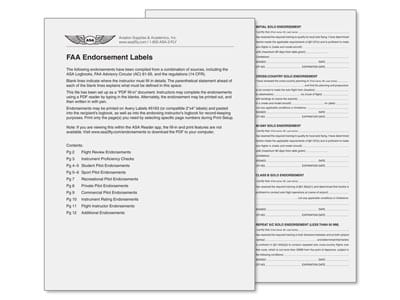 The PDF format of these labels provides a simple and fast way for instructors to issue required FAA endorsements to their students, ASA officials note.
Each contains pre-written endorsement language with fill-in-the-blank spaces for instructors to enter the details.
Instructors can use a PDF reader to fill in the blanks and complete the endorsement electronically or the labels can be printed out and filled in with pen. The labels are formatted to print on Avery Labels #5163, or compatible 2″ x 4″ labels.
Instructors can peel and paste the completed endorsement into the recipient's logbook, as well as into the endorsing instructor's logbook for record-keeping purposes.
The Endorsement Labels are available for download at ASA2Fly.com and also in the free ASA Reader App for iOS.