A key feature of the new version 4.0 of Wx24 Pilot is the addition of cloud cover information provided by the National Digital Forecast Database (NDFD).
Although NDFD is not an aviation specific weather product, it does provide pilots with an important tool to access cloud information and the ability to make more informed judgments of weather conditions, according to company officials.
In addition, NDFD fills in the gaps of weather information for hundreds of smaller airports without Terminal Airport Forecast (TAFs) within the US, officials note.
Cloud conditions in Wx24 Pilot are represented by eight shades of blue and gray colors, with blue indicating clear sky and lighter to darker shades of gray representing the extent of cloud cover.
A new icon in the lower navigation panel of the app toggles between flight categories (i.e. VFR, MVFR, IFR, LIFR) and NDFD cloud cover.
Cloud cover provides information that enhances a pilot's understanding of enroute conditions beyond just flight categories, according to developers. For example, a cross country flight with VFR conditions forecast enroute tells pilots that cloud ceilings are not below 3,000 feet. But, what about at 6,500 feet? Will the pilot encounter solid overcast and IFR conditions at this altitude?
Wx24 Pilot now gives pilots the critical information to determine whether there are clear skies or clouds enroute. In addition, with Wx24 Pilot's interactive time slider, a pilot can view the direction of cloud coverage over time.
The screen capture on the left of a flight between DuPage Airport, Illinois (KDPA) and St. Pete Airport, Florida (KPIE) predicts VFR conditions (green) at the time the flight will pass over airports enroute. However, the screen capture on the right warns the pilot to expect cloudy conditions when flying over Tennessee and Kentucky.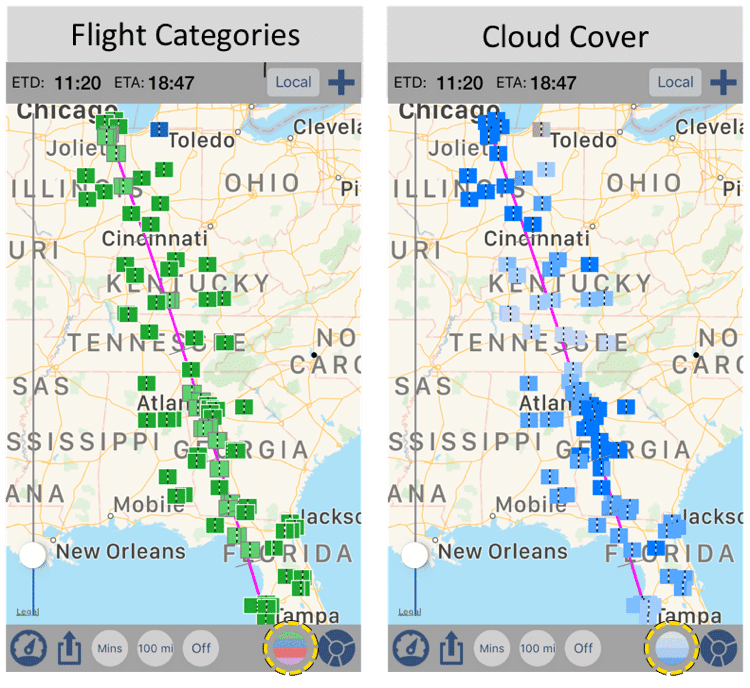 "This latest version of Wx24 Pilot provides a significant safety benefit for pilots. With the new cloud cover feature, a VFR pilot can now determine not only if it's legal to fly, but whether it's safe," said Paxton Calvanese, the app's developer. "The airports along a given flight path may be reporting VFR conditions, but may in fact be solid overcast at 4,500′. With the Wx24 Pilot a pilot can determine if there are clear skies (blue color) or overcast conditions (gray color) during flight."