FreeFlight Systems reports that its 1203C SBAS/GNSS sensor is approved for installation with L3's NXT Mode S transponder series.
Stevens Aviation recently received an Approved Model List (AML) Supplemental Type Certificate (STC) for ADS-B Out installations across a wide range of Part 25 aircraft after the company's first successful install in a Citation 650. This pairing provides legacy aircraft a complete and cost-effective way to equip with ADS-B for the upcoming 2020 mandate, FreeFlight officials said.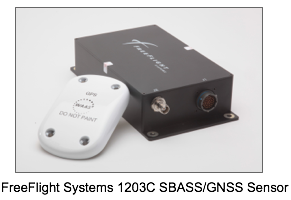 The FreeFlight Systems 1203C SBAS/GNSS sensor is a certified position source in a compact, lightweight package. The 1203C pairs seamlessly with certified Mode S Extended Squitter transponders like the L3's NXT series to provide a fully rule-compliant ADS-B Out system, FreeFlight officials explain.
The 1203C can also serve as the approved position source for TAWS/FMS, RNP, and other NextGen applications, and allows customers to take advantage of the operational and safety benefits provided by the NextGen airspace transformation without the need for extensive and costly avionics upgrades, company officials add.
"We're pleased to partner with Stevens Aviation on this program," said Pete Ring, FreeFlight Systems' Vice President of Sales and Marketing. "We design our high-integrity solutions to be modular and integratable with various other manufacturers, giving our clients affordable and practical ADS-B solutions for whatever they fly."
With the ADS-B mandate now only 23 months away, aircraft owners need to prioritize ADS-B installations during routine aircraft maintenance, FreeFlight officials say.