BOCA RATON, Florida — Phase II of the rehabilitation of the air traffic control tower at Boca Raton Airport (KBCT) is set to begin this year.
Last year the Boca Raton Airport Authority completed several substantial renovations to the tower aimed at extending the useful life of the facility and creating an enhanced work environment for controllers, according to officials with the general aviation airport.
Renovations included updates to critical systems, such as the roof, HVAC, bathroom plumbing, cab plumbing and fire line valves.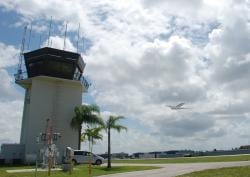 The second phase of the tower's rehabilitation will include replacing the windows, replacing millwork and fixtures in the cab, and repairs to the millwork and fixtures in the training/break room.
According to airport officials, 80% of funding for Phase II will be provided by a grant from the Florida Department of Transportation (FDOT). The remaining 20% will be paid by the Boca Raton Airport Authority's 2018 Capital Improvement budget, which is comprised of revenue generated through land leases and fuel flow fees.
Phase II is projected to cost $280,000, with $224,000 coming from the FDOT grant and the remaining $56,000 coming from the Capital Improvement budget.
"Since the Tower began operations in 2000, it has played a vital part in the airport's role as a premier general aviation facility," said BRAA Executive Director Clara Bennett. "Phase II will ensure that it remains a cornerstone of our operations."
This final phase of improvement is expected to be completed in the fall.