Aircraft shipments were up in the first quarter of 2018, according to the latest figures from the General Aviation Manufacturers Association (GAMA).
However, GAMA officials note that while overall delivery of airplanes and rotorcraft rose compared to the same quarter of 2017, there were some mixed performance within the types.
"We are pleased to see the industry is, overall, trending positively," said GAMA President and CEO Pete Bunce. "Training needs are driving the demands in the rotorcraft segment, while a stabilizing used market, overall global economic growth, and aviation innovation are driving the other segment increases."
"We expect the introduction of new products to drive future growth, which underscores just how important it is for the U.S. Congress to pass a long-term FAA Reauthorization bill and the executive branch to carefully implement trade policies, to avoid adversely affecting industry growth in future quarters — something our member companies conveyed directly to members of Congress this week during GAMA's annual Hill Day," he continued.
By the Numbers
According to the GAMA numbers, piston rotorcraft led the first quarter, rising from 58 to 81 deliveries, a 39.7% increase.
The turbine rotorcraft segment also grew by 7% to 138 delivered. Total rotorcraft billings in the first quarter was $0.67 billion, an increase of 18.3%.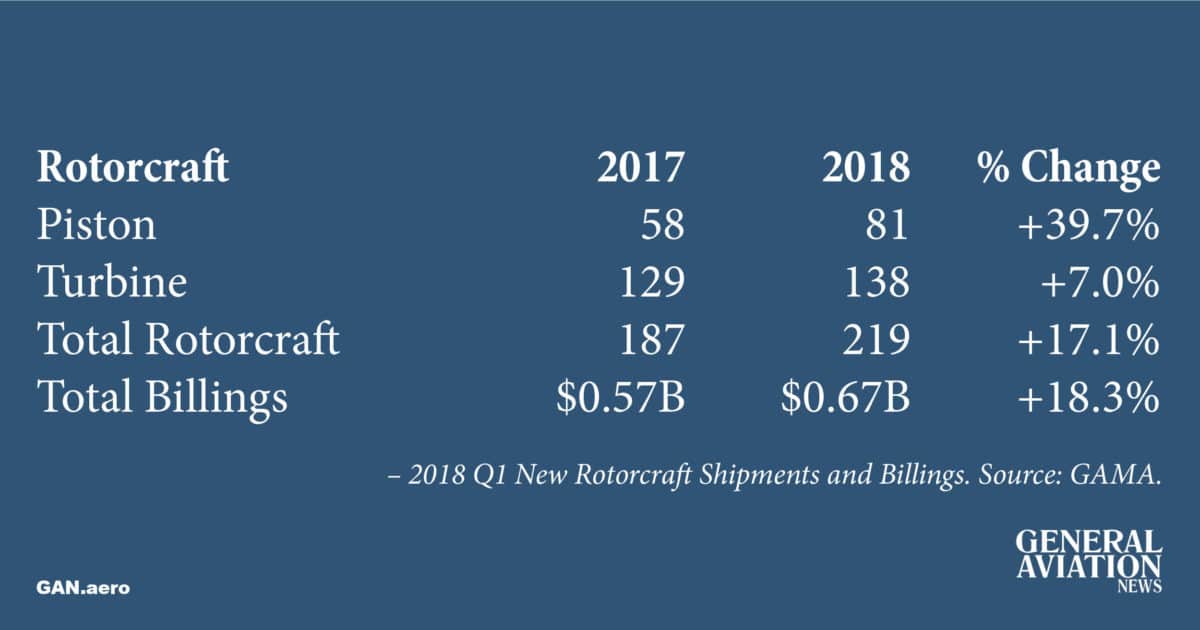 Turboprop airplane deliveries provided the best performance in the airplane segment, growing by 12.7%. The delivery of business jets increased slightly from 130 to 132 airplanes. The piston airplane segment declined by three, from 203 in first quarter 2017 to 200 in this year, GAMA officials report.