The popular "One Week Wonder" project, in which a complete airplane is built over a seven-day period, is returning to EAA AirVenture Oshkosh in 2018. This year, it will again come with an opportunity for all EAA AirVenture fans to vote on the aircraft's final paint job as the "Pick the Paint" poll returns.
Before the One Week Wonder project even begins, fans can determine the final look of the plane by voting for their favorite three paint schemes now through July 1, 2018.
The top three designs will be displayed in the One Week Wonder tent at EAA AirVenture Oshkosh 2018, where visitors will have the opportunity to vote and decide on the final design.

The completed aircraft will then be painted with Sherwin-Williams Aerospace Coatings.
Providing the various paint designs is Craig Barnett, CEO of Scheme Designers, located in Cresskill, N.J.
"I selected one of the blues as the main and consistent color throughout different variations because it was part of the One Week Wonder Logo," said Barnett. "I also used consistent colors through all of the designs so to ensure color is not an influencing factor for why any particular design is finally selected."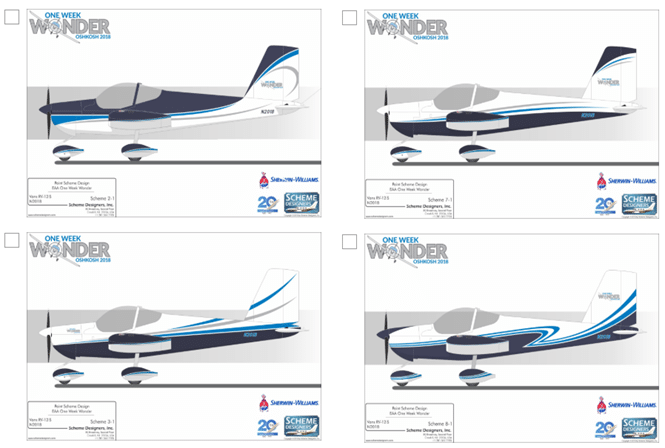 As a result, AirVenture fans will have as many as 10 different looks to choose from when voting.
"We are pleased to participate and provide the paint systems products for this exciting project," said Julie Voisin, Global Marketing Manager, Sherwin-Williams Aerospace Coatings. "We are providing one of our leading topcoat systems, SKYscapes General Aviation basecoat-clearcoat. It will be ideal for this project with its fast dry times and broad color palette. I can see some dramatic blues such as SG04514 Grandeur Blue, SG04508 Selene Blue and SG04515 Dark Sapphire being used for this project."
The One Week Wonder program was last held in 2014. This year, the airplane constructed and painted is a Van's RV-12iS, a member of the family of kit aircraft that are the most popular kits in the world. Van's Aircraft will be celebrating the 10,000th RV flying during AirVenture 2018.
"The tremendous response to our 2014 One Week Wonder build led us to bring back the project in 2018," said Charlie Becker, EAA's director of chapters and communities and homebuilt community manager. "Thousands of people became part of the builders' logbook in 2014 by pulling a rivet or assisting in another stage of construction. In addition, thousands more discovered the methods and skills that go into building a safe, fun personal airplane. Plus, they get to be involved months before the event by going online, learning about the project and voting for the actual color scheme."
The RV-12iS, was chosen for the 2018 project for its popularity, ease of construction and smooth flying characteristics. Construction will begin at 8 a.m. on Monday, July 23 — AirVenture's opening day — with a goal for completion by the end of the afternoon air show on Sunday, July 29.
More than 2,500 people participated in the 2014 project, which culminated in the successful taxiing of a Zenith CH 750 on the event's final afternoon. That airplane continues to fly today, visiting EAA chapters and other aviation events throughout the country.
"I developed the RV series of aircraft 40 years ago to give people a pathway to safe, enjoyable flying in an economical way," said Van's Aircraft founder Richard VanGrunsven, EAA Lifetime 3204. "To showcase the possibilities of the RV-12iS in such a public way as at Oshkosh is extremely exciting. I'm definitely looking forward to watching this building project's success."