The Aircraft Owners and Pilots Association (AOPA) Air Safety Institute (ASI) has launched its Focused Flight Review program, providing pilots a more individualized opportunity to sharpen skills, proficiency, and knowledge through carefully designed flight scenarios.
Taking a flight review every 24 months is a requirement for most pilots, and for many, it is the only opportunity to hone skills or zero in on piloting areas needing some brush-up.
But many know from experience that despite their best intentions, setting up a flight review that satisfies regulatory requirements and also includes ground and flight activities tailored to those training goals isn't always practical.
That obstacle has now been removed with the new Focused Flight Review, a series of ready-to-use scenarios complete with preflight study material and flight profiles that focus on a variety of familiar operational areas, according to AOPA officials.
Built into each scenario are ways to improve fundamental stick-and-rudder skills, decision making, understanding of aircraft operating envelopes, technologies, aircraft performance capabilities, and loss-of-control avoidance.
"Focused Flight Review is a comprehensive flight review program, designed by an Air Safety Institute-led consortium of influential instructors, pilot clubs, and government agencies," said Air Safety Institute Executive Director Richard McSpadden. "The profiles and preflight preparation materials were created to deal with historical problem areas and help make us all better pilots."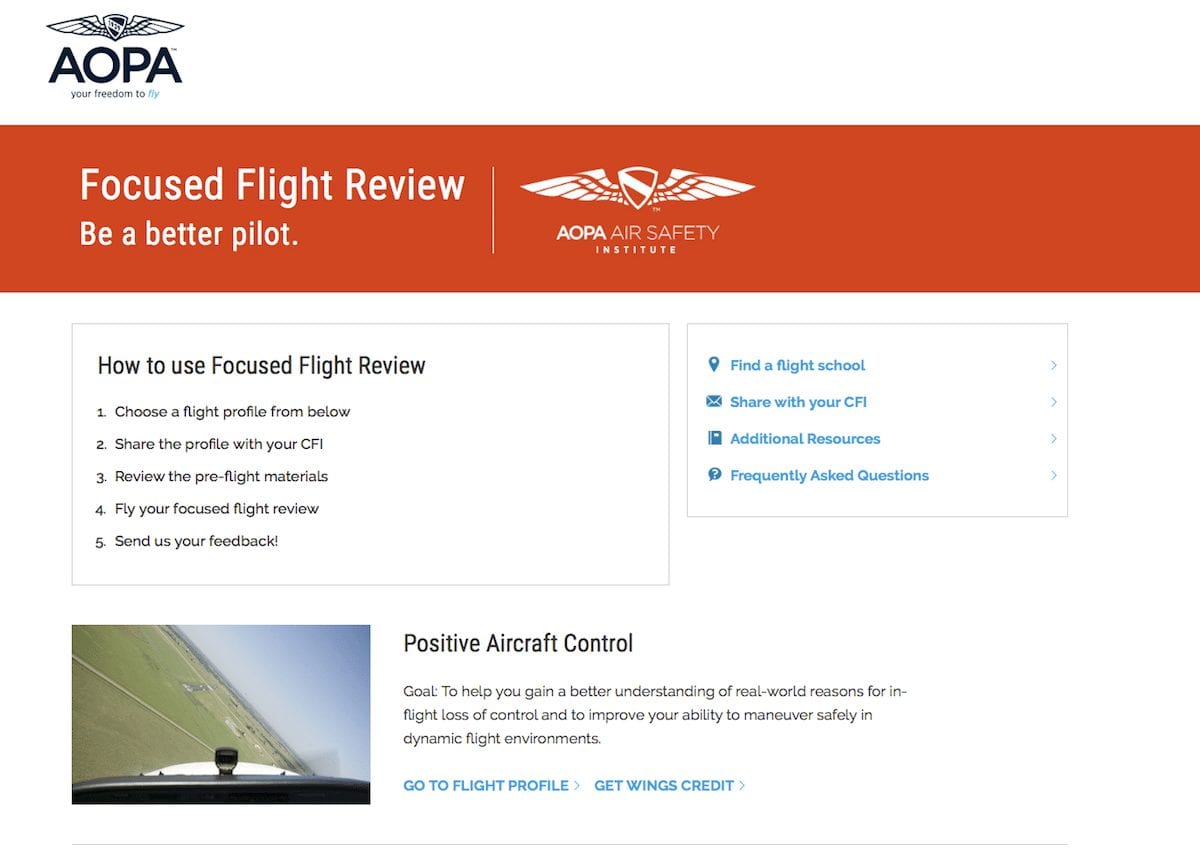 The flight profiles and preflight study resources offered in the Focused Flight Review, which are downloadable as pdf files, include Positive Aircraft Control; Weather and CFIT (controlled flight into terrain); Fuel, Engine, and Other Systems; Instrument Proficiency; Takeoffs, Landings, and Go-Arounds; and Mountain and Backcountry Flying.
"Don't just wait for your next flight review, try this any time," McSpadden said. "It's easy to select the flight profile that focuses on your needs from the Focused Flight Review website. Before your flight date, share the profile with your CFI, and review the preflight materials. Then fly your Focused Flight Review."
You can share how it went by clicking the feedback tab on the Focused Flight Review home page to give the Air Safety Institute ideas for fine-tuning the program.
"Feedback is critical to the program's success. We encourage pilots and flight instructors to let us know how we can make improvements to ensure the program remains relevant and insightful," McSpadden said.
Pilots can use the Focused Flight Review website to find a flight school or additional flight review resources, AOPA officials add.
See the answers to these Frequently Asked Questions to find out how to receive credit under the FAA Proficiency Wings program, how to accomplish an instrument proficiency check along with your Focused Flight Review, and other information.
Collaborators who worked with the Air Safety Institute to develop the Focused Flight Review include the Society of Aviation and Flight Educators; the National Association of Flight Instructors; the General Aviation Manufacturers Association; the Canadian Owners and Pilots Association; the American Bonanza Society; the Experimental Aircraft Association; PilotWorkshops; the FAA Safety Team, and the General Aviation Joint Steering Committee, in which AOPA participates.