IMSAFE and PAVE are two of the best tools the FAA has given to general aviation in decades.
IMSAFE stands for Illness, Medication, Stress, Alcohol, Fatigue and Emotion (or Eating).
PAVE refers to Pilot, Aircraft, EnVironment and External pressures.
Pilots often mention them together in incident reports submitted to the Aviation Safety Reporting System. They tend to cite those checklists either to rule out human factors or to highlight human factors contributing to their incidents.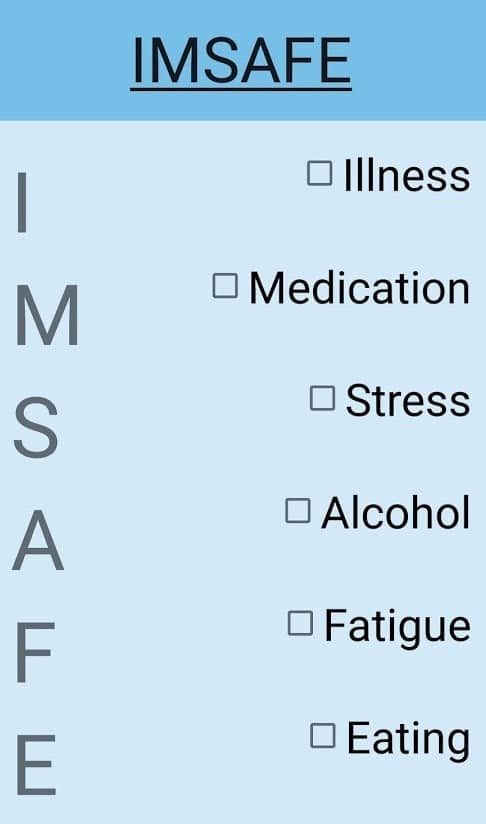 A CFI and her commercial student each filed a NASA Report after landing gear up in a Cessna Turbo Skylane RG. The flight was intended to bone up the commercial student for his commercial checkride. The specific task was practicing power off, 180° approaches.
The pair conducted several of these maneuvers. On the penultimate approach, both agree that the green gear-down light did not illuminate when gear down was selected.
The commercial student wrote, "This issue has happened to me twice before in this aircraft over the past two weeks. I was able to cycle the gear back up and back down with positive green light indication."
He added in his report that the same airplane had been grounded for maintenance inspection for the same problem several days before the incident.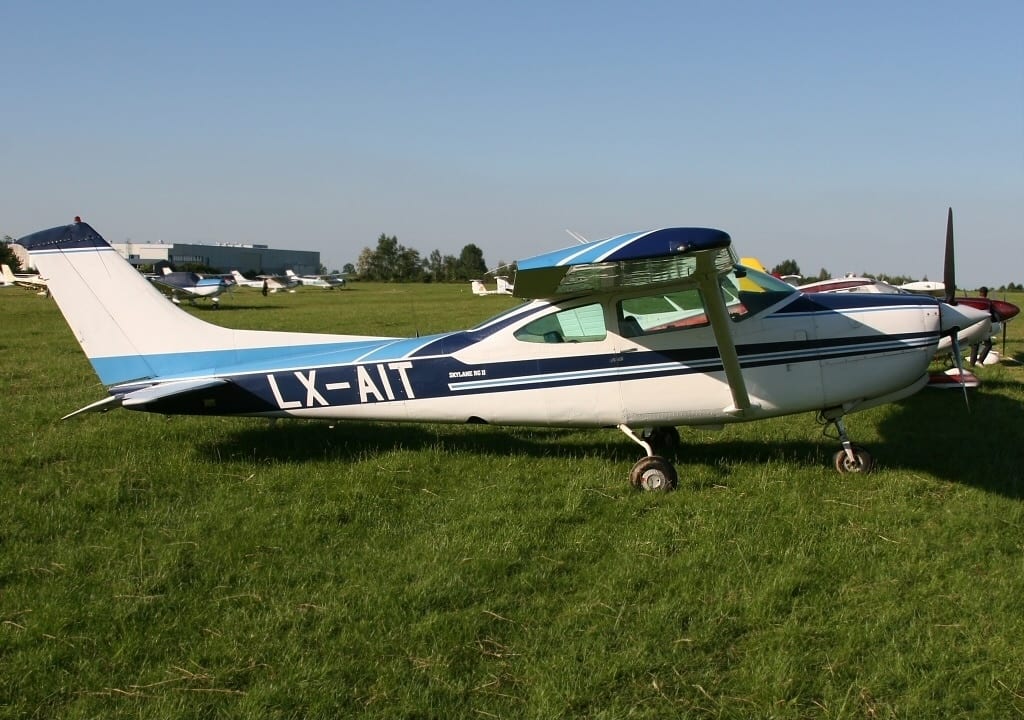 On their last power off, 180 approach, the green gear-down light failed to illuminate. The pilot wrote that he recycled the gear, got a green light, and saw gear in his gear check mirror. He continued on approach to landing, whereupon the gear collapsed, smoke filled the cockpit, and an emergency evacuation ensued.
The CFI's rendition of events read similarly, with two exceptions. She could not definitively say if she'd seen the gear-down indicator light up green or if she'd completed the pre-landing checklist.
In this case the commercial student focused more on a missed opportunity to use the PAVE checklist, particularly the A — for aircraft. He knew the plane had previous gear issues, and he also knew that it had been grounded for a maintenance inspection.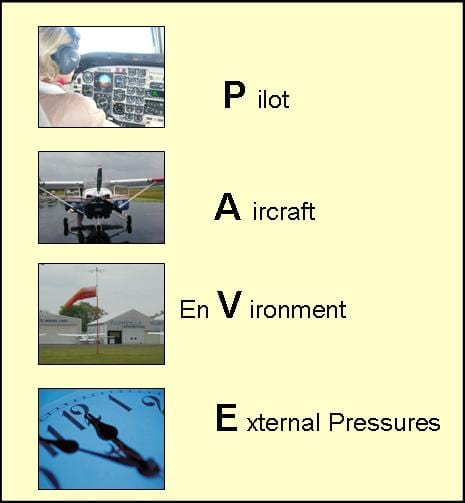 What he didn't do before taking the plane up was query the mechanic or the maintenance log or the chief pilot.
Had the gear issue been observed by the mechanic during an inspection flight and then resolved satisfactorily? Or had the mechanic not been able to replicate the problem and so written it up as "Ops check good?"
The CFI put equal emphasis on both checklists in describing the lessons she learned from the incident. The commercial student was not one of hers. She'd been assigned to him at the last minute.
"When I have a schedule or student change, re-evaluate via the PAVE checklist and re-evaluate myself via IMSAFE as a minimum," she wrote.
That's great advice. It mirrors a practice used at the airlines: Conducting a pre-brief.
Pre-Brief
Airline crews and aircraft get swapped all the time, so the possibility of flying with an unfamiliar pilot or a different piece of equipment ranks high. The pre-brief, a combination of PAVE and IMSAFE, forces crews to take a pause from the hectic pace of airline operations and assess each other and their situation before proceeding.
The gear-up landing forced the CFI to review her approach to the lesson and to the student. She realized she hadn't reviewed the expected call-outs for that plane, for that task, with that student.
Nor had she gotten consensus on what they would do during any abnormal operations. Most importantly, she hadn't adequately reviewed the student's aviation background or flying experience.
She concluded that it was appropriate to refer to the IMSAFE and PAVE checklists several times during a flight day and even throughout different phases of every flight.
General aviation pilots may be in the habit of using IMSAFE and PAVE checklists only once or twice, on the flight out and again on the trip back.
A Grob glider pilot also referenced the lack of IMSAFE and PAVE checklist discipline in his NASA report.
He and another pilot decided to squeeze in a pre-sunset flight in a tandem, training glider. The glider had just been reassembled after being disassembled for polishing and waxing. In an effort to make the flight happen before sunset, the assembly crew, the pilots, and the club safety manager rushed to get the glider ready for flight.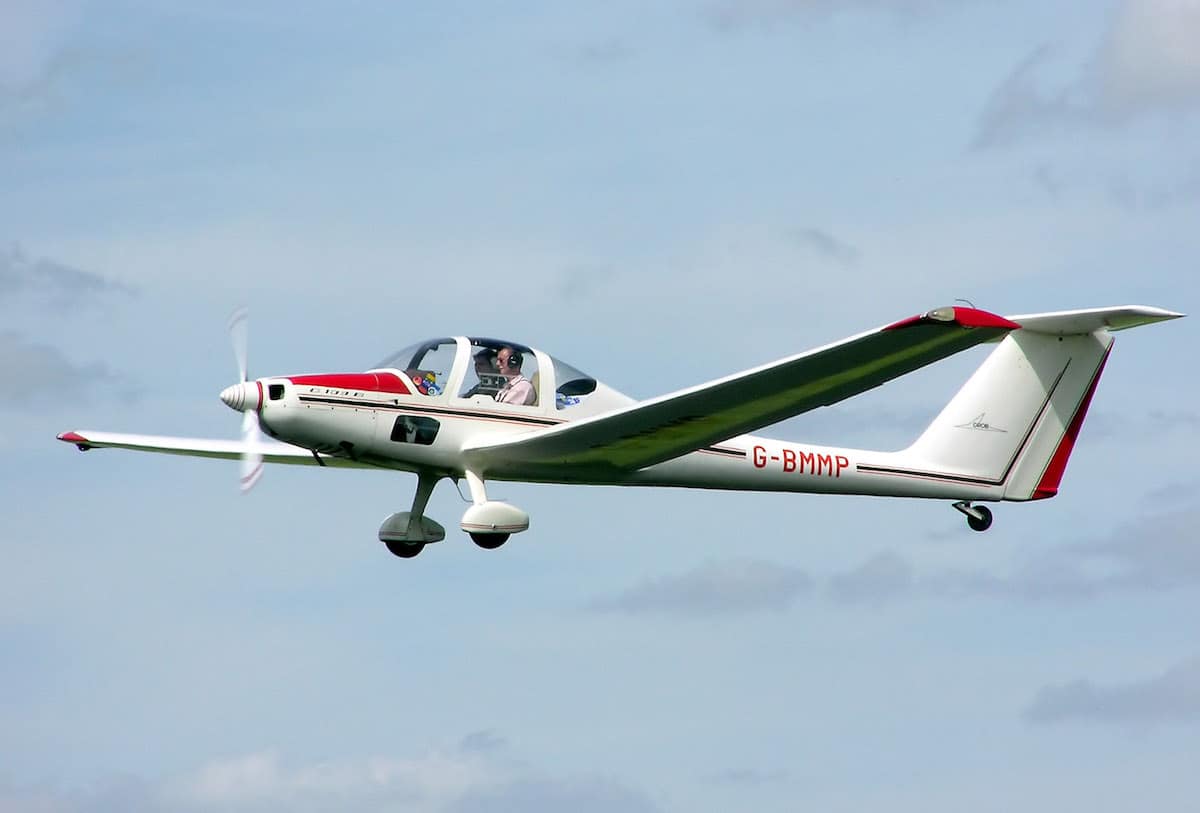 None of these people noticed that the Total Energy probe had not been reinstalled. That probe controls operation of the airspeed, altimeter, and vertical speed indicators. The instructor pilot who signed off on the reassembly also missed the missing TE probe.
Once airborne, the two pilots onboard discovered their reference instruments were not working. They returned safely to the airport using outside references only.
The pilot concluded that inadequate preflight inspection, including failure to adhere to a written checklist, as contributory.
He also wrote, "The club instructing should also teach better ADM (Aeronautical Decision Making) for the go/no-go decision using the PAVE and IMSAFE checklists."
Know Thyself
A firefighter who is also a pilot applied the IMSAFE checklist to cancel a flight. He wrote about it in the NASA Report he filed after a backseat passenger accidentally set off the Cessna 172's portable fire extinguisher in flight.
This pilot was on a sightseeing tour with family members at about 3,000′ when he noticed smoke billowing from below the co-pilot's instrument panel. Initially he thought he had an engine fire, but his panel scan confirmed no abnormal engine readings. He manipulated the controls and determined he still had full engine control.
"Smelled and tasted metallic, but not electrical, fuel or oil-based fire," he wrote.
He started his "smoke in cockpit" memory items, including declaring an emergency and looking for a landing spot. That's when his backseat passenger confessed to possibly kicking the fire extinguisher.
Less than a minute later the visibility in the cockpit improved, so the pilot asked his passengers to check the cabin floor for evidence of discharge residue, which they confirmed. The pilot felt confident in their evaluation because his passengers were also firefighters. He flew the aircraft back to the departure airport and landed without incident.
"As with any new situation, especially a rapid and total, almost blinding vapor, I momentarily panicked," this firefighter-pilot stated in his conclusion. "Then training kicked in. Lesson learned: Do expect the unexpected, have an escape route, and know the immediate action items for the plane you will be flying."
The entire flight took less than 20 minutes. According to the pilot, it took less than a minute from when smoke first filled the cockpit to when it was identified as fire extinguisher discharge.
Neither the passengers nor the pilot were injured. The plane was unharmed, save for fire extinguisher residue on the carpet. Yet he still felt unfit to fly.
So he wrote, "I had reserved the aircraft for a morning sightseeing flight with other family members, but due to not feeling IMSAFE-valid anymore, I decided to cancel the flight and book at a later date."
It's been said that there's no higher knowledge than self-knowledge. The firefighter knew himself well enough to know he was no longer fit to fly his family that day. Moreover, he was okay with it.
Being okay with not being okay is a hard thing to master, regardless of your profession. But it is a vital part of mastering the art of Aeronautical Decision Making.
IMSAFE and PAVE checklists allow a pilot to "blame it on the checklists" when circumstances require deviation or cancellation of a scheduled flight until the pilot becomes comfortable blaming it on himself.
At the airlines a second pilot is there to back up and assist the flying pilot when the flying pilot is not performing at 100%.
I've heard GA pilots say their autopilot is their second pilot, but an autopilot won't correct you if you put in the wrong altitude, dial in the wrong ATC frequency, or assess if your facial expression is joy or nausea.
IMSAFE and PAVE checklists aren't quite that interactive either, yet. But using them does remind us to slow down, to "checkity check ourselves before we wreckity wreck ourselves."
I do whatever it takes to get my flight students not to just memorize, but also to use, IMSAFE and PAVE checklists frequently.
Many of them have trouble remembering that the "V" in PAVE stands for "enVironment," so I encourage them to remember the "v" as "Vicinity." I do that because both words can mean "one's surroundings."
One's surroundings include airport conditions, an unfamiliar airport or airspace, as well as weather — all things found on PAVE checklist iterations. It's my belief that it's the meaning behind the mnemonic that matters most.
Getting pilots to apply the checklists to all phases of flight is what's paramount. I would also point out that IMSAFE and PAVE checklists come from the Aeronautical Information Manual, not the Code of Federal Regulations.
So, even though they should be, IMSAFE and PAVE checklists are not obligatory, only advisory. Therefore any motivation to sear them into pilots' brains is a good one.