The new air traffic control tower at Sarasota Bradenton International Airport (KSRQ) in Florida was dedicated Sept. 10, 2018.
The 128-foot-tall tower is a "significant investment in our nation's airport infrastructure and enhances air traffic controllers' ability to provide the safest, most efficient service to flights at the busy Florida airport," FAA officials said.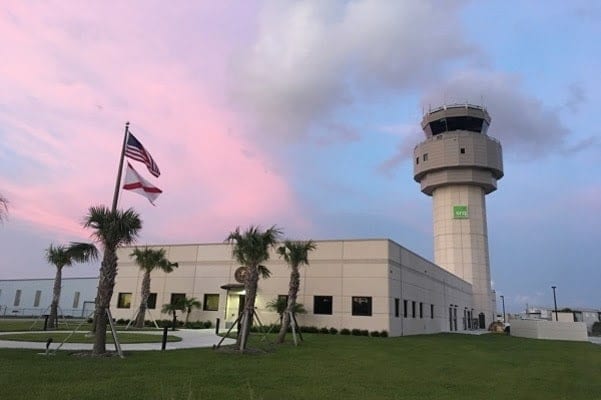 The FAA, Sarasota Manatee Airport Authority (SMAA), and Florida Department of Transportation (FDOT) funded the $24.8 million facility under a unique agreement, according to FAA officials.
The FAA invested $7.2 million in the new tower design, engineering and electronic equipment, which the agency installed and will maintain. SMAA funded $8.9 million for construction and it will own and maintain the building, while FDOT contributed $8.7 million for tower construction.
The facility includes a 9,000-square-foot base building that houses equipment, administrative offices, and training rooms. The new facility includes an updated voice communications system, radio transmitter and flight data processor, which controllers use to communicate with other FAA facilities and the airport.
Air traffic controllers working in the 525-square-foot tower cab handle flights within a 10-mile radius of the airport up to 4,000 feet in altitude. In 2017, the tower handled 104,540 takeoffs and landings.
According to agency officials, 34 FAA employees work at the new facility — 20 in air traffic and 14 in technical operations, which maintains the FAA electronics equipment in the tower and on the airfield.