DAYTONA BEACH, Florida – Thousands of students in Florida have received a head start on college by taking courses in their high schools through Embry-Riddle Aeronautical University's Gaetz Aerospace Institute, the largest aerospace/aviation-related dual enrollment program in the country, according to university officials.
Now the program is expanding to other states, including Illinois, Ohio and Louisiana.
Since its launch in 2004, courses provided by the Gaetz Aerospace Institute are in more than 140 schools across Florida serving more than 6,500 students. The concurrent/dual enrollment portion of the program, which provides students with opportunities for an accelerated college degree, is now in almost 90 high schools in close to 40 counties across Florida this school year and has expanded outside the state.
The college credit program focuses on classes in the fields of science, technology, engineering and math (STEM). From aviation fundamentals and flight training, to unmanned aircraft systems (drones) and spaceflight operations, new course offerings continue to be added each year, university officials note.
The Gaetz Aerospace Institute, formerly Aerospace Career Academy, started as a collaborative effort between Embry-Riddle and the state of Florida 14 years ago to broaden the participation of Florida's secondary school students in aerospace and STEM-related classes. STEM-related job vacancies are exploding, with estimates of more than 2.6 million available positions in the U.S. through 2024, with the majority requiring a post-secondary education.

The STEM-based classes are taught by 125 college-credentialed high school teachers. Tuition and books are free. Embry-Riddle faculty visit the classrooms working with teachers and students to ensure that the courses reflect the same rigorous curriculum offered on the university's campuses, Embry Riddle officials said.
Students participating in Gaetz-sponsored programs can also receive $2,000 scholarships a year to attend Embry-Riddle and are eligible for additional scholarships up to $22,400. Hundreds of Gaetz students have graduated from or are enrolled now at Embry-Riddle's Daytona Beach campus, according to university officials.
"The Gaetz Aerospace Institute really does help prepare you for college," said Jayde King, who is the first Gaetz graduate pursuing a Ph.D. at Embry-Riddle. "It's a great way to immerse yourself into the aviation culture and is a great learning experience."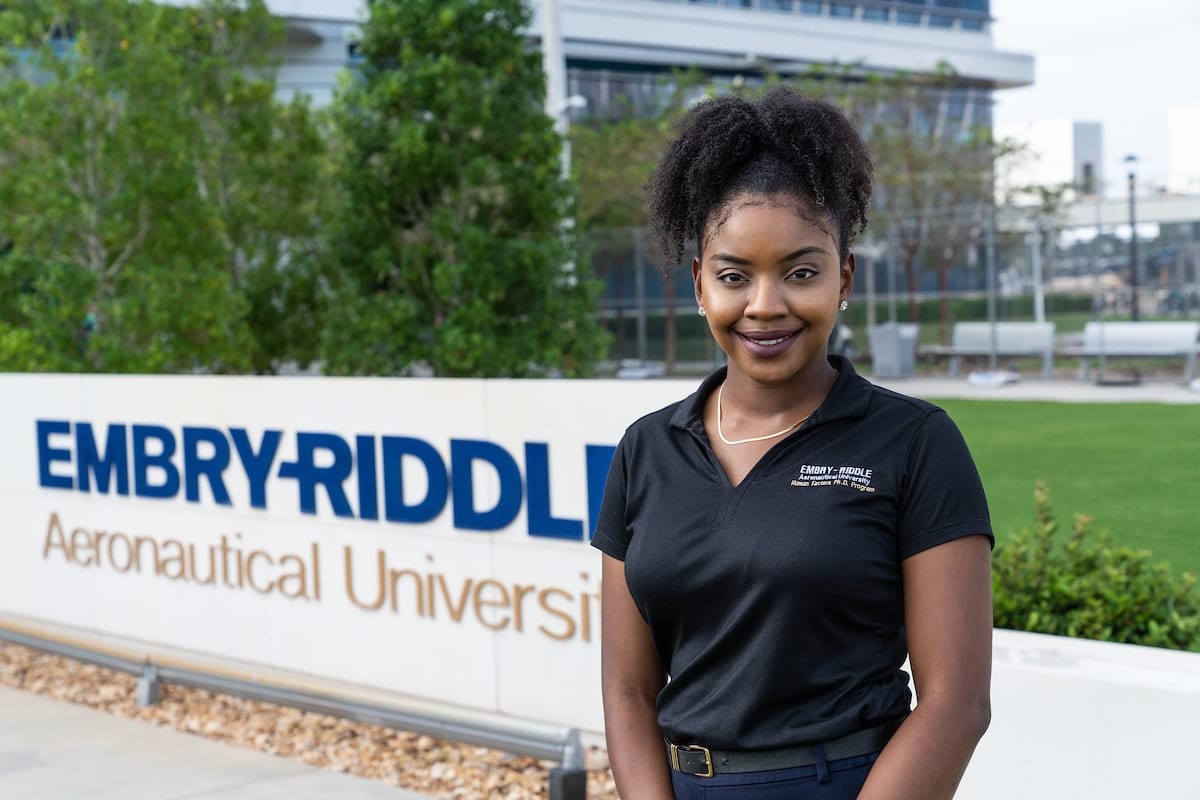 King obtained her bachelor's degree in Air Traffic Management in three years because of the college courses she took over four years at Boynton Beach Community High School. She received her master's in Human Factors in 2016 and hopes to complete her Ph.D. in Human Factors in January, before starting a job with the Air Force Research Laboratory at Wright-Patterson Air Force Base in Ohio.
"By preparing students with real-life skills and knowledge, we are working hand-in-hand with government, industries and local school district partners to guarantee a pipeline of talent for Florida's growing aerospace and aviation industry," said Colleen Conklin, executive director for the Gaetz Aerospace Institute and assistant professor in the College of Aviation at the Daytona Beach Campus.
Other states have also shown interest in the innovative, STEM-related concurrent/dual enrollment program. Illinois started offering the program in 2013 and this year the Gaetz Aerospace Institute's high school curriculum series called SMART@ER (Science, Math, Aviation/Aerospace, Robotics, Technology @ Embry-Riddle) is expanding to Ohio and Louisiana.
Embry-Riddle also offers an additional dual enrollment program opportunity with online coursework and in schools throughout the nation.