The National Business Aviation Association (NBAA) has unveiled its 2018 Business Aviation Top 40 Under 40, which recognizes young professionals working in business aviation for their career accomplishments and dedication to the industry.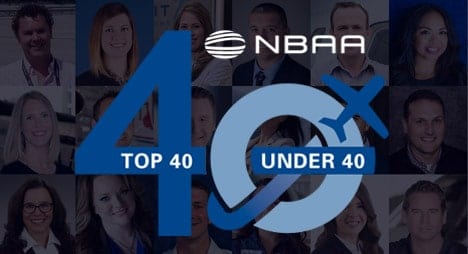 Recipients will be recognized at NBAA's Business Aviation Convention & Exhibition (NBAA-BACE), which runs Oct. 16-18 at the Orange County Convention Center in Orlando, Florida.
"At a time when the aviation community is as focused as ever on attracting and keeping tomorrow's leaders and visionaries, NBAA is honored to have this opportunity to shine a spotlight on these outstanding young people, who are changing our industry in innovative and profound ways," said NBAA President and CEO Ed Bolen.
This year's inaugural Business Aviation Top 40 Under 40 list was selected by NBAA's YoPro Council, a group of business aviation professionals and NBAA staffers. The council reviewed hundreds of nominations submitted from across the world and selected 40 individuals who represent the best of business aviation, including the broad diversity of disciplines within the industry.
The Top 40 Under 40 recipients are:
Airport Business
Anthony Banome, Fontainebleau Aviation
William "Billy" Bohlke, Bohlke International Airways
Erin Croop, Base Operations at Page Field
Brad Elliott, Desert Jet Center
Jessica Rowden, Cutter Aviation
Broker/Sales
Jeff Ramsden, Ramjet Aviation, Inc.
Cyrus Sigari, JetAVIVA
Chris Swathwood, Altivation
Zach Ungerleider, Textron Aviation
Business Management
Joseph Barber, Clay Lacy Aviation
Jennifer Drolema, Northern Jet Management
Kyle Eiserer, Apex Executive Jet Center
Kali Hague, Jetlaw
Adam Hartley, Universal Weather and Aviation, Inc.
Mohammed Husary, UAS International Trip Support
Josh Jabour, AirSure Limited
Jade Martin, Spirit AeroSystems
Chris Quiocho, OFFLAND Media
Gina Radke, Galley Support Innovations
Cabin Attendant
Jennifer Ciotta, contract flight attendant
Maintenance
Lee Brewster, Flightdocs
Anna Romer, 3M
Brian Tyminski, Compressed Gas Systems
Marketing
Kate Latis, BizAv Young Talent Initiative
Kindra Mahler, Fargo Jet Center
Christopher Salley, National Jets
Caleb Stitely, Chantilly Air
Pilot
Catrina Capistrant, VISA
Jared Grindstaff, MasterCorp
Corey Hobbs, Jet Aviation
Nick Lambert, Van Wall Equipment
Alex Marks, CAM, Exelon
Daniel Perez, Latitude 33 Aviation
Mary Poirier, CAM, Jackson National Life Insurance
Matthew Simmonds, Dallas Area Flight Department
Shaesta Waiz, Dreams Soar
Brandon Williams, Richardson Aviation
Scheduler/Dispatcher
Adam Beckman, The Ohio State University
Neil Everett Capano, YonderWest Aero
Ernesta Corcoran, Jetstream Aviation
Review bios for the 2018 Business Aviation Top 40 Under 40 recipients at NBAA's website.