Aeroplex/Aerolease Group, a tenant at Van Nuys Airport (VNY) recently launched a solar rooftop and canopy installation — a first at VNY.
Meanwhile, another six other business tenants unveiled solar energy project commitments, according to airport officials.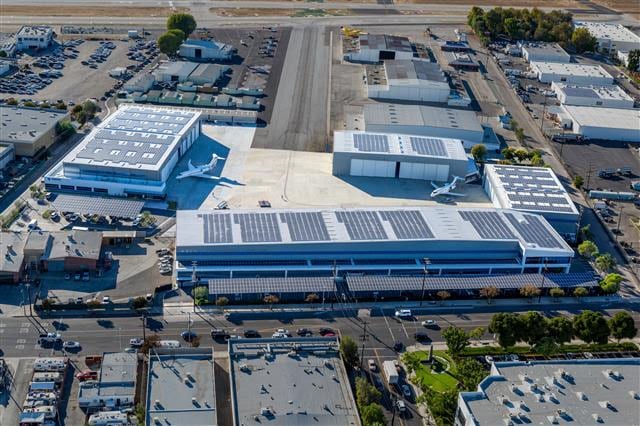 This is the first installment of solar power generation at a Los Angeles World Airports (LAWA) airport, with future projects projected to come online, pending regulatory approvals. Upon completion of all seven projects, VNY will become one of California's leading general aviation airports for solar energy production, LAWA officials noted.
Projects include:
Aeroplex/Aerolease Group (system now operational): 1.5 megawatts (MW), rooftop and canopy (the first such installation at VNY);
Valley Sod Farm: 13.8 MW, ground-mount unit, which will become the largest ground-mount solar electric system in the Los Angeles Department of Water and Power's service territory in the L.A. Basin
Castle & Cooke: 1.8 MW, rooftop
Clay Lacy Aviation: 1.8 MW, rooftop
The Park VNY: 3.3 MW, rooftop and canopy
Western Jet Aviation: 1.5 MW, rooftop and canopy
Woodley LLC: 3.8 MW, rooftop and canopies
When energized, all of the systems combined will produce approximately 44.6 million kilowatt-hours annually — enough to power about 8,000 homes each year. In addition, the projects will annually reduce more than 73.3 million pounds of CO2 emissions.
Los Angeles City Councilwoman Nury Martinez, whose council district includes VNY, noted the importance of these solar energy projects in improving the quality of life in Van Nuys and surrounding areas. Besides significantly reducing carbon dioxide (CO2) emissions, the projects will also eliminate approximately 212,700 pounds of sulfur dioxide and 14,500 pounds of asthma particles each year.
"The Van Nuys Airport has always been an economic engine for both the Valley and entire region. Now, with these solar projects and other initiatives, toxins from the area will be removed due to renewable power," said Martinez. "The solar projects not only mean a huge step forward in making our community green, but they also mean the first step toward future development, which includes ground-mounted power to alleviate the burden of local engine noise and fumes."
The CO2 reduction from the solar power projects equates to planting almost 15,600 trees, or to saving more than 119.1 million car miles driven in a year. Given that the average driver puts in about 13,500 miles each year, this translates into taking more than 8,800 cars off of our roads annually, airport officials note.
These new clean energy initiatives demonstrate a successful partnership between VNY business tenants and PCS Energy, the solar provider that will install the panels for all of the projects. Under power purchase agreements, PCS Energy will supply the Los Angeles Department of Water and Power with 100 percent of the energy produced for the next 20 years.