AMELIA Island, Florida — Bent Wing Flight Services is now operating out of its permanent home at the Fernandina Beach Municipal Airport (KFHB) in the airport's new $4.5 million general aviation terminal building.
The new terminal was designed to represent the F4U Corsair aircraft in honor of the World War II pilots who flew the "Bent Wing Bird" from the U.S. Navy's Outlying Forward Field built in 1943, which became Fernandina Beach Municipal Airport. The building features a nose section, skylight cockpit and tail, as well as the distinctive inverted gull wings for which the "Bent Wing Bird" earned its nickname.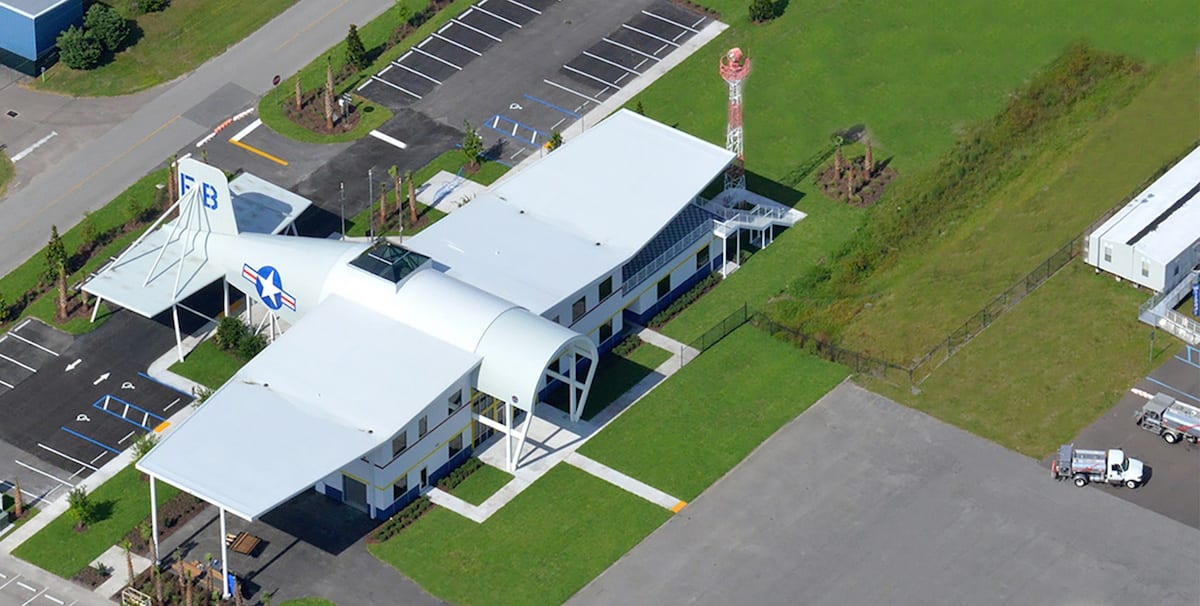 The interior continues the iconic theme with a two-story glass lobby and a museum-quality replica of the F4U Corsair suspended from the ceiling.
Another distinctive feature in the lobby is the custom-made reception desk, crafted from the fuselage and wing flap of a World War II T-6 aircraft. The desk features color-changing LED lights behind strips of Marston Mat, the innovative portable runway developed during World War II.
The new terminal building includes a designated flight planning room, a pilot lounge and shower facilities, two conference rooms, the "canteen" coffee bistro, and a "shopette" store featuring pilot supplies and local gifts.
Bent Wing Flight Services offers its customers full-service and self-serve fuel options, concierge services, courtesy and rental cars, catering services, hangar space and after-hours services.