Garmin will expand its pilot training opportunities for 2019, adding more classes throughout the United States.
Training classes will be available for the G3X Touch, GTN 650/750 touchscreen navigator series, the G500 TXi/G600 TXi, G500/G600 flight display systems, Garmin Integrated Flight Decks, and the GWX aviation weather radar.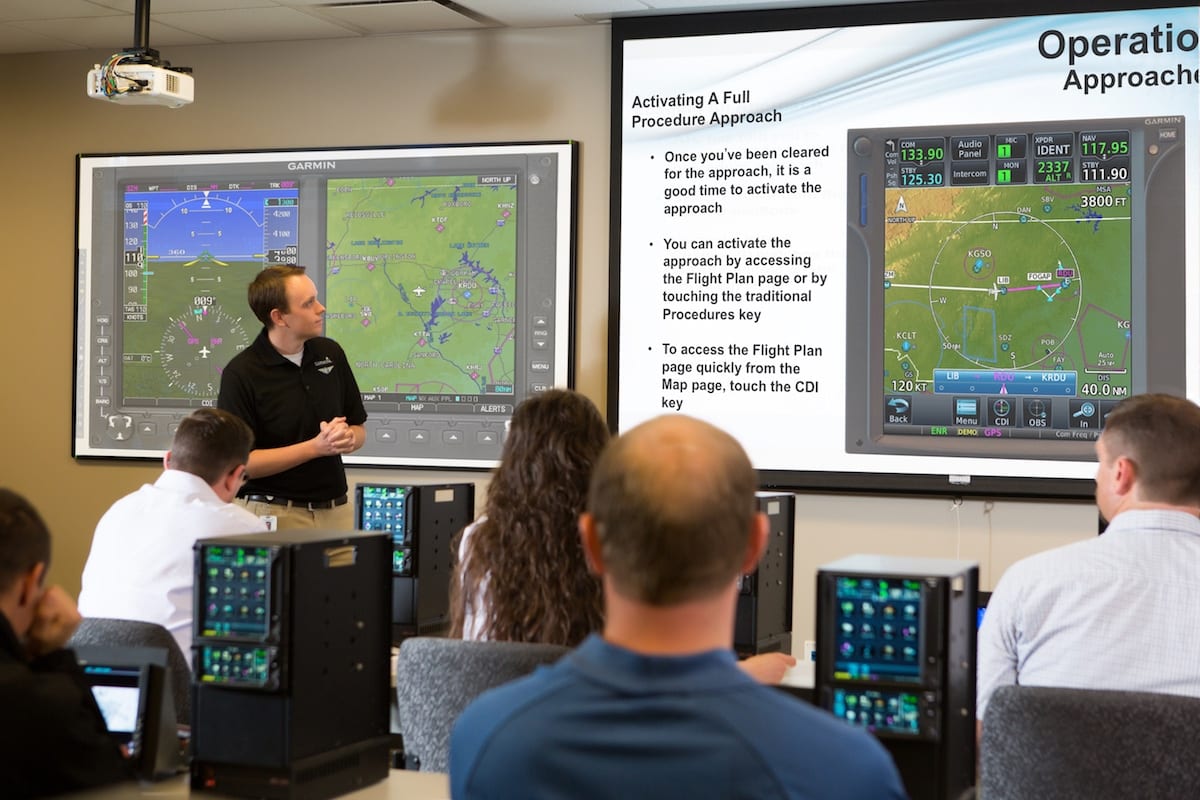 According to Garmin officials, the training opportunities provide pilots with a hands-on approach to learning Garmin avionics in a classroom environment taught by experienced certified flight instructors.
G3X Touch Installation and Pilot Training
New for 2019, Garmin is hosting a two-day course that reviews fundamentals associated with installation considerations and maintenance of the G3X Touch flight display. Pilot training includes how to effectively navigate and use the PFD/MFD, communication, navigation and surveillance equipment within the system. The two-day course is $495 and will take place in Olathe, Kansas, on April 15-16, 2019, and Oct. 17-18, 2019.
G1000/G1000 NXi Pilot Training
Intended to serve both novice and experienced aviators, this two-day course will explore the capabilities of the G1000 or G1000 NXi Integrated Flight Decks by providing hands-on, scenario-based training in a classroom environment. The course will focus on flight planning, instrument procedures, vertical navigation, the automatic flight control system and more. Cost is $749 and the class will be held in Olathe, Kansas, March 7-8, 2019, June 10-11, 2019, and Sept. 26-27, 2019.
GTN 650/750 & Flight Displays
For pilots who are considering an avionics upgrade or those who already have an existing GTN 650/750 paired with a Garmin flight display, Garmin is hosting several classes tailored specifically to flying with these avionics.
The two-day class provides a collaborative environment designed to help pilots transition from analog flight instrumentation to Garmin flight displays. A presentation and practice format offers attendees the opportunity to practice real-world in-flight scenarios with Garmin avionics. Cost is $625 and is scheduled in Olathe, Kansas, on Jan. 14-15, 2019, March 2-3, 2019, Aug. 22-23, 2019, and Nov. 4-5, 2019.
GTN 650/750 Pilot Training
Pilots may also take advantage of training classes tailored specifically to the GTN touchscreen series. This two-day class is available for $495 and highlights loading and activating departures, visual approaches, and instrument approach procedures, flying holds, flight plan modifications and more.
GTN-specific class dates are also hosted in Olathe, Kansas, and are scheduled for March 25-26, 2019, and Oct. 26-27, 2019.
Pilot Training Classes – Regional U.S. Locations
Classroom-based training opportunities will be hosted throughout several new locations within the United States in 2019. These classes will provide the same in-depth instruction offered at Garmin headquarters in Olathe, covering the G500 TXi/G600 TXi, G500/G600, G3X Touch and GTN 650/750 avionics suites.
Cost to attend any one of the regional classes is $795.
Feb. 21-22, Garmin Chandler Office, Chandler, Arizona;
April 4-5, Garmin Cary Office; Cary, N.C.;
June 20-21, Ace Aviation; Seattle;
Sept. 5-6, Ramada by Wyndham Englewood Hotel & Suites, Englewood, Colorado;
Oct.10-11, Garmin Chanhassen Office, Chanhassen, Minnesota;
Nov. 20-21, Broward College, Ft. Lauderdale, Florida.
Integrated Flight Decks
Integrated Flight Deck training is tailored specifically to aircraft type and flight operations performed by pilots attending the class. These on-demand courses are dependent upon instructor availability, training aids, and other resource considerations, according to Garmin officials.
These classes provide a hands-on learning opportunity in a structured environment for pilots flying with the G1000/G1000H, G3000 or G5000/G5000H Integrated Flight Decks.
Aviation Weather Radar Class
Successful operation of the weather radar requires an understanding of radar principles, as well as operational considerations and techniques. This class starts with the fundamentals of ground-based and airborne weather radar systems and covers best practices for using the Garmin GWX 70, GWX 75 and GWX 80. The class concludes with a scenario-based module on weather threat management.
New for 2019, this class is suitable for pilots with little weather radar experience, pilots looking to refine their weather radar skills, and those transitioning from other radar systems.
Web-Based Classes
For customers interested in web-based online courses, Garmin offers several eLearning courses for the G3000 and G5000 Integrated Flight Decks, Link 2000+, GTN 650/750 Essentials and Weather Radar Operations. These eLearning courses are self-paced and guide customers through scenarios, which help build confidence with Garmin avionics systems.
At the Shows
Garmin will also be hosting various training classes at EAA AirVenture in Oshkosh, Wisconsin (July 22-28, 2019) and at the National Business Aviation Association (NBAA) Convention & Exhibition in Las Vegas (Oct. 22-24, 2019).
How to Sign Up
To attend any of the courses at Garmin Headquarters in Olathe, Kansas, or throughout the United States, register online by selecting the Training Tab on flyGarmin.com.
For additional information or to request training for any one of the G1000/G1000H, G3000 or G5000/G5000H Integrated Flight Deck courses, contact aviation.training@garmin.com.