McFarlane Aviation Products has expanded its line of manufactured control surface skins to include Cessna 120, 140, 170, and 195 series aircraft.
Design features and precision manufacturing processes provide uniform corrugation shape and spacing tolerances, company officials say.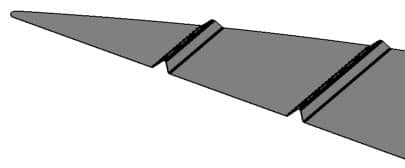 The skins do not have predrilled holes, according to aircraft mechanic Jason Klenklen.

"Without predrilled holes, installers do not need to worry about misalignment and rivet hole variations from one aircraft to the next," he said.
In addition to eliminating the worries of not matching existing components, the precise skin geometry and corrugations further prevent misalignment, he added.
"Misaligned corrugations and any slight variation in corrugation shapes cause setbacks during installation," he said. "By having the part cut to shape with precise corrugations, fitting is fast and efficient compared to other options."
All FAA-PMA skins from McFarlane Aviation Products come with documentation and are available in kits or individually.