Aspen Avionics has received a Supplemental Type Certificate (STC) for the Evolution E5 Dual Electronic Flight Instrument (EFI).
Introduced in April 2018, the STC'd, non-TSO Evolution E5 consolidates attitude indicator plus DG/CDI into a single display with a rechargeable backup battery.
It also includes Global Positioning System Steering (GPSS), air data computer, and attitude heading reference system (ADAHRS) starting at $4,995.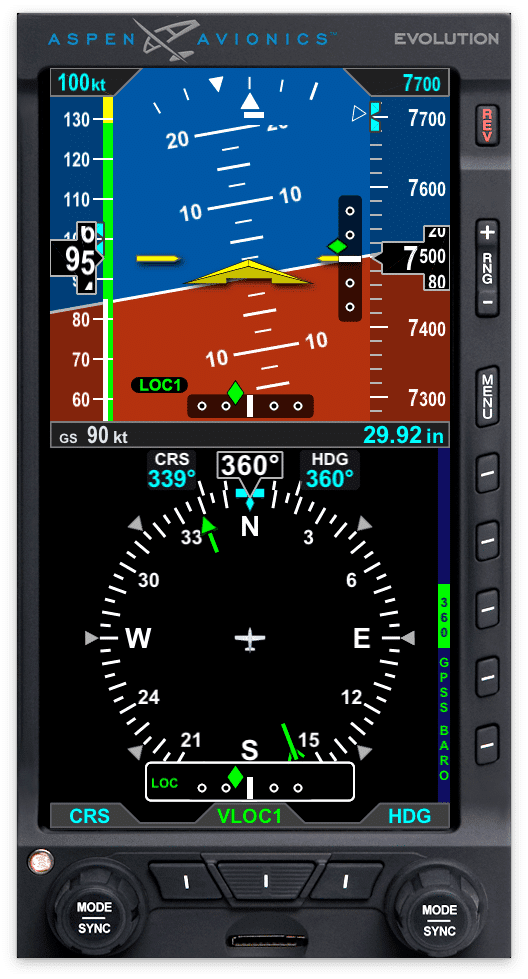 "The interest in the E5 has been overwhelming and we have a significant order backlog. We expect to be shipping the E5 as soon as we receive the Parts Manufacturer Approval (PMA), which is expected very soon," said Mark Ferrari, Aspen vice president of sales and customer support.
Designed as a drop-in non-TSO replacement for traditional mechanical vacuum instruments, the Evolution E5 also interfaces with most legacy autopilots and will also interface to the new TruTrak Vizion autopilot, according to company officials.
Features of the E5
Backup attitude indicator not required
Rechargeable backup battery
IFR certified with glide slope and localizer display
Single unit installation – consolidates traditional attitude indicator and directional gyro/course deviation indicator into a single display
Provides a path for removal of vacuum systems
Interfaces with most industry autopilots and provides GPSS roll steering
Non-TSO STC approval
6" diagonal, 400 x 760 pixel TFT Active Matrix LCD screen
Works with existing avionics
Patented, form-fit design slides easily into existing panel cutouts.