SCOTTSDALE, Arizona — Just launched is a new aviation search engine called AeroSearcher, that "enables the easy search of three primary aviation search types: Aircraft for sale, aviation jobs, and aviation parts and products," according to company officials.
The new site is not an aircraft classifieds service or an aviation jobs classified site or an aviation store. It does not store listings on the site, but is designed to "make finding any particular aviation listing far easier than ever before," company officials add.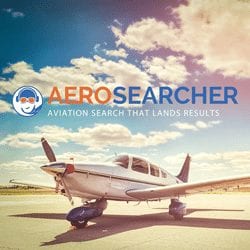 "Prior to the launch of AeroSearcher individuals looking for a plane, an aviation job, or a particular product needed to visit five, six, maybe even 10 different websites to view the majority of available options," says Todd Hogan, one of AeroSearcher's founders. "Today, with our launch, the aviation searcher can find what they're looking for in seconds. It's essentially the 'Uberization' or 'Airbnb-ification' of aviation search."
Launched in November 2018, the search engine indexes more than 20,000 aircraft, more than 30,000 aviation jobs, and more than 50,000 aviation parts and products.