According to the latest figures from the General Aviation Manufacturers Association (GAMA), piston and business jet deliveries increased through the first six months of 2019, compared to the same time period in 2018, while turboprop airplane and rotorcraft shipments were lower.

"While the year-to-date aircraft shipments are mixed, this should not obscure the outlook for a bright future for general aviation. Our mid-year report shows new aircraft reaching entry into service milestones with additional models expected to enter into service before the end of 2019," said GAMA's President and CEO Pete Bunce.
The piston market continued to lead the increase in deliveries at 567, up 15.2% from the same period in 2018.
Business jet shipments increased by 12.5% in the first six months of 2019 to 316 airplanes delivered.
Turboprop airplanes, however, declined in deliveries from 260 to 231 from the same reporting companies.
The value of airplane deliveries through the first six months of 2019 was $9 billion, an increase of approximately 12.9%.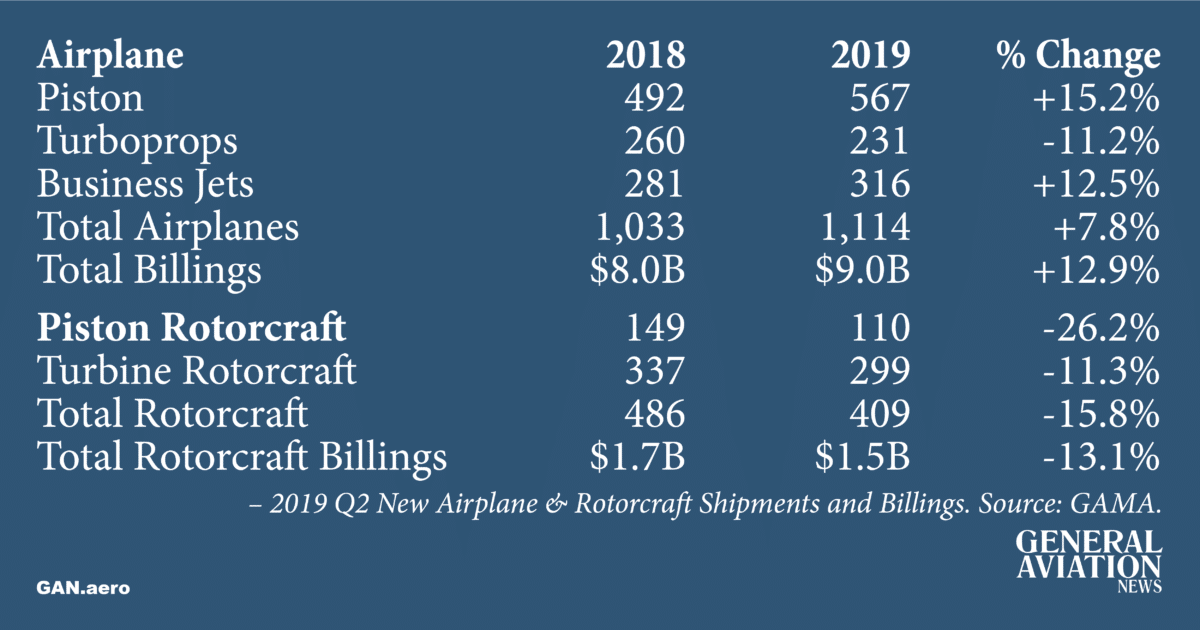 Rotorcraft deliveries slowed in the first six months of 2019. Piston rotorcraft shipments declined from 149 to 110, according to the GAMA numbers.
The industry delivered 299 turbine rotorcraft, a 11.3% drop from 2018.
The value of rotorcraft shipments was $1.5 billion, a decline of approximately 13.1%, GAMA officials reported.