Garmin has added new features to the Garmin Pilot app that incorporate professional IFR navigation tools found within Garmin avionics.
Pilots can experience a near-seamless transition between Garmin avionics and the Garmin Pilot app when performing common functions, such as loading and activating instrument approach procedures, departures and arrivals within the Americas, according to company officials. Additional features, such as a visual procedure selector, custom holding patterns and more, give pilots access to advanced tools within the mobile app.
With the latest upgrade, pilots have the option to load or activate departures, arrivals and instrument approach procedures. Published holds that are included as part of the missed approach are also added to the flight plan.
When pilots activate a procedure with published altitude constraints, those altitudes are automatically incorporated into a flight plan within the app, company officials note.
Pilots can also choose to manually add altitude constraints into a flight plan. Additionally, approach procedures with radius-to-fix (RF) legs can be activated within Garmin Pilot.  
Using the vertical planning feature, pilots can input and adhere to crossing restrictions in a flight plan. For example, pilots can manually input a crossing restriction over a specific navigational aid or GPS waypoint. With these new features, pilots can optimize their flight planning and fuel calculations, according to Garmin officials.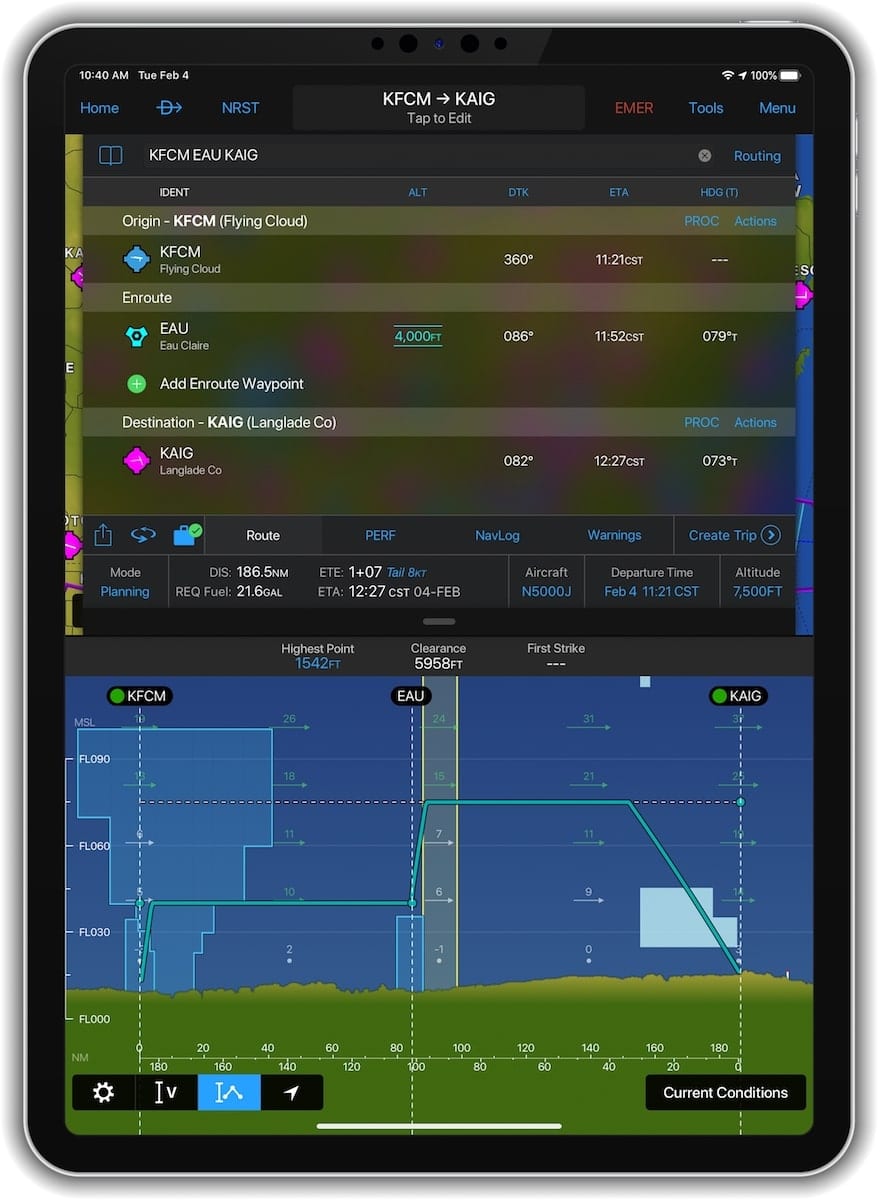 The visual procedure selector allows pilots to simultaneously view departures, approaches, or arrivals on a map alongside a flight plan so it's easier to visualize and select the most appropriate procedure based on a flight plan and intended direction of flight.
Pilots also have the flexibility to build customized holding patterns. These holds may be created over an existing fix or over a user-defined waypoint and then inserted into a flight plan. When creating a hold, pilots can input an inbound or outbound course, select left or right turns, and specify leg length in time or distance. Unpublished holds or those assigned by air traffic control are easily created and displayed within Garmin Pilot to simplify the process of visualizing and flying a holding pattern, Garmin officials said.
The newest release of Garmin Pilot on Apple mobile devices is available immediately. For new customers, Garmin Pilot is available in the Apple App Store as a free download for the first 30 days. After the 30-day trial period, customers can purchase an annual subscription starting at $79.99.