The San Diego Air & Space Museum has launched SDASM TV.
SDASM TV plays the San Diego Air & Space Museum's featured insider stories, archival footage and oral and video histories.
SDASM TV also provides STEM (Science, Technology Engineering and Mathematics) challenges related to the museum's mission to preserve, inspire, educate, and celebrate aviation and space flight history and innovation.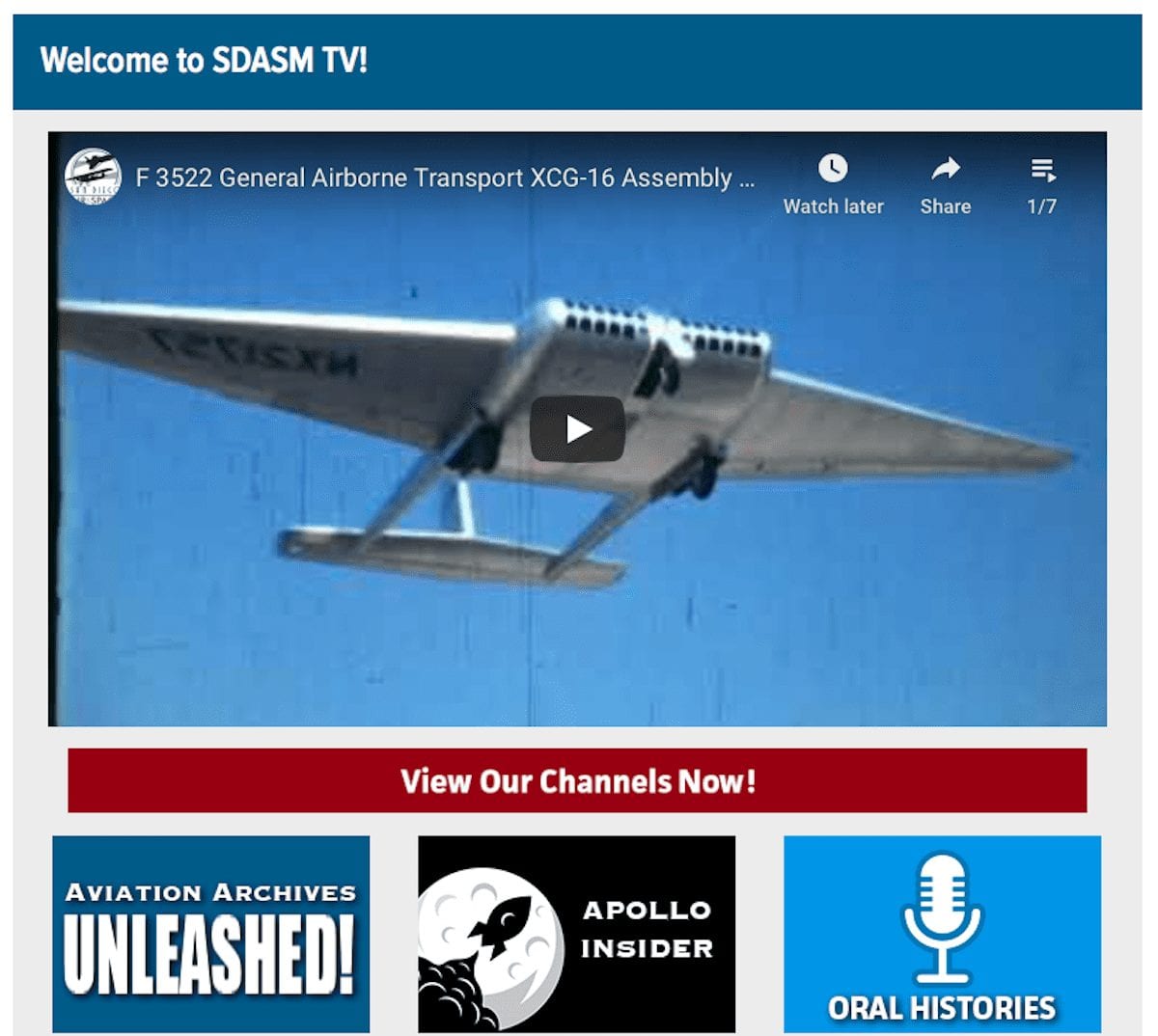 "SDASM TV revolutionizes how viewers can easily access the incredible and rare stories behind the greatest achievements and personal daring, which defines innovation in aviation and space technologies; and that golden age continues even now as you'll view it on SDASM TV. For more than 100 years the journey of aviation and space led the way, advancing mankind's most significant and life altering technological innovations," said Jim Kidrick, President & CEO of the museum. "It's our way of ensuring during a time of great challenge for many, we visually remind Americans what made us a great nation and continues to do so…the innovative minds, which walked America on the Moon first!"
"We've been focused on digitizing photographs, videos and oral histories more than any other museum for a very long time, and now it's paying off," added Kidrick.
SDASM TV's "Apollo Insider" channel showcases one-of-a-kind videos from the museum's Apollo events where the men and women who were responsible for America safely landing men on the Moon share their unique, behind-the-scenes first-person stories about NASA's greatest triumph.
SDASM TV's "Aviation Archives – Unleashed!" channel showcases a collection of rare videos, which have been digitized and preserved by the museum's archival team, resulting in never-before-seen footage of some of the most remarkable achievements in the development of aviation and space flight technologies and advancements.
The "Oral History" channel features one-on-one interviews with some of the most famous figures in the annals of aviation and space flight history.
Coming soon to SDASM TV: STEM-focused video challenges designed to educate and inspire school-aged science, technology, engineering, math and innovation enthusiasts around the world, according to museum officials.
"Now more than ever it is critical for the San Diego Air & Space Museum to remain committed to our mission to preserve, inspire, educate, and celebrate space flight history and technology," added Kidrick. "SDASM TV is an immersive, educational and fun experience providing unlimited access to audiences all across the globe. Our superb team at the museum wants to ensure we do our part."
The San Diego Air & Space Museum is California's official air and space museum and education center. It is an affiliate of the Smithsonian Institution and was the first aero-themed museum to be accredited by the American Alliance of Museums. The museum is temporarily closed to the public due to the coronavirus.