FARGO, North Dakota — Appareo has introduced a new flight app called Stratus Insight.
The electronic flight bag (EFB) includes VFR sectional maps, IFR low/high charts, geo-referenced approach plates, TAWS, and AHRS with synthetic vision. It also provides ATC Radio Transcription and Playback, Vertical Weather Profile, Radar Forecast, and Smart Flight Plan.
Stratus Insight supports integration with all generations of Stratus receivers, which provide subscription-free weather, WAAS GPS information, and ADS-B traffic to the app during flight, according to company officials.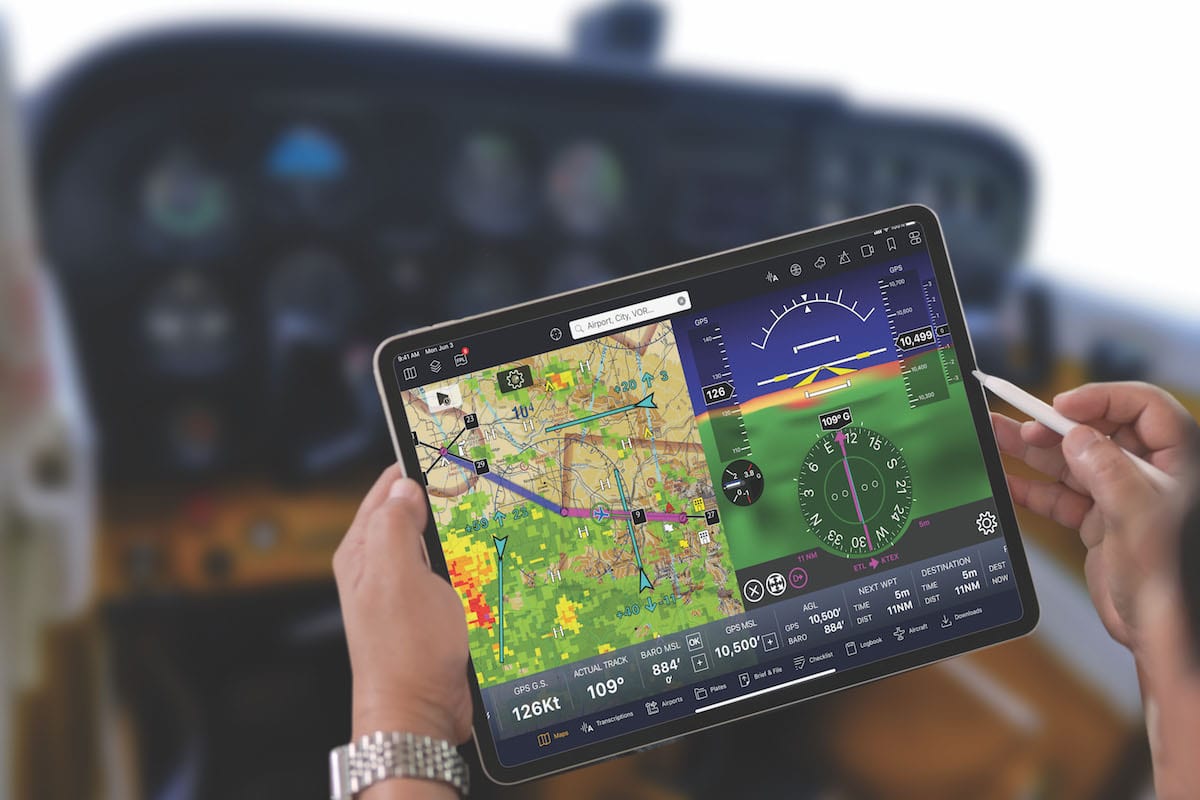 Stratus Insight is one of two software applications in the Stratus family of pilot-friendly avionics. The other app, Stratus Horizon Pro, was the industry's first app to provide ATC Radio Transcription and Playback to pilots, according to Appareo officials. Those features are now also available in the new Stratus Insight EFB to give pilots the option of flying with an "all-in-one" app experience, they explain.
"At its core, Stratus Insight is a full-featured EFB designed to make pilots' lives easier and to provide enhanced situational awareness in the cockpit," company officials said in a prepared release. "Stratus Insight's weather tools were designed to give pilots a deeper understanding of weather for improved preflight planning. For example, weather modeling products such as Radar Forecast and a Vertical Weather Profile tool that allows pilots to see conditions across their route of flight based on their aircraft speed and departure time. If changes in weather advisories force a pilot to take an alternate route, Stratus Insight goes beyond simply listing alternate airports – the Smart Flight Plan tool considers fuel stops and day/night currency."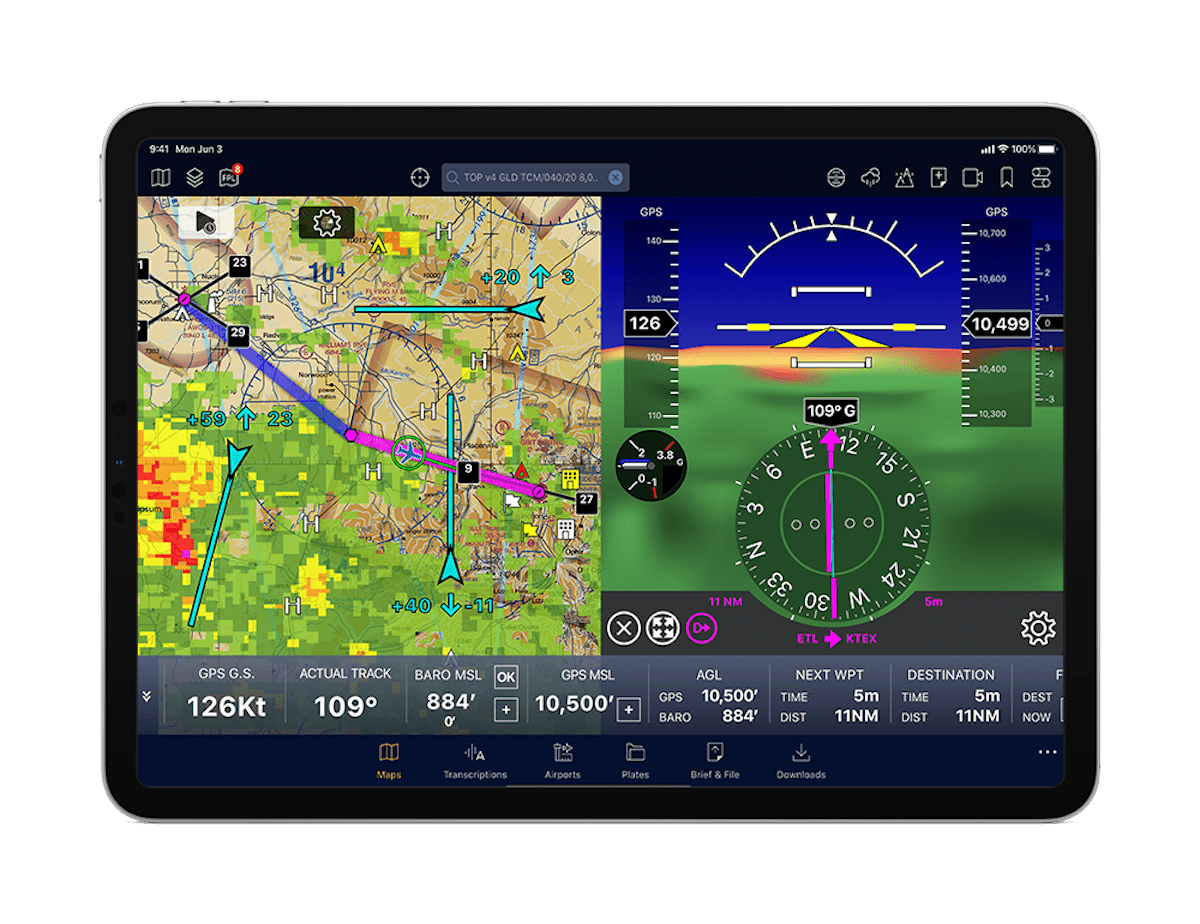 Stratus Insight displays supplemental attitude information driven by a Stratus receiver — essentially creating a "backup glass cockpit" on your iPad, with a synthetic vision view, company officials note. The app can also be paired with a Bluetooth headset or audio panel to alert pilots with TAWS or runway information.
Stratus Insight features a custom aviation speech recognition system. When paired with a Stratus Audio Cable, the ATC Radio Transcription feature works similar to visual voicemail. ATC communications are converted into text and displayed directly above the audio playback line, providing a helpful visual assist for referencing previous audio clips, company officials explain. This enables pilots to receive a clearance, ATIS, or other important ATC communications without needing to write them down, officials add.
AI for ATC
The speech recognition and language understanding technology that drives the Radio Transcription feature was custom-designed by the Artificial Intelligence (AI) division at Appareo.
"We are focused on developing machine learning technology to reduce workload and increase safety in the cockpit," said Appareo AI Systems Director Josh Gelinske.
While speech recognition, translation, and transcription features are commonplace — think Alexa and Siri — ATC communications present many challenges for these common speech recognition systems, Appareo officials said. The high rate of speech, noisy signal, narrow frequency band, and unique location identifiers are just some of those challenges.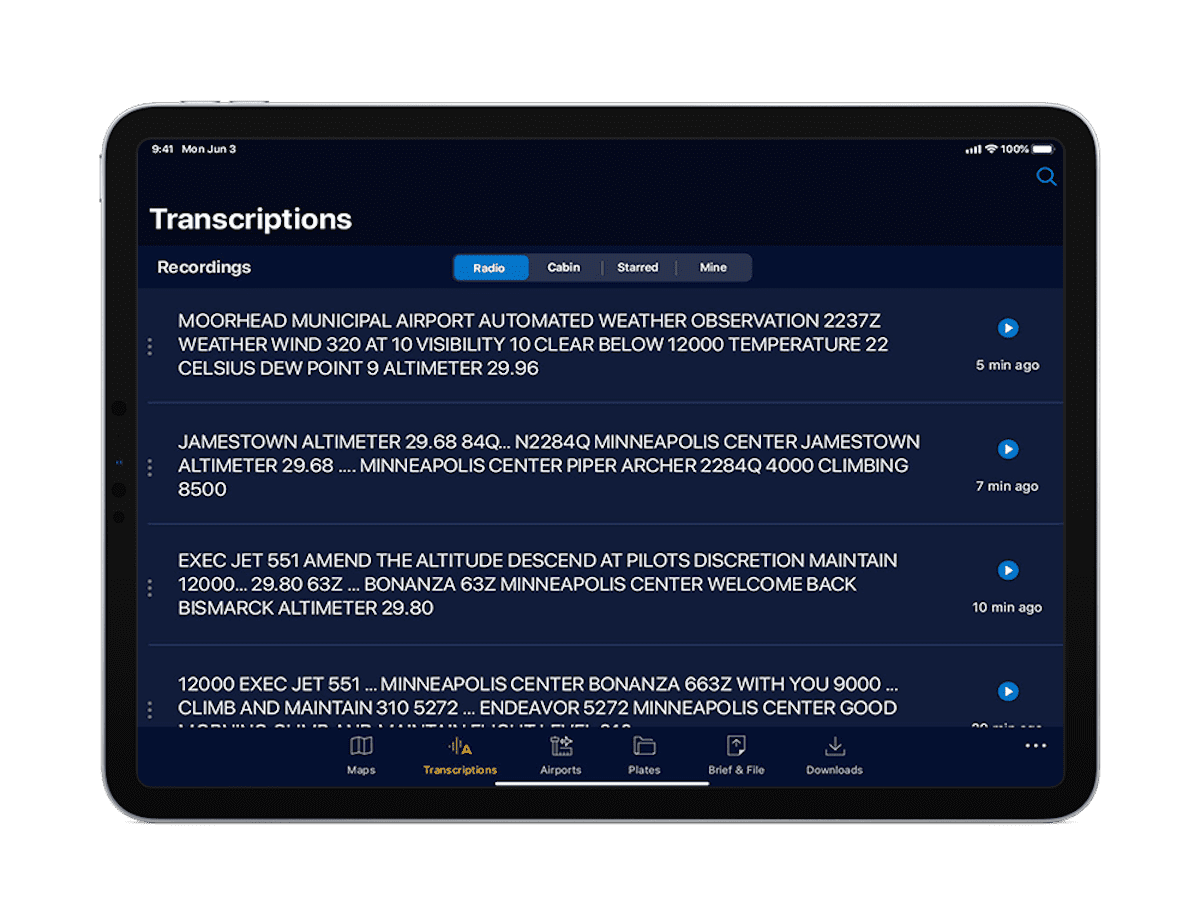 That led Appareo to develop a speech recognition system customized for aviation.
"We began by designing a deep neural network and training it on thousands of hours of speech and hundreds of hours of ATC data," said Gelinske.
Appareo then designed a custom aviation speech recognition system that was able to run on mobile devices without requiring cellular service or internet connection, so there would be no accessibility limitations during flight.
"Natural Language Processing is also used to interpret the output of the speech recognition system to present it in a more pilot-friendly format," he said. "For example, tail numbers, altitudes, runways, and frequencies are transcribed in a way that will be more helpful to pilots."
| | | |
| --- | --- | --- |
| | A typical speech recognition system | Appareo's custom aviation speech recognition system |
| Altitudes | one zero ten thousand | 10,000 |
| Call signs | November two two eight four quebec | N2284Q |
| Runway | Runway three six one eight | runway 36 18 |
| Frequencies | one two zero point four | 120.4 |
Stratus Insight is available for download from the Apple Store, and currently offers two subscription plans — $9.99 monthly or $99.99 annually. It is available only for iOS devices. No cellular service or internet connection is required to operate the app. The Stratus Audio Cable, available for $49.99, is necessary to enable the Radio Transcription and Playback features.