Clay Lacy Aviation is expanding its operations at Waterbury-Oxford Airport (KOXC) in Oxford, Connecticut.
The Connecticut Airport Authority (CAA) has approved a 30-year lease on 16 acres of land at KOXC for the company, which plans to invest $20 million to build a new FBO, and maintenance, repair and overhaul facility, bringing 100 new jobs to Connecticut.
Clay Lacy established its operation at Waterbury-Oxford Airport in 2015 with the acquisition of Key Air, moving into a 65,000-square-foot facility and further expanding its East Coast aircraft management, maintenance, and business jet charter services. In 2019, Clay Lacy received FAA approval to open a Part 145 Repair Station, and has continued to broaden its capabilities and services, adding 50 new jobs, according to company officials.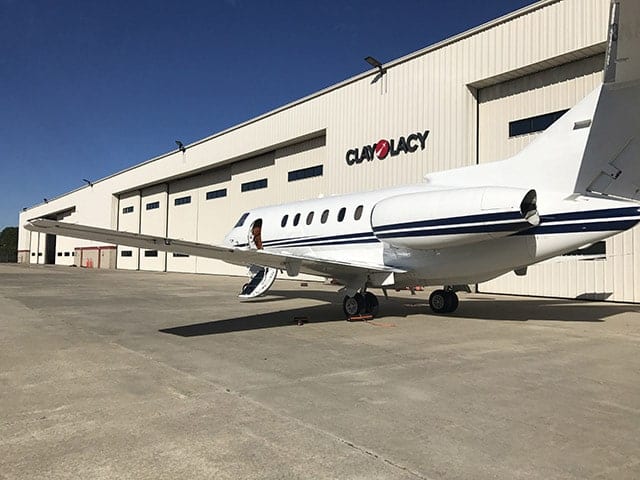 "Clay Lacy Aviation has been an outstanding business partner at Waterbury-Oxford Airport, and we are thrilled with the expansion of their depth and breadth of services on the airfield," said Kevin A. Dillon, A.A.E., Executive Director of the Connecticut Airport Authority. "In addition to industry-leading aircraft management, maintenance, and jet charter services, a brand-new FBO and hangar complex will attract new business and bring more jobs to our local economy."
Founded in 1968 by legendary aviator and industry pioneer Clay Lacy. Today, Clay Lacy Aviation has aircraft operations and regional offices across the U.S., including a full-service FBO at Van Nuys Airport in Los Angeles, a recently awarded FBO at Orange County's John Wayne Airport, and FAA Part 145 aircraft maintenance centers in Los Angeles, San Diego, and Oxford, Connecticut.