About 7,500 people gathered on the SUN 'n FUN campus in Lakeland, Florida, Dec. 4-5, 2020, for the Holiday Flying Festival and Car Show.
The event raised around $100,000 for the Aerospace Center for Excellence, the educational component of the SUN 'n FUN organization. That helps make up some of the $2 million lost when the 2020 SUN 'n FUN Aerospace Expo was canceled due to the COVID-19 pandemic.
Because the holiday fly-in was such a success, SUN 'n FUN officials say it will return.
"We are planning at this time to make it an annual event in addition to our normal Aerospace Expo each spring," said Greg Gibson, chief marketing officer and air operations director for SUN 'n FUN.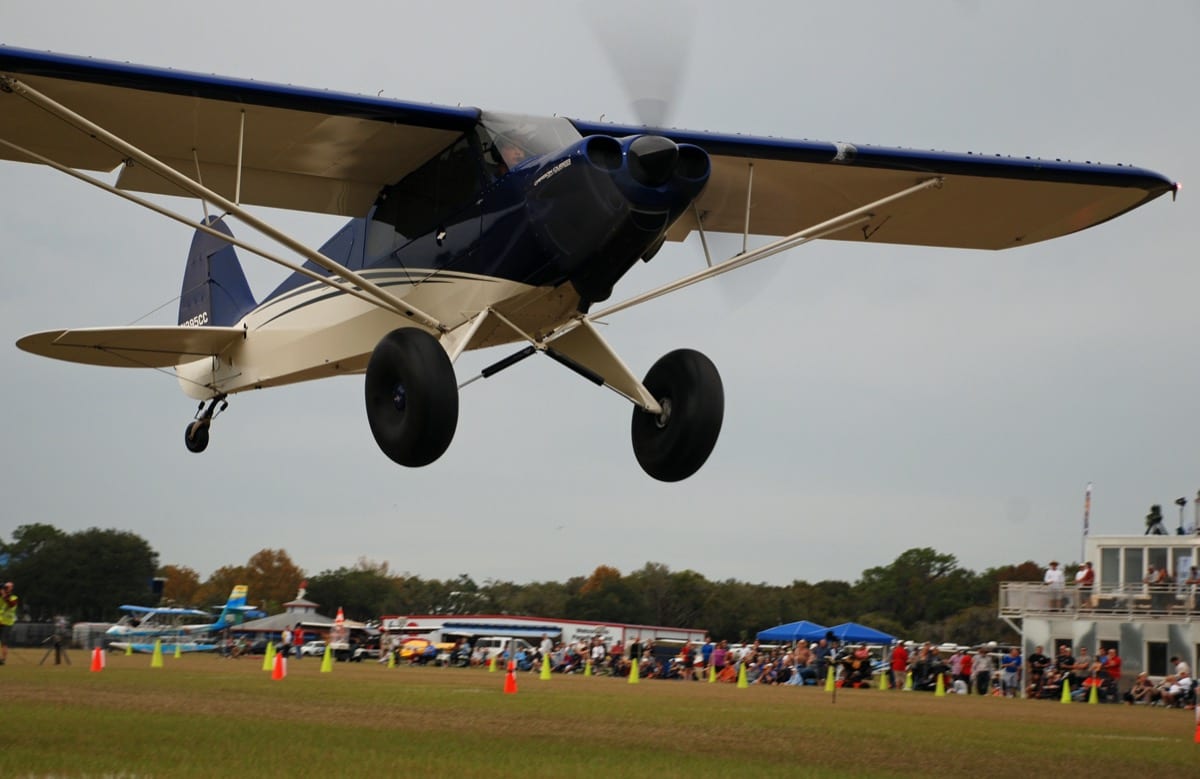 A highlight of the Holiday Flying Festival was the first-ever STOL (Short Take Off and Landing) competition held on the SUN 'n FUN campus.
National STOL's Central Florida Classic Competition attracted 46 pilots, including three first-time STOL competitors — Nicholas Poucher, Cole Harris, and Sean Stoltz — from the Lakeland Aero Club, which is made up of students at the Central Florida Aerospace Academy, which is also on the SUN 'n FUN campus.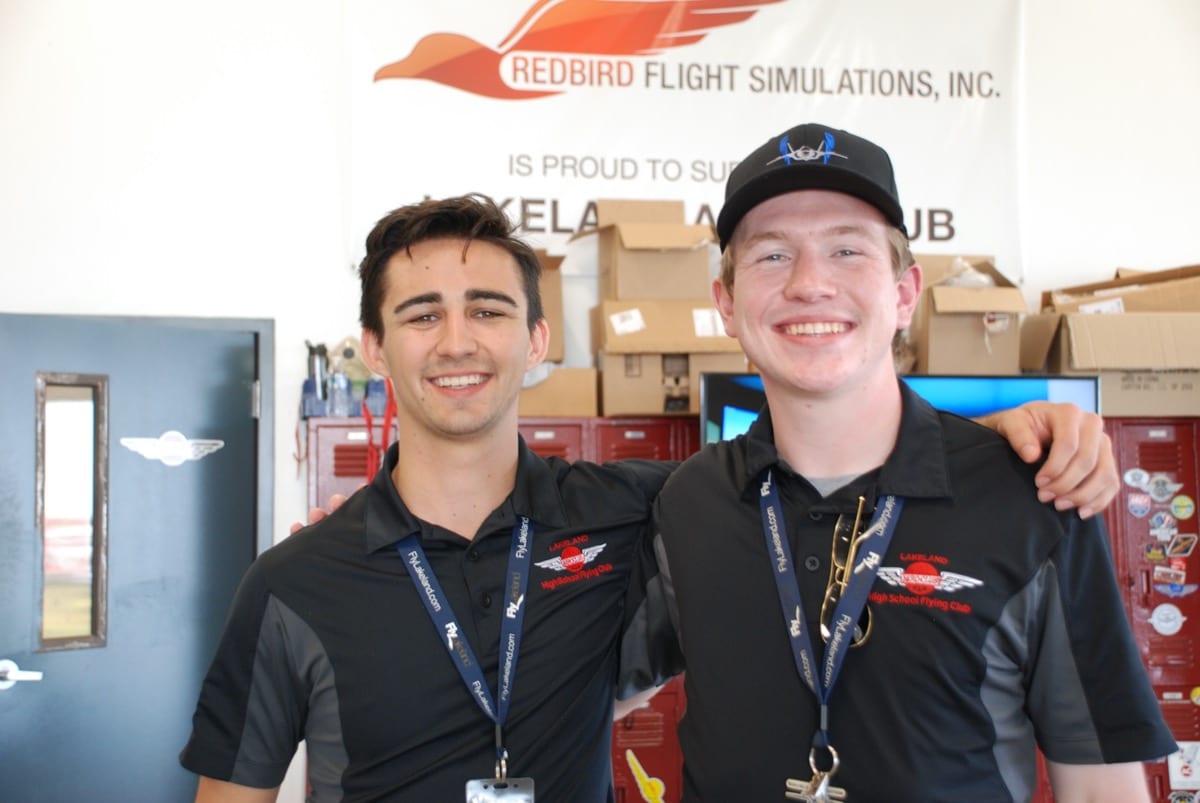 "The STOL competition was a huge success," said Gibson. "We will not be adding a full competition in April, but will probably have a short demo. We are planning to host the full competition again next December."
For this year's competition, the quarterfinals ran in five categories of aircraft: Heavy Touring Class, Light Touring Class, Bush Class, Experimental Bush Class, and Light Sport/Experimental Class.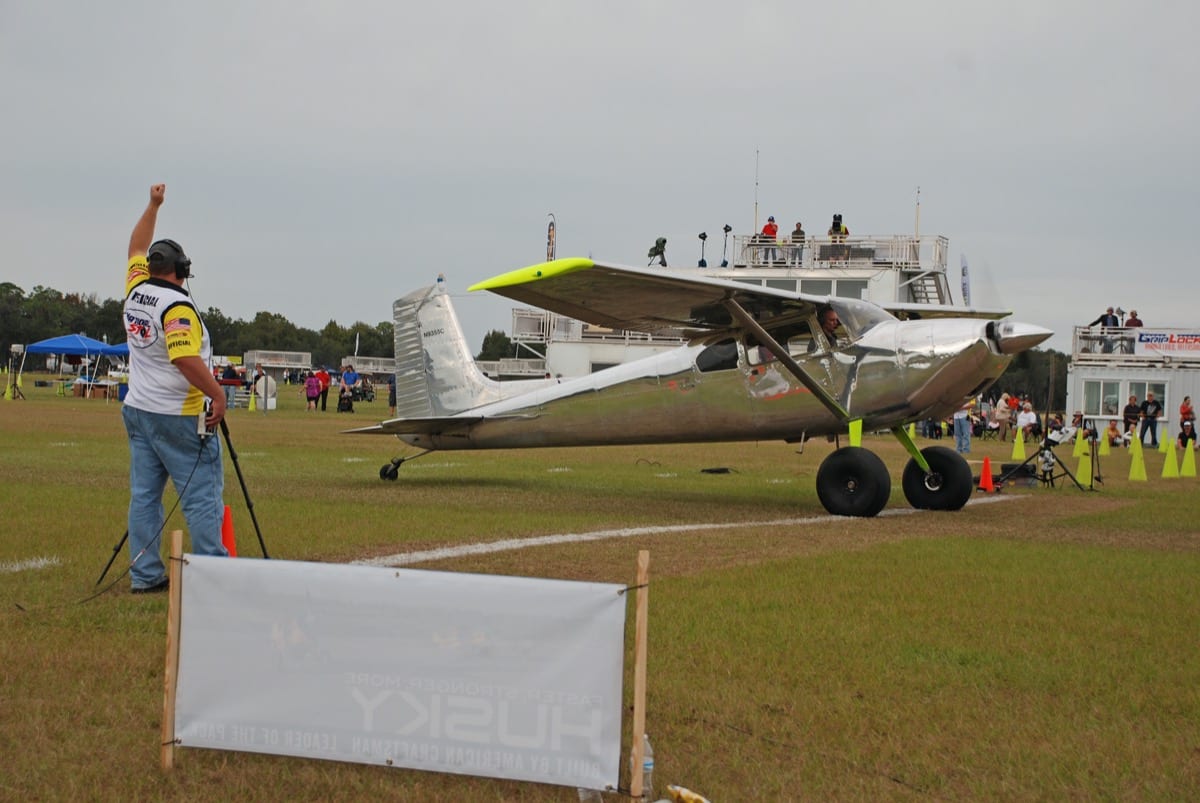 Volunteers and National STOL staff manned the sidelines to mark and measure the takeoff point and stopping point of each flight run. The combined distance is totaled for the run. According to Doug Jackson, founder and president of National STOL, the line marked for takeoffs and landings was monitored by a laser light and a video camera. In the future, Jackson said he'd like to place accelerometers in each plane.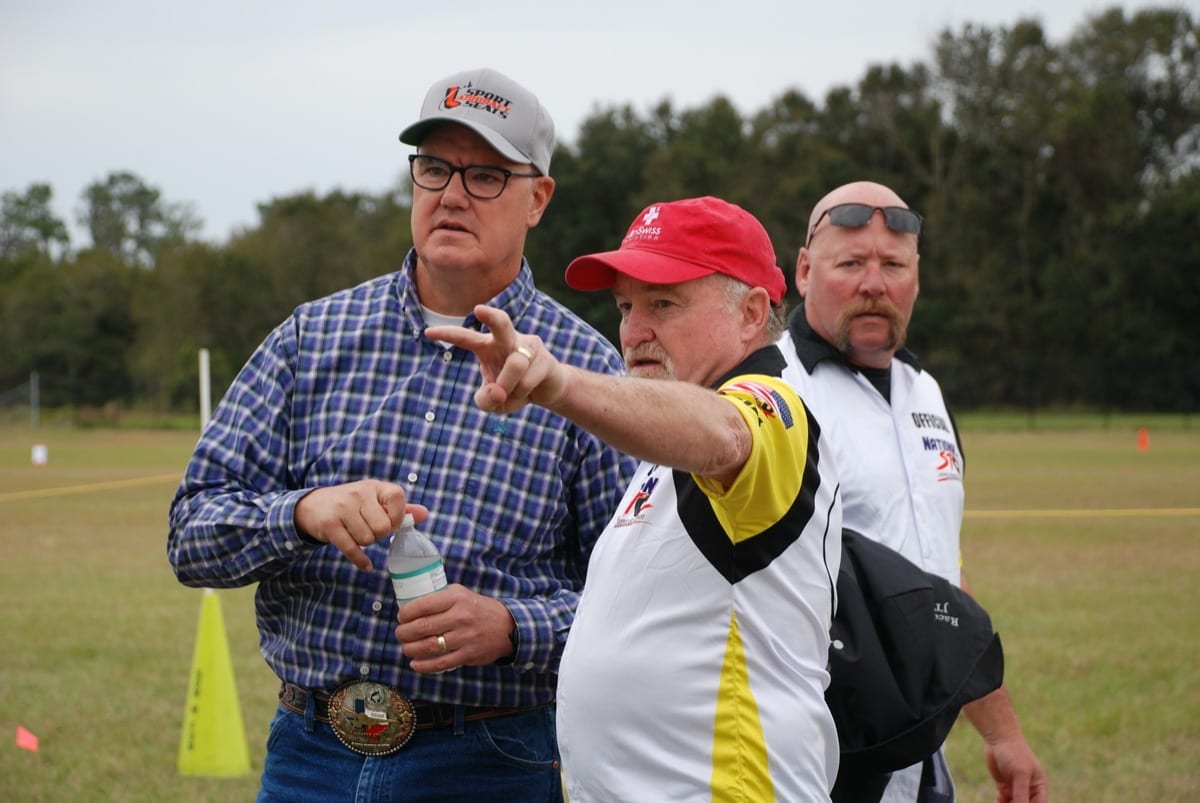 J.T. Taylor, the National STOL competition director, reviewed the camera feed and watched frame-by-frame on the close calls to determine precisely where the main wheels touched down. Landing on the mains before the line disqualifies the run. After replaying Friday and Saturday's landings he quipped, "I've never seen so many planes back up in all my life."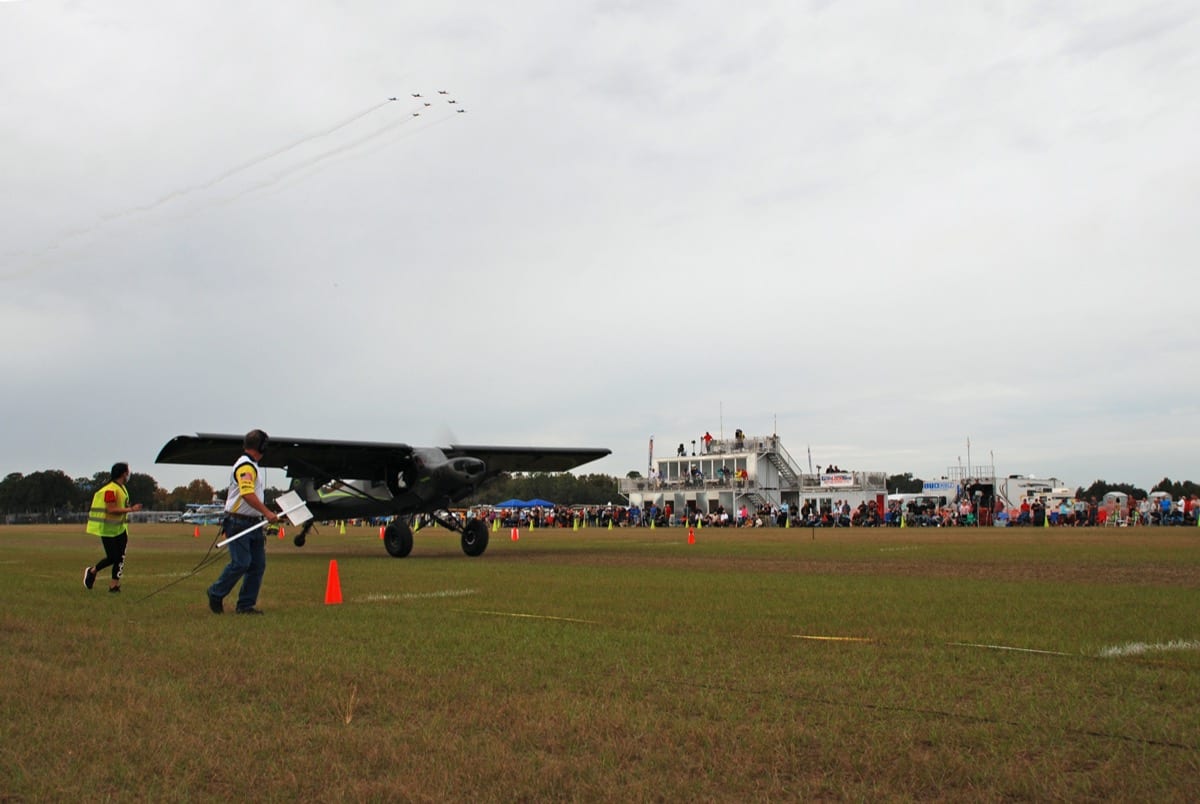 On Saturday, up to six competitors in each class could participate in the finals. Gusting cross winds kept things interesting. The finals were recorded live and can be seen at the NationalSTOL.com website.
Warren Grobbelaar (N9355C) took first place in the Heavy Touring Class.
In the Light Touring Class, Jeff Pohl (N4311B) won first place.
Austin Clemens, 17, won first place in the Bush Class in an Aviat Huskey A-1C (N62WY) with a reversing prop. The other competitors joked that they could buy him a congratulations beer in a few years.
Jay Stanford (N128JS) won in the Experimental Bush Class.
Steve Henry (N622SC) won first place in the Light Sport/Experimental Class and was the overall winner with a combined takeoff and landing distance of 130 feet. He won a Garmin aera 660 Portable Aviation Navigator from Gulf Coast Avionics.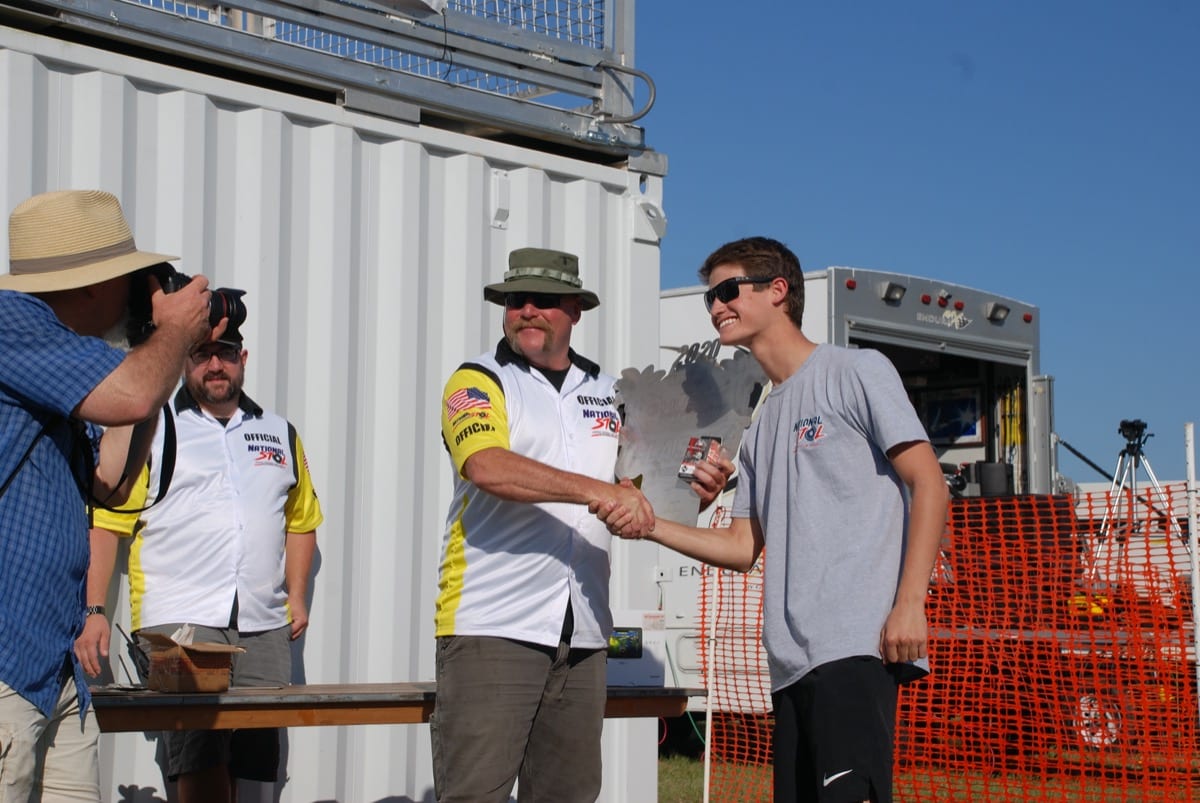 Blue Angels
The Holiday event also featured a preview of the 2021 SUN 'n FUN Aerospace Expo, slated for April 13-18, with the arrival on Friday morning of Lt. Julius Bratton and Lt. Katlin Forster of the Blue Angels in the team's number 7 F/A-18 Hornet.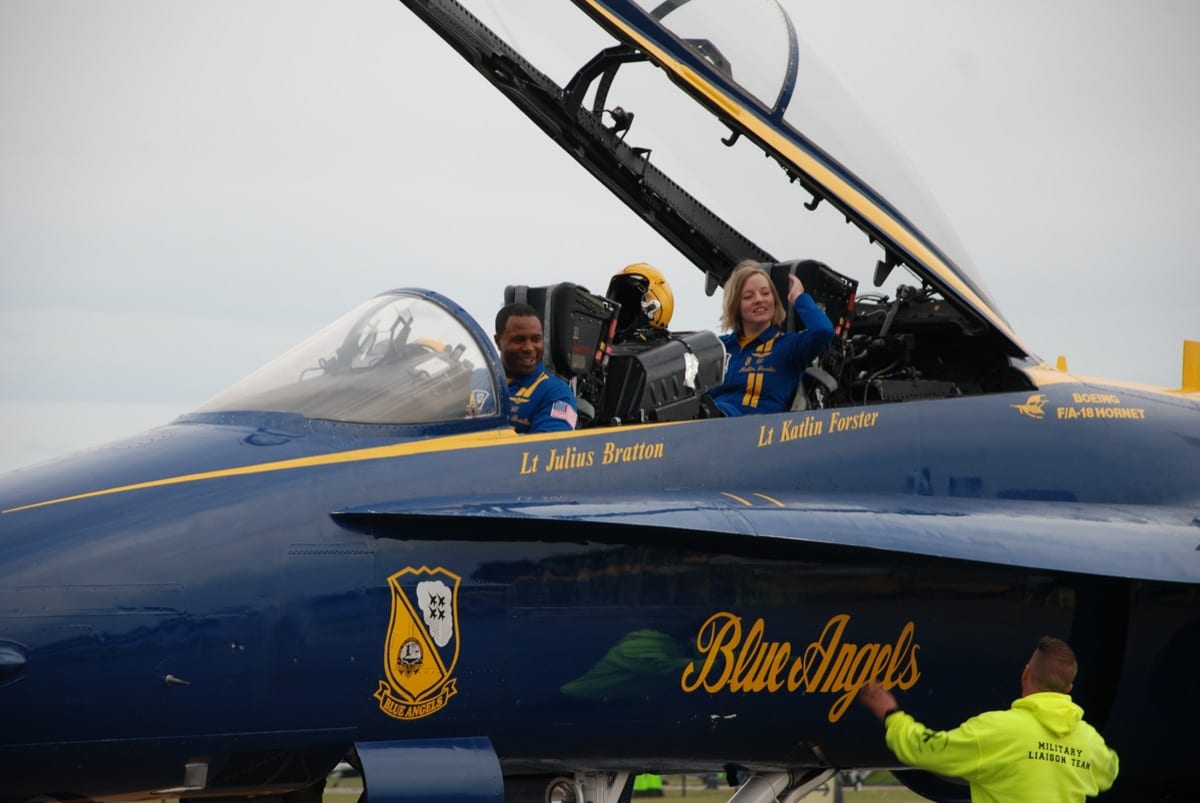 They held a brief press conference for the media and students from the Central Florida Aerospace Academy and the Lakeland Aero Club to announce that the Blue Angels are transitioning from their F/A-18 Hornets to the F/A-18 E/F Super Hornets by the end of this year. The team's support plane known as "Fat Albert" will also be replaced with an ex-U.K. Royal Air Force C-130J Hercules airlifter.
They also announced that their first airshow in 2021 will be in Jacksonville, Florida, and the second will be at SUN 'n FUN. Next year marks the 75th year for the demonstration team.
GA Town Hall
Another highlight of the weekend was a General Aviation Town Hall, moderated by SUN 'n FUN President and CEO John "Lites" Leenhouts, with guests Jack Pelton, president and CEO of the Experimental Aircraft Association, and Mark Baker, president and CEO of the Aircraft Owners and Pilots Association.
Due to COVID-19, most aviation gatherings and events, like the annual SUN 'n FUN Aerospace Expo and the EAA AirVenture Oshkosh were cancelled. Lites said that while SUN 'n FUN had to sell off some equipment, it did not have to borrow a dime.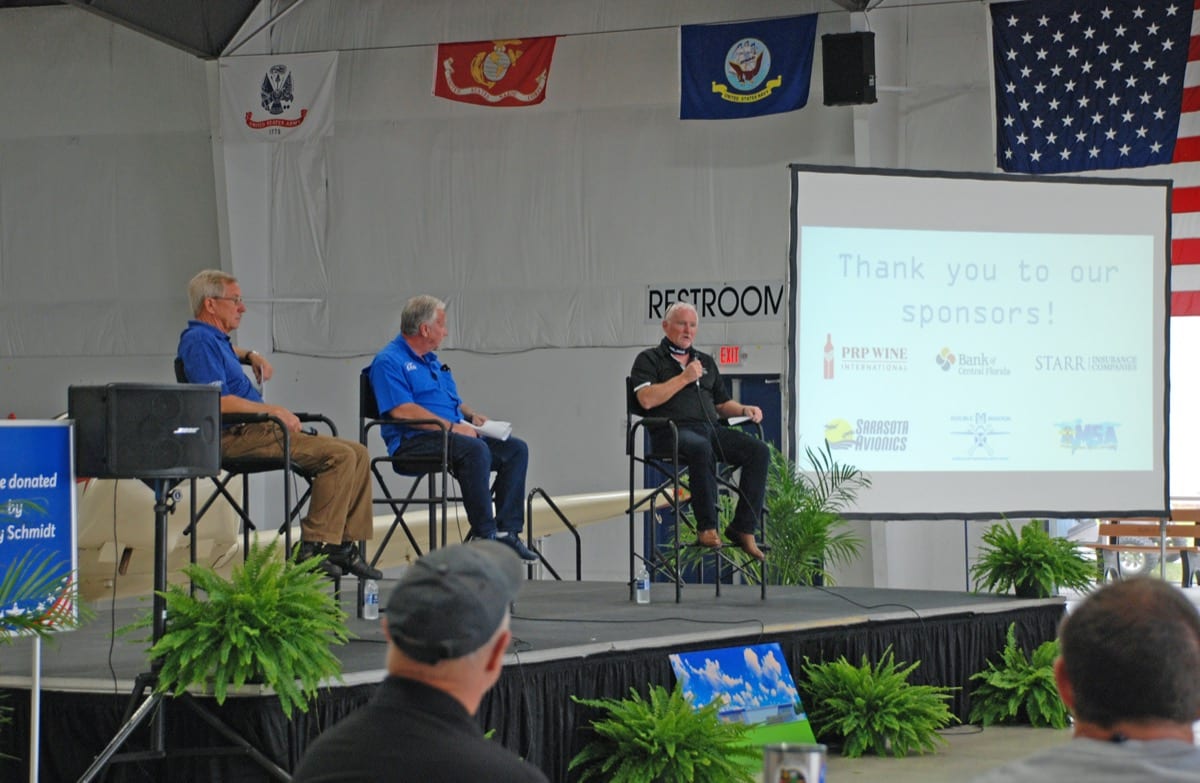 Baker fielded a question about general aviation insurance costs for pilots over 70 years old. He called it the "unobtanium factor."
Pelton said that general aviation insurance premiums have gone up "9% to 13%" because the entire aviation insurance industry is lumped into a billion-dollar insurance pool. The Boeing 737 Max Jet problems affected the aviation insurance companies, and the way insurance companies make up for losses is to raise costs, he noted.
The speakers also discussed increasing flight safety through training.
Lites said that his father's advice was, "The easiest way to get out of trouble is to not get in it. We want to teach better decision making in our students." In cooperation with Southeastern University, the students at the Central Florida Aerospace Academy practice on a Redbird Flight Simulator to fly under increasingly complex and hazardous situations. By analyzing each simulated flight, the students learn how to improve their decision making.
Baker said that general aviation activity this year has been high and that there "are more 172s in the air than Boeing jets." AOPA plans to hold smaller venues in 2021, like the air tours of the past. The schedule will be posted on AOPA's website in January 2021.
Lites reported that 400 vendors are expected to participate in the 2021 SUN 'n FUN Aerospace Expo, adding they are preparing for 25% smaller crowds due to the COVID-19 pandemic.
Other issues the three addressed include attracting more women to aviation, drones and air taxis, VOR retirements, and the need for more pilots worldwide. On the positive side, Baker and Pelton said memberships are up and 160 new flying clubs formed in the last few years. Baker added attendance at online safety classes and webinars has increased this year.
Other Activities
More than 130 cars and trucks were displayed in the field across from the main entrance in an open car and truck show.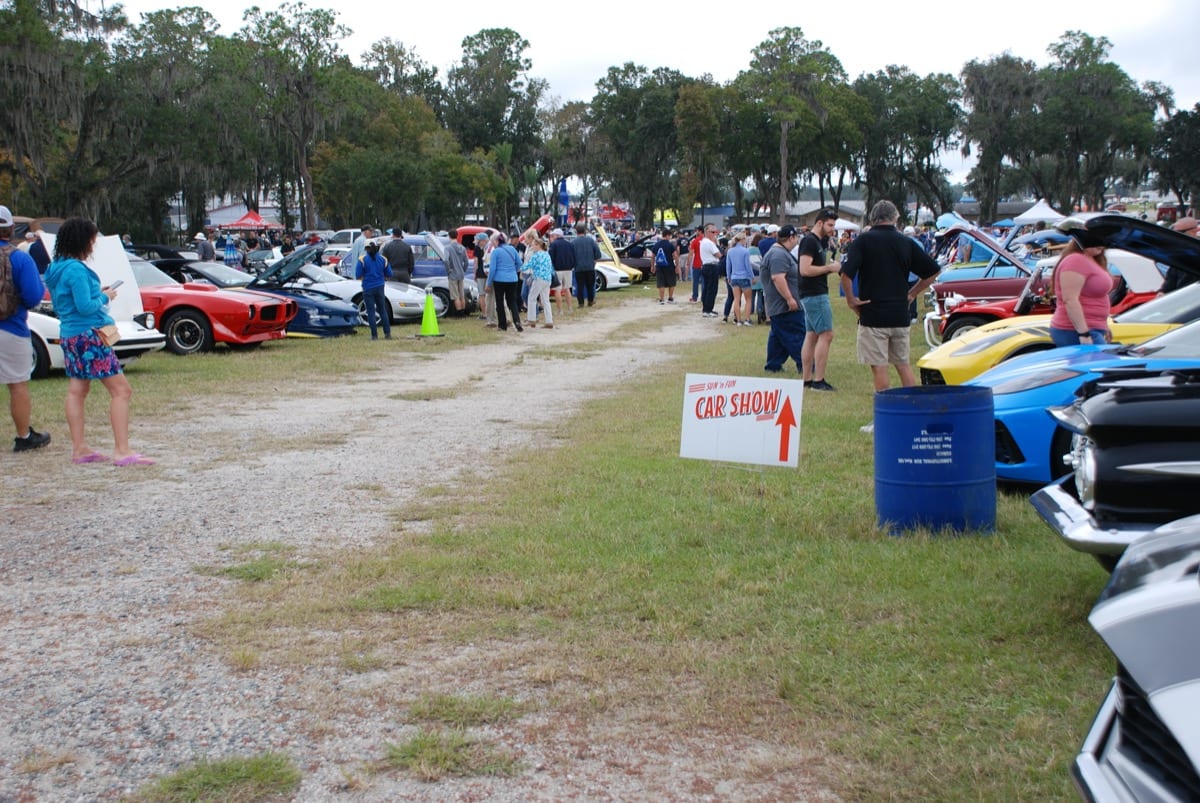 Classic cars, vintage cars, exotic cars, kit cars, and trucks filled the field during the event.
More than 80 vendors of crafts, aircraft parts, flight schools, food, and more were on site, along with live music and a Kids Zone filled with inflatable slides and trampolines.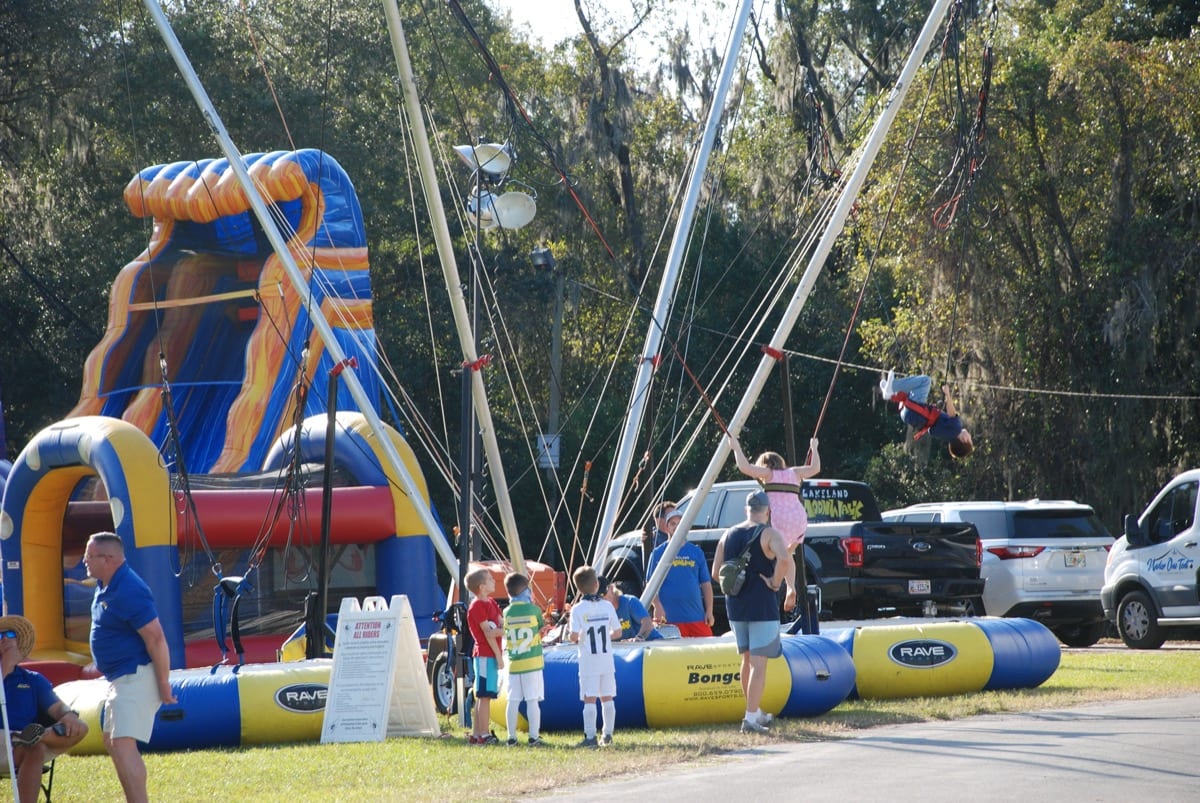 Friday night had a scheduled Balloon Glow, followed by a showing of the movie "Christmas Vacation" at the campground.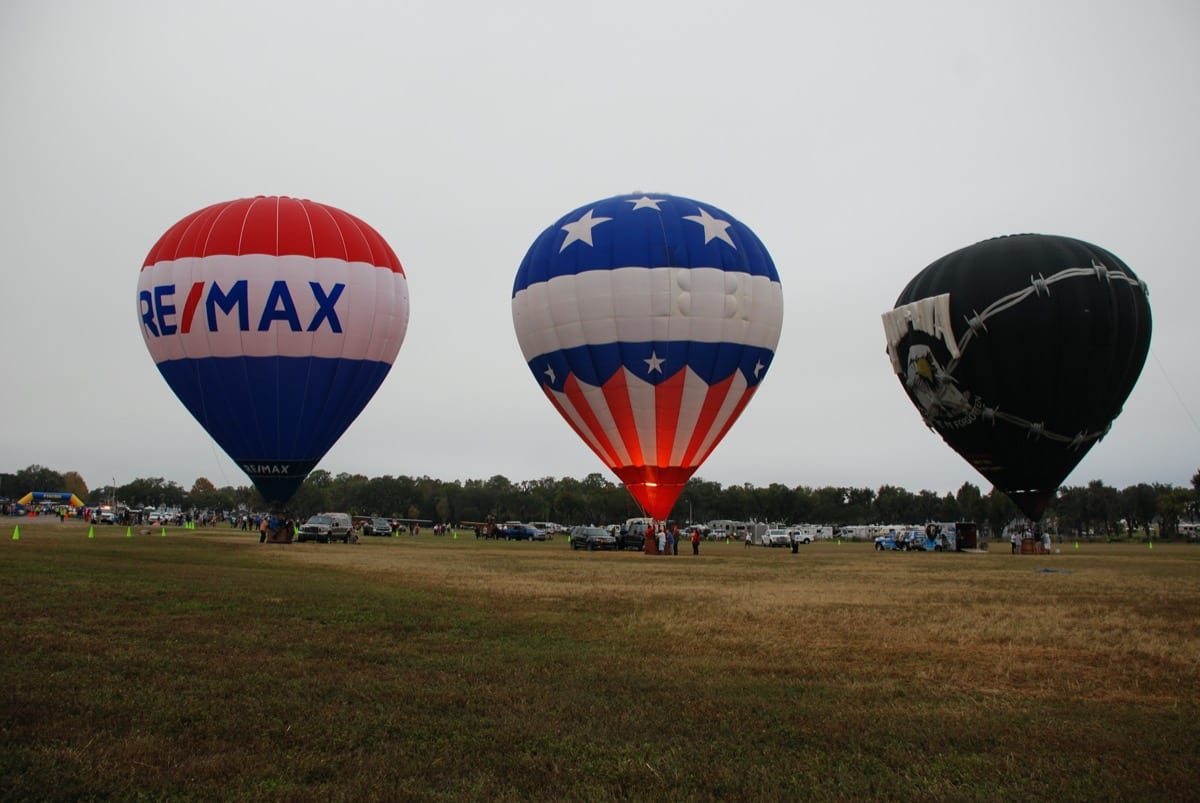 The SUN 'n FUN 5K run started at 7 a.m. Saturday beginning and ending near the south gate by the Lakeland Aero Club hangar. Participants ranged from serious runners to parents pushing strollers. They started in misty darkness and ended in time to watch the hot air balloons fire up. Due to the 700-foot cloud cover, none of the balloons were able to take off.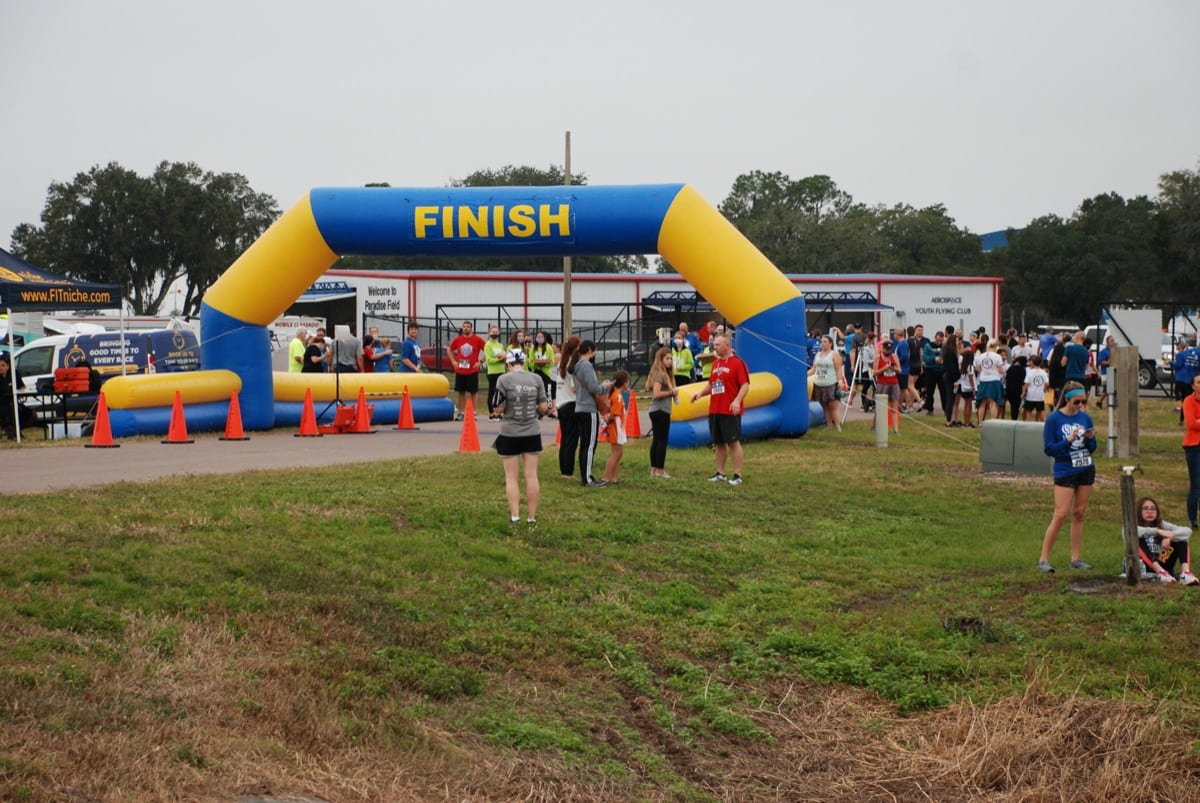 Airshows on Friday and Saturday featured flight demonstrations by the F-35A Lightning II Demonstration Team, F-16, P-51 Mustangs, the Black Daggers, and Paradigm. At noon on Saturday, Santa and Mrs. Clause arrived in a Stearman.