Cascade Warbirds, an organization based in Washington state that promotes the restoration, preservation, operation, and public display of historically significant military aircraft, offers scholarships for private pilot ground school with introductory flights to inspire today's young people to become the aviation pioneers of tomorrow.
Recently, some members stepped forward with donations to support that activity and raised a challenge that they would match additional donations dollar for dollar for additional donations to the scholarship fund. The limit to be matched is $3,200 by March 31, 2021.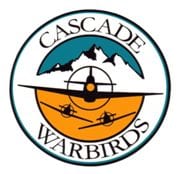 "This is a very generous undertaking these members initiated to further this element of the Cascade Warbirds squadron mission. While many of our members are pilot owners, several of these donors don't own airplanes. They respect the success of this program, which has helped many deserving young people enter into careers in aviation," said Squadron Commander John "Smokey" Johnson. 
"Anyone interested in supporting our youth education efforts with a tax-deductible financial contribution, should contact our Finance Officer at FO@cascadewarbirds.org," Johnson continued.
Cascade Warbirds is a 501(c)(3) non-profit organization.
Cascade Warbirds has teamed with several flight schools in the Puget Sound area to provide scholarship recipients with tuition, books and supplies, and two introductory instructional flights. Successful completion of the ground school will qualify a student to take the FAA Private Pilot Written Exam. The two flights are logged in the student's personal logbook and count toward the minimum flight time required to earn a private pilot certificate. 
The scholarship, valued at $1,350, is available for students between the ages of 16 and 21. More information on the program, including a 2022 scholarship application is at CascadeWarbirds.org/Youth.