DAYTON, Ohio — Every Saturday morning, volunteer Alice Griffin begins her shift at the National Aviation Hall of Fame (NAHF) with a crossword puzzle in hand and a coffee cup nearby.
Quick to smile, and clearly a center of energy for the four folks she shares the morning with, it's hard to believe that Alice will celebrate her 100th birthday on March 28, 2021. She is witty and spry and enjoys imparting wisdom to those who engage her.
In fact, when asked if she had any wise words to share, Alice said, "Work hard, don't take anything for granted, and give 10% of your salary to charity."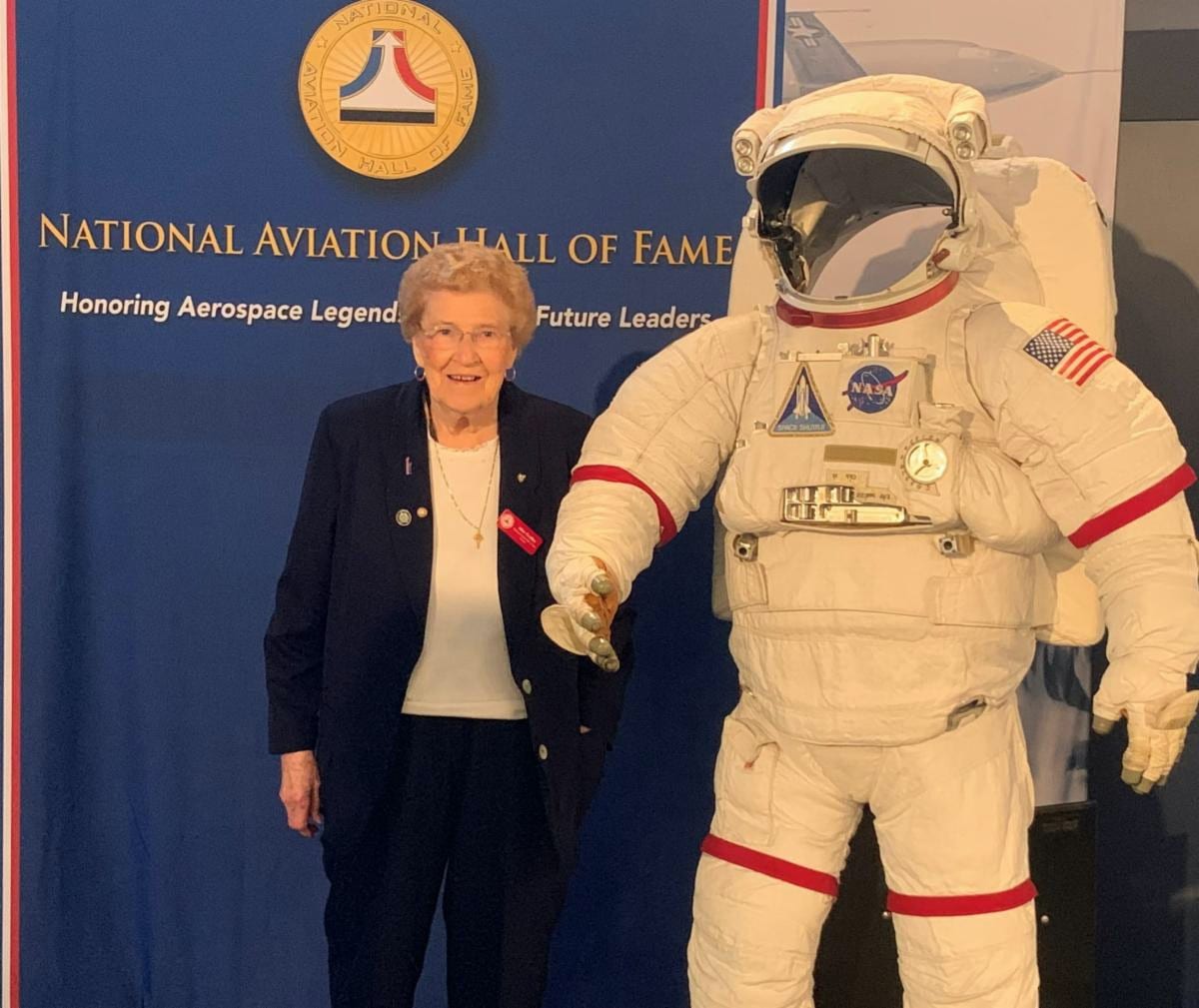 Born in Canada to American farmers, Alice is one of 12 children. She went to school in Omaha, Nebraska, to become a teletype operator and moved to Dayton in 1943 to work at (then) Wright Field, now Wright-Patterson Air Force Base. When she first started as an operator, her salary was just $1,440 for the year.
"Alice, like our enshrinees, is humble and talented. She shares the knowledge of a sage and speaks to all with kindness and grace," said NAHF President and CEO Amy Spowart. "And Alice makes the BEST peanut brittle in the world. We are so very lucky to have her among our ranks."
At 100 years old, Alice has seen a lot. Surprisingly, when asked what the most interesting thing she has encountered during life, the almost centenarian said with a chuckle, "What we're living in right now," in reference to the COVID-19 pandemic.
Alice has an extensive history of volunteering in the Dayton community and has accumulated 2,000 hours of volunteer time over 20 years at the NAHF alone.
"I enjoy volunteering at the National Aviation Hall of Fame because I get to talk to people, have conversations about where they are from, and what brought them here," she said.
"Alice brings a special presence to the volunteer desk with her quick wit and cheerful disposition," said NAHF staff member Taylor Bryan. "If you would like to send Alice a card or special wish, please do! We will make sure she receives every single one."
The address is National Aviation Hall of Fame, 1100 Spaatz St., Dayton, Ohio, 45433.
The National Aviation Hall of Fame, a 501(c)(3) not-for-profit, is the only Congressionally-chartered aviation hall of fame in the U.S.