Sporty's has updated and expanded its Commercial Pilot Course, which now includes 13 hours of in-depth training video.
The new video content is organized into six main chapters: Flight Maneuvers, Weather, Performance, High-Altitude Systems, Navigation, and Regulations. Shot using multiple HD camera angles to provide real-world training, pilots will learn how to fly each of the new commercial pilot maneuvers, including Chandelles, Lazy Eights, Eights on Pylons, and Steep Spirals, according to Sporty's officials.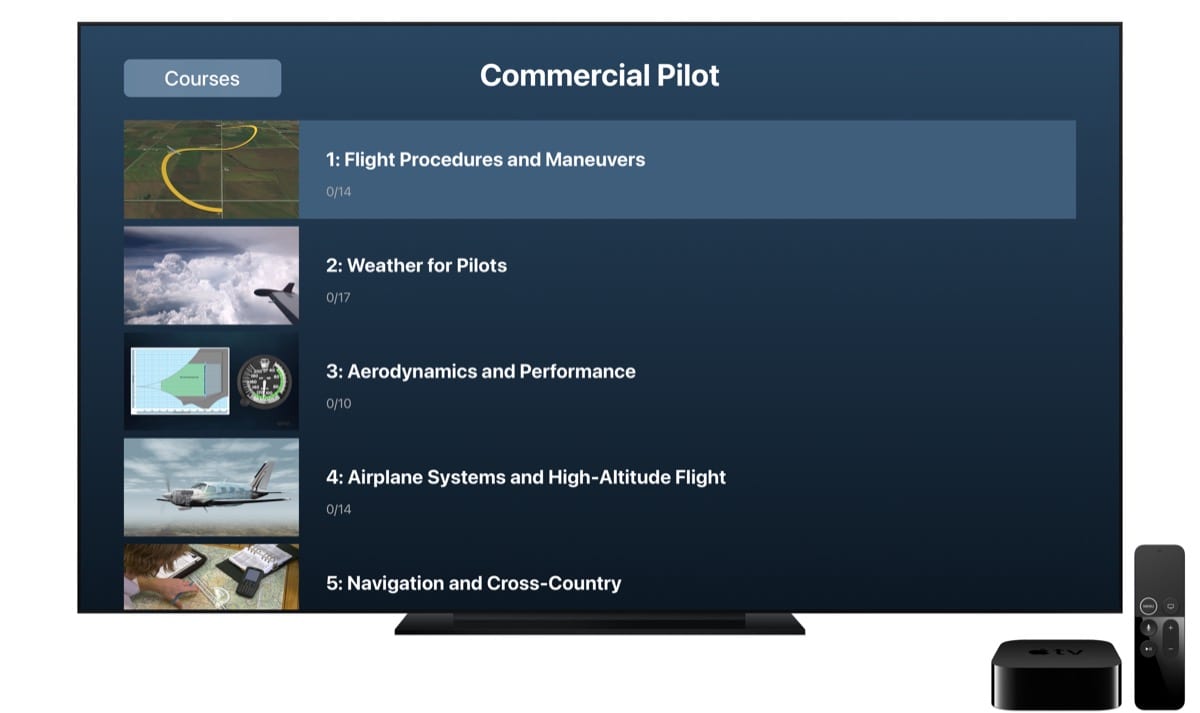 As with all types of flying, weather plays a major role in commercial flights. The updated course shows pilots how to prepare for flights around thunderstorms, turbulence, and ice using actual scenarios. Tips for using datalink weather to stay clear of these hazards when in the air are also given.
Airplane aerodynamics, from basic concepts to advanced knowledge areas like determining maneuvering speed from a VG diagram, are discussed, including an entire section on spin training with Patty Wagstaff. Patty explores the aerodynamics of spins and the recovery techniques, based on her years of championship aerobatic flying.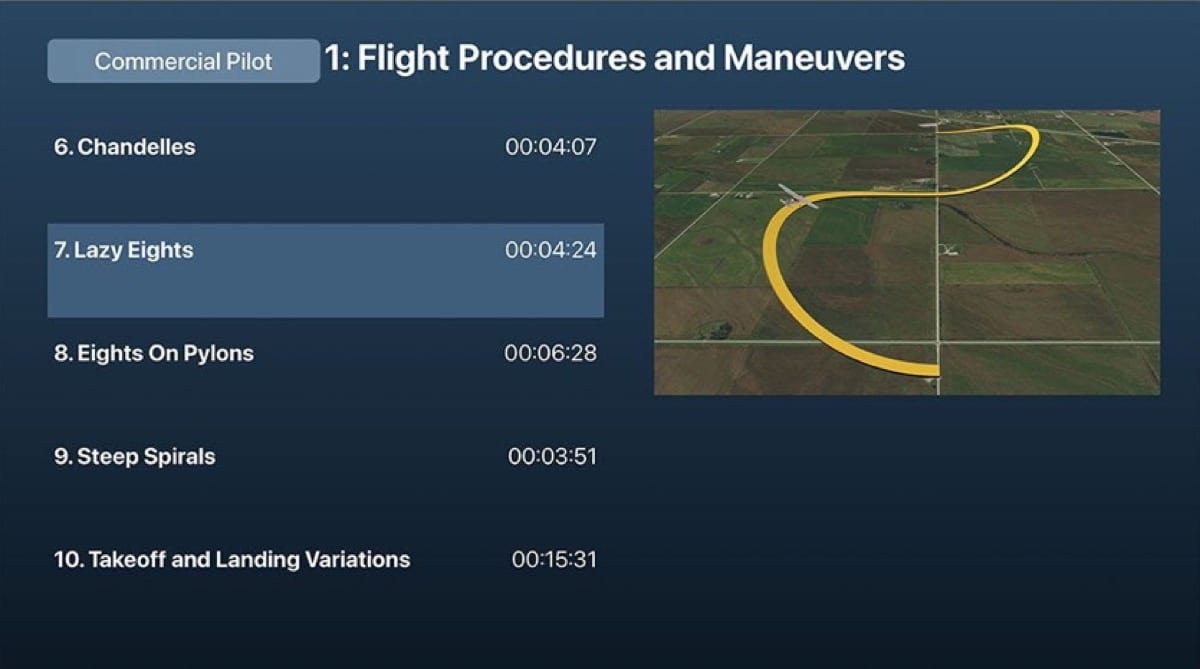 The course also covers the latest avionics available in today's modern airplanes. Pilots will learn about glass cockpit flight and engine instruments, flight directors, and how to use Garmin's GFC 500 autopilot.
Video content concludes with commercial pilot regulations, including privileges and limitations, common carriage and holding out, medical requirements, and rules for flying in the flight levels.
Sporty's test prep tools are included to help pilots ace the knowledge test, with an exclusive database of more than 800 test questions, according to company officials. Pilots can choose individual categories or study random questions.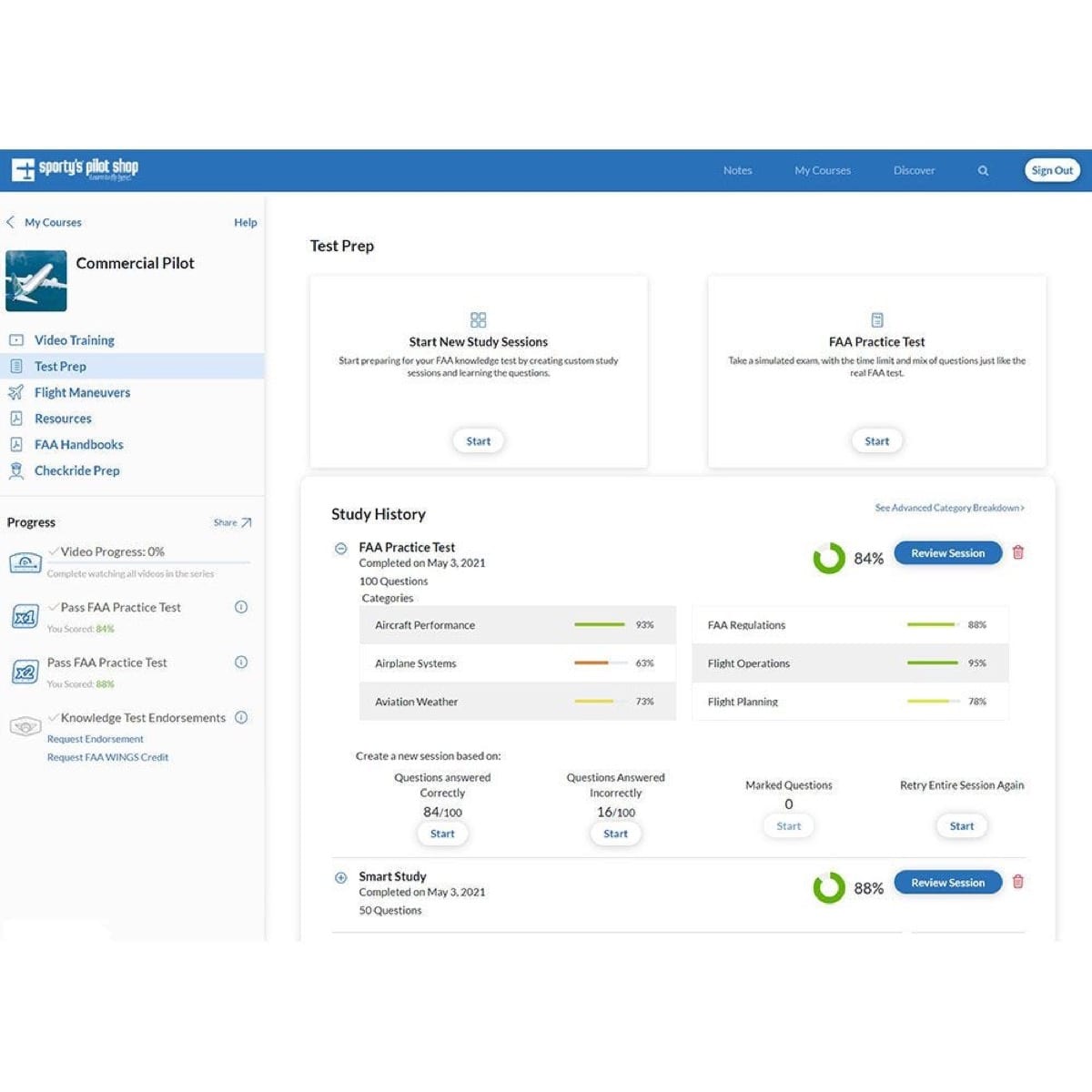 "From the moment you begin answering questions, the course will learn your strengths and weaknesses," says Sporty's Academy President Eric Radtke. "That's when our Smart Study Session tool is so valuable: You can focus on those topics that need the most work and spend less time studying questions you already know."
When pilots have passed two practice tests with scores of 80%, the flight instructors at Sporty's will automatically provide the required written test endorsement, so they can go right to the testing center.
Additionally, the team of flight instructors at Sporty's created 420 detailed oral exam prep flashcards, which cover a wide variety of topics and display only the question. Click the flashcard to flip it over and see the answer, complete with a link for further study. Just like the knowledge test section, pilots can study only marked or missed flashcards, plus take Smart Study sessions for focused review.
A document library includes the Commercial Pilot Airman Certification Standards, a flight training syllabus, the Airplane Flying Handbook, and more.
Sporty's Commercial Pilot Test Prep Course is available for $249.