Joe Duke's 1954 Grumman G-111 Albatross (N51ZD) was a head turner at the 2021 SUN 'n FUN Aerospace Expo.
Given a prime parking spot beside the Seabirds Tent at the show, the Albatross will turn even more heads as it stars in an upcoming documentary, "Flying Boat" by Aspen filmmaker Dirk Braun.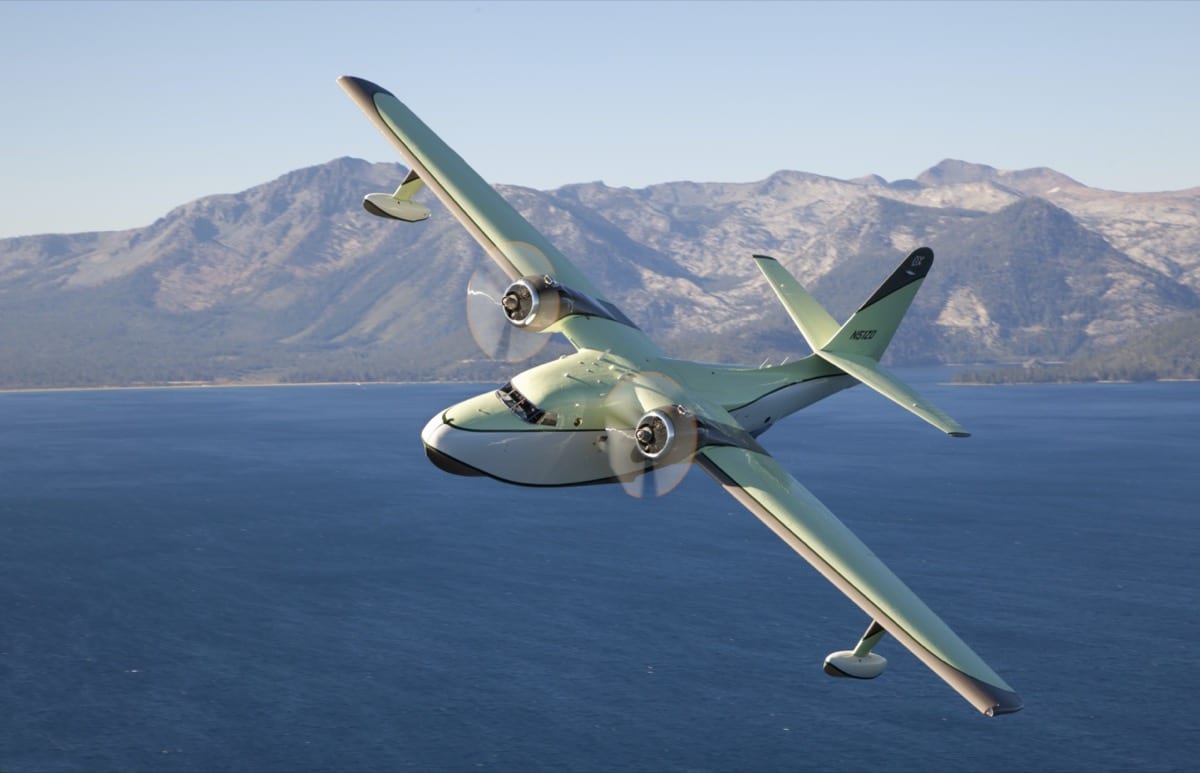 The "star" is used to garnering a lot of attention. In 2017 she won the Neil A. Armstrong Aviation Heritage Trophy award at the prestigious National Aviation Heritage Invitational. In 2013, she won Grand Champion at EAA AirVenture Oshkosh.
But she wasn't always a beauty queen, according to Joe.
One of 12 G-111 models manufactured, this Albatross was built in 1954 for the US Navy and re-manufactured by Grumman in 1983 for commercial transport to carry 28 passengers, a pilot, co-pilot, and steward for Resorts International. Resorts International owned Chalks Airlines, which  purchased her, but then she was orphaned and stored in the desert for 25 years.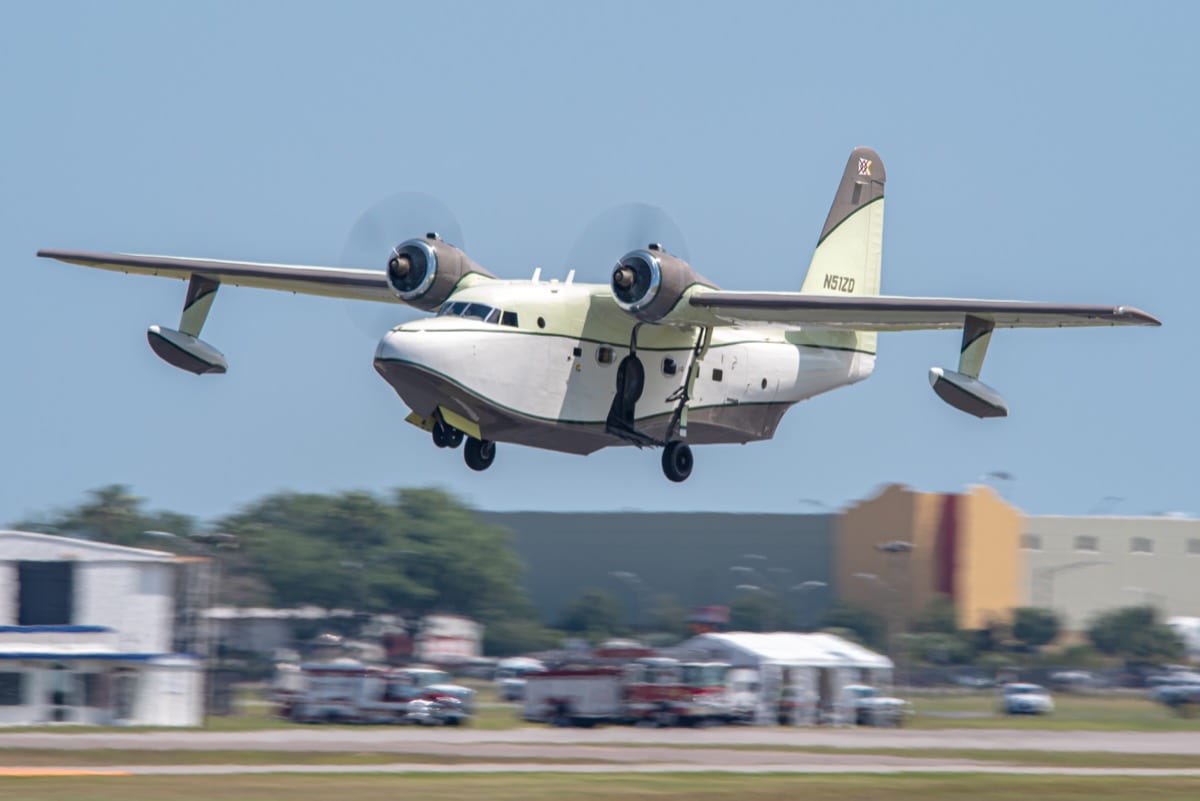 In 2008, Joe purchased her with only 26 hours on her airframe. Her five-year makeover began by being stripped down to the metal. A little cosmetic surgery to her hull left two bubble windows in the passenger area. Of course, her cables, wiring, and engines were updated, repaired, or replaced.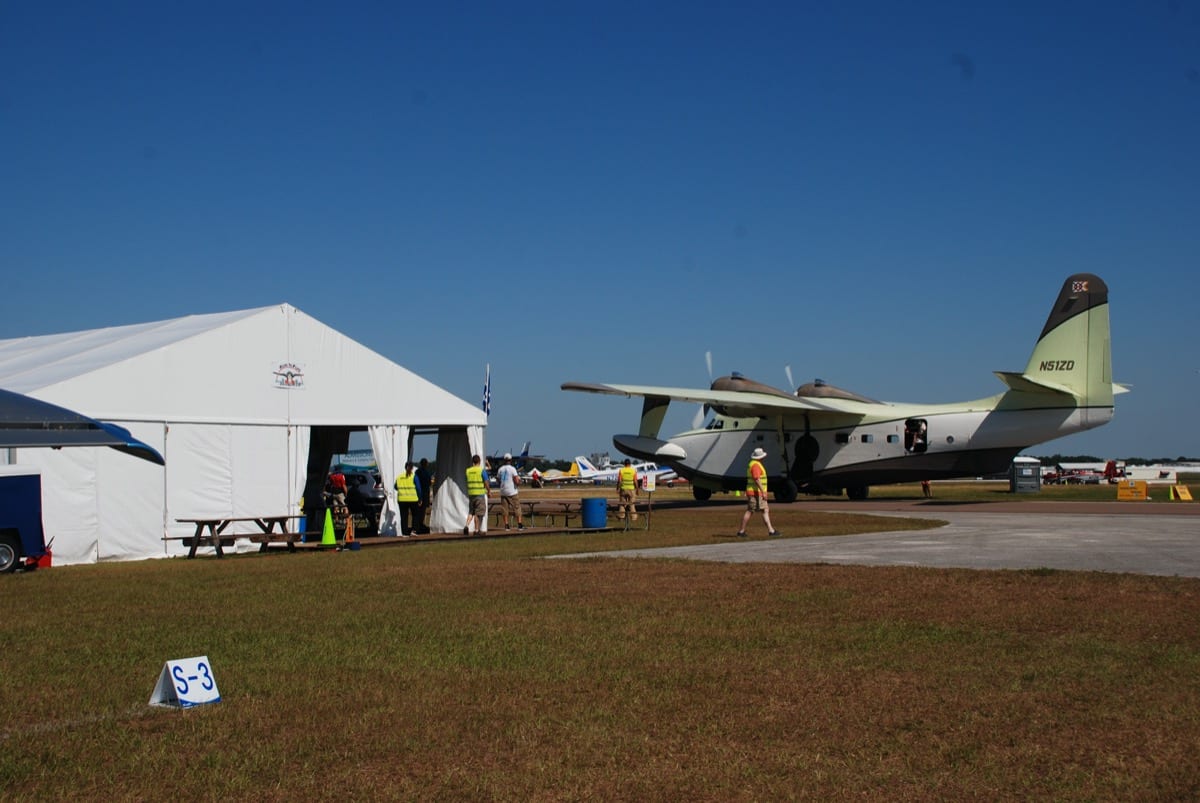 The hardest part of the restoration was the complex hydraulic system, as well as finding parts for the unique flyer, according to Joe.
"I found different caches of parts to buy," Joe said of his international scavenger hunt.
"Her five-year restoration was headed by Project Manager Paul LeVeque and included engines, props, control surfaces, hydraulic, electrical, and fuel systems, as well as extensive airframe work and complete paint down to the bare aluminum," Joe said.
In 2012 she was painted with a mossy green interior and her exterior with mint, soft white, and chocolate brown.
The plane has a bit of an art deco feel to suit her vintage, along with the simple elegance of a beloved yacht. Joe keeps an attachable ladder and a red swim platform to use on the rear pilot-side exit door when the Albatross is in the water.
Joe crafts furniture as a hobby, so he set a high standard for the cabinetry design of the galley. Bruce Shoemaker of Tucson, Arizona, who designs corporate jet interiors, and Joe Duke designed the interior and Duncan Aviation in Nebraska comstructed it. 
As it is in many aspects of aviation, a generation is retiring, leaving a gap for younger people to fill, according to Joe.
"Some of the cabinet makers retired after this project," he noted.
Completing the interior with four club bench seats, headliner, and walls in the same mossy green were craftsmen at Duncan Aviation in Nebraska. Button-dimpled seat cushions deliver comfort, while quilted green fabric on the walls offers beauty as well as sound dampening.
The head, which is aft of the galley, has a marine-style hatch door. Inside, the parquet floor and lush fixtures whisper luxury. A 2-minute time-lapse video of the interior construction is on Duncan Aviation's website and YouTube.
Joe and his friend Gary Lickle, who serves as co-pilot, earned their type ratings for the Albatross from instructors Bill DaSilva (flight instructor and FAA Designated Examiner) and Brian "Mr. Widgeon" Van Wagnen. Van Wagnen is also the Seaplane Pilots Association Field Director for Michigan. Lickle finished his type rating the Friday before SUN 'n FUN 2021, just in time to fly in to the show with Joe. Lickle spent 12 years working on the plane with Joe. Other pilots who fly this Albatross are Randy Wilhite and Sean Reynolds.
"Because of the uniqueness of the airplane, the Nimbus Aviation Group runs their own flight training, initial Type Rating and yearly re-qualification flight checks for the pilots," Joe explained.
Joe's love of aircraft and restorations continues.
"I'm working on a Staggerwing Beech, a Grumman Widgeon, and a Beech 18, a Super Cub, and I'm building an AirCam," he reported.
Meanwhile Joe and the Albatross are waiting for their big premiere in the upcoming documentary, which includes footage of Joe flying the Albatross at Cape Santa Maria on the north end of Long Island in the Bahamas.
The documentary will look into the history of the Grumman Albatross flying boats and the "curious cast of characters who fly and preserve them today," according to Dirk Braun, director.
"I can't report about the documentary's release or details with the film just yet, but Joe Duke was a pleasure to work with," he said. "We have maintained a nice friendship."
If you missed seeing this award-winning Albatross at SUN 'n FUN 2021, watch for the upcoming documentary "Flying Boat."