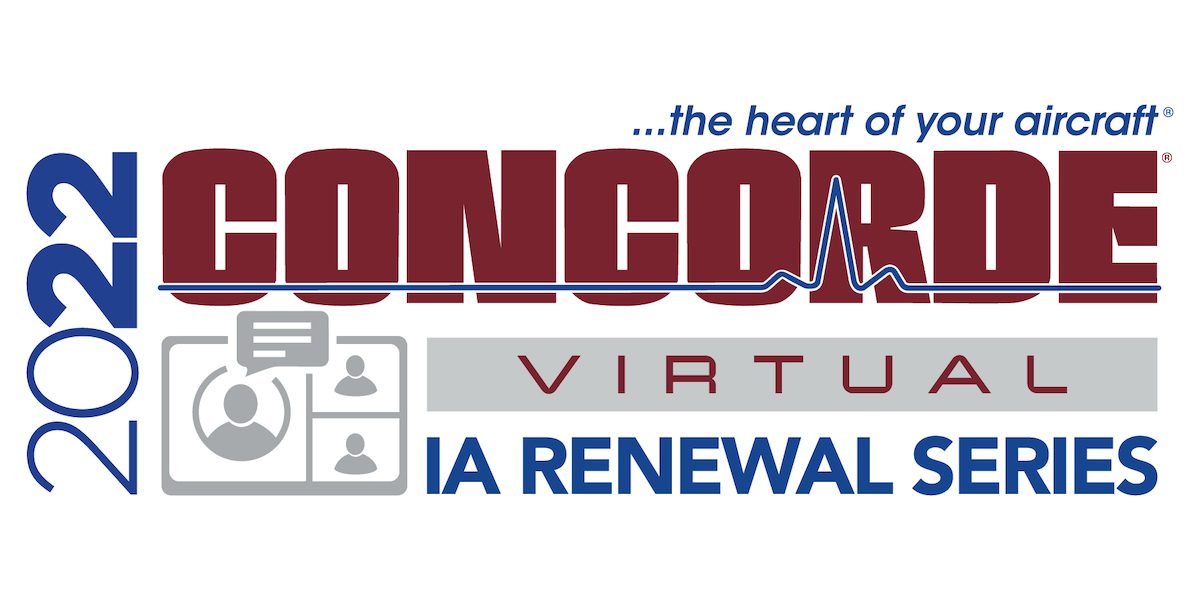 Registration has opened for Concorde Battery's FAA approved 2022 virtual IA renewal series.
In 2021 nearly 3,000 participants joined Concorde's virtual seminars, according to company officials. Viewer feedback was "overwhelmingly positive with great suggestions for future events," officials add.
To improve the experience for attendees in 2022, Concorde is offering IA seminars focused on three distinct disciplines: Piston, turbine, and rotorcraft.
All are welcome at these free events. IA status is not required, officials note.
The first, Concorde's Piston Virtual IA Renewal, is slated for Jan. 13-14, 2022, and will include officials from Cleveland Wheels and Brakes, Tempest Aero, G&N Engines, Hartzell, Lycoming, Eagle Fuel Cells, Concorde Battery, and the FAA.
Concorde's Turbine Virtual IA renewal is slated for Jan. 20-21, 2022. It will feature representatives from Michelin, TAE Aerospace, Collins, Goodrich De-Ice, Hutchinson, Dassault Falcon Jet, Concorde Battery, and the FAA.
Concorde's Rotorcraft IA renewal follows on Jan. 27-28, 2022, with representatives from Leonardo, Airbus Helicopters, Champion, Sikorsky, Velocity Aerospace, StandardAero, Hartzell, Concorde Battery, and the FAA.
Each seminar will be held over two days for four hours each day to fulfill the eight-hour IA training requirement.
For the convenience of attendees around the world, each day two session will be available at 8 a.m. to 12 p.m. EST or 5 p.m. to 9 p.m. EST. The speakers and content will be the same during each daily time block, but the choice will allow you to select the time block that best suits your schedule, Concorde officials note.
Registration is required and will be closed when capacity is met. This year registration will be completed through a new Concorde User Portal. In order to register for the events, you will generate a login. Once you have registered you can participate in one, two, or all three events with the click of a button. The portal delivers visibility to your course registration and will provide you with your unique access key to the seminar.
After the seminar is over and participation has been validated, certificates will be loaded to the portal.
If you use the same email address to register for the portal as you have for past events, certificates from previous sessions will also be loaded to the portal for your availability.
You can access registration by going to ConcordeBattery.com and clicking on the 2022 IA Renewal Series graphic on the homepage.