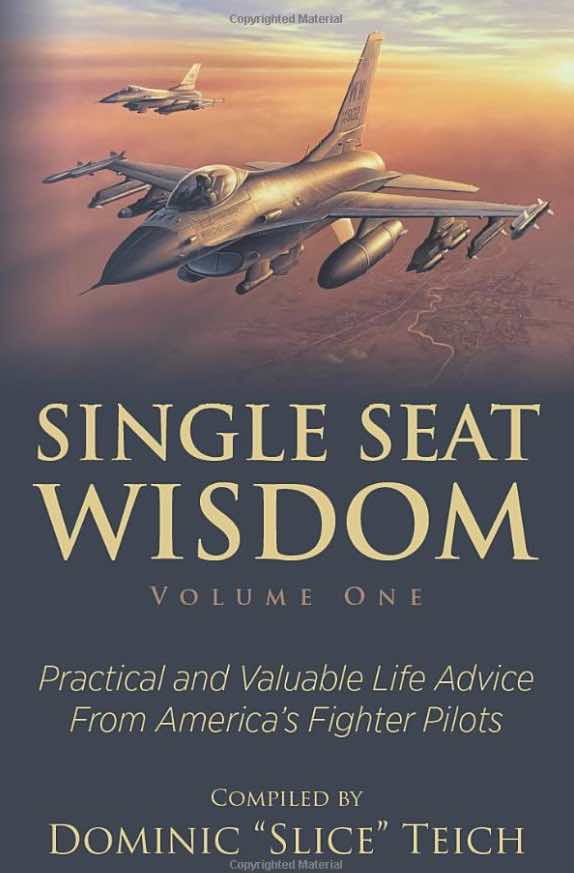 A new book, "Single Seat Wisdom," by fighter pilot Dominic "Slice" Teich has just been published.
The book is a collection of personal stories, advice, and wisdom from 20 fighter jet pilots.
"Society is upside down right now in so many ways, and that's a position a fighter pilot can absolutely relate to," said Teich. "In the air, a pilot goes upside down for a variety of reasons – it sets us up for a maneuver we call the 'sliceback.' And although it certainly looks cool, we often do it because it gives us a better visual perspective when fighting an enemy – pulling the enemy toward the top of the bubble canopy so we can spot them better. How does that relate to your life? Easy. Sometimes you have to invert your position just to see your goal or your adversary more clearly. And sometimes – to win – all you have to do is have the courage to turn things upside down."
"Single Seat Wisdom" is available in print and Kindle-ready versions at SingleSeatWisdom.com. Price: $5.95.
All net proceeds from book sales will be donated to the Anna Schindler Foundation to help fight childhood cancer.