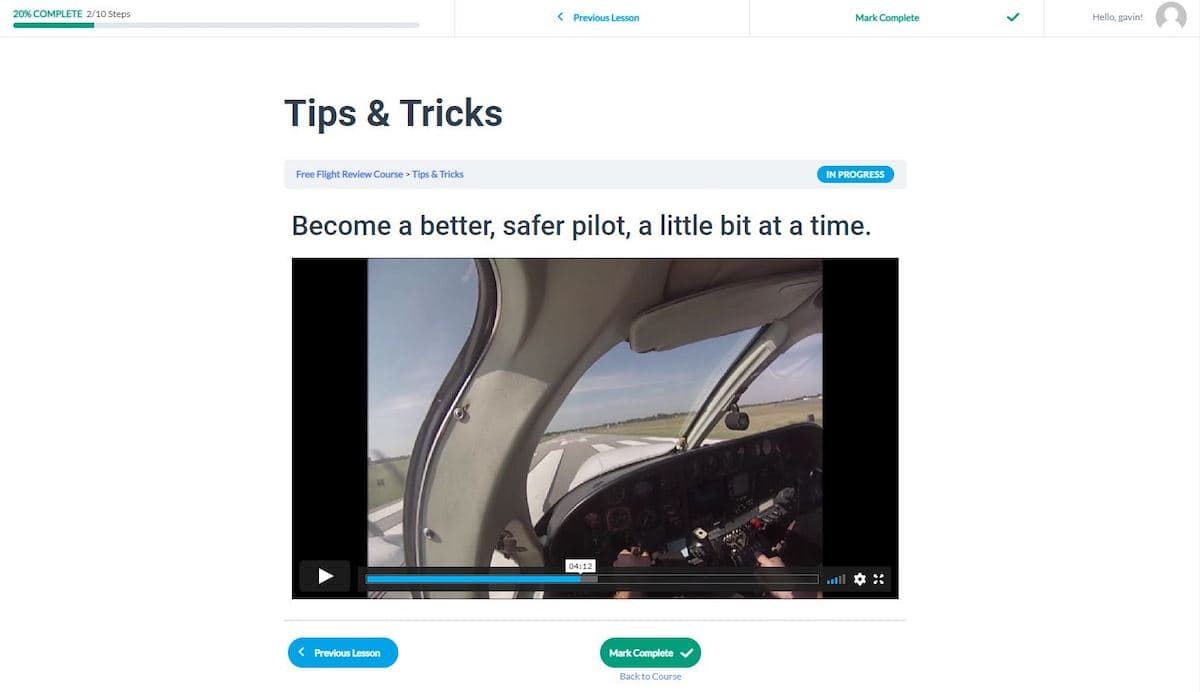 Pilot Proficient is now offering its Flight Review (BFR) Ground Course for free.
The course meets the requirements of FAR 61.56 for ground instruction required for the flight review, and features video and multimedia segments, quizzes, and a completion certificate, according to company officials.
While the online course does cover much of the required ground knowledge for the flight review, it is not airplane specific, company officials add, noting pilots will want to verify with their CFIs that they find the course acceptable.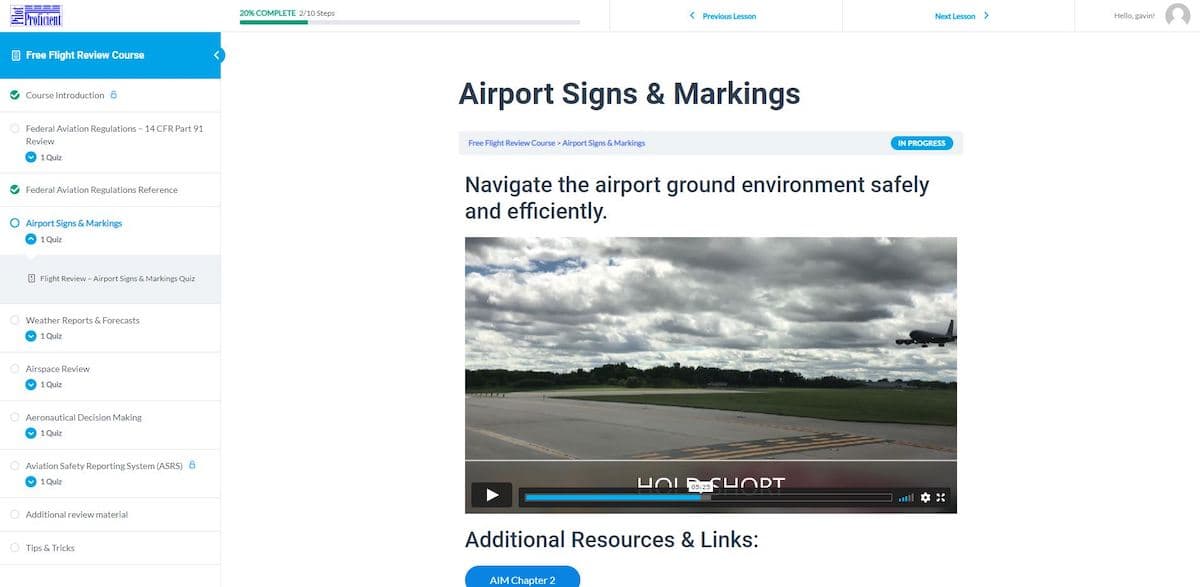 So Why Is it Free?
Inside the course are some affiliate links which, if used to make a purchase, generate a small referral fee for Pilot Proficient, company officials explain. Pilots do not have to click on any of the links or make any purchase to take the course, they add.
The pilots behind the company say they developed the course after focusing on very niche subject areas in the past, such as RVSM training and Rockwell Collins Proline Fusion avionics training.
"Offering it for free benefits those looking to accomplish their flight review or just refresh their knowledge," explains Gavin Leake, one of the co-founders of the company.
Company officials also hope that pilots who come to the website to check out the free course may return some time in the future for a paid course, or spread the word to another pilot who may be interested in the paid courses, he said.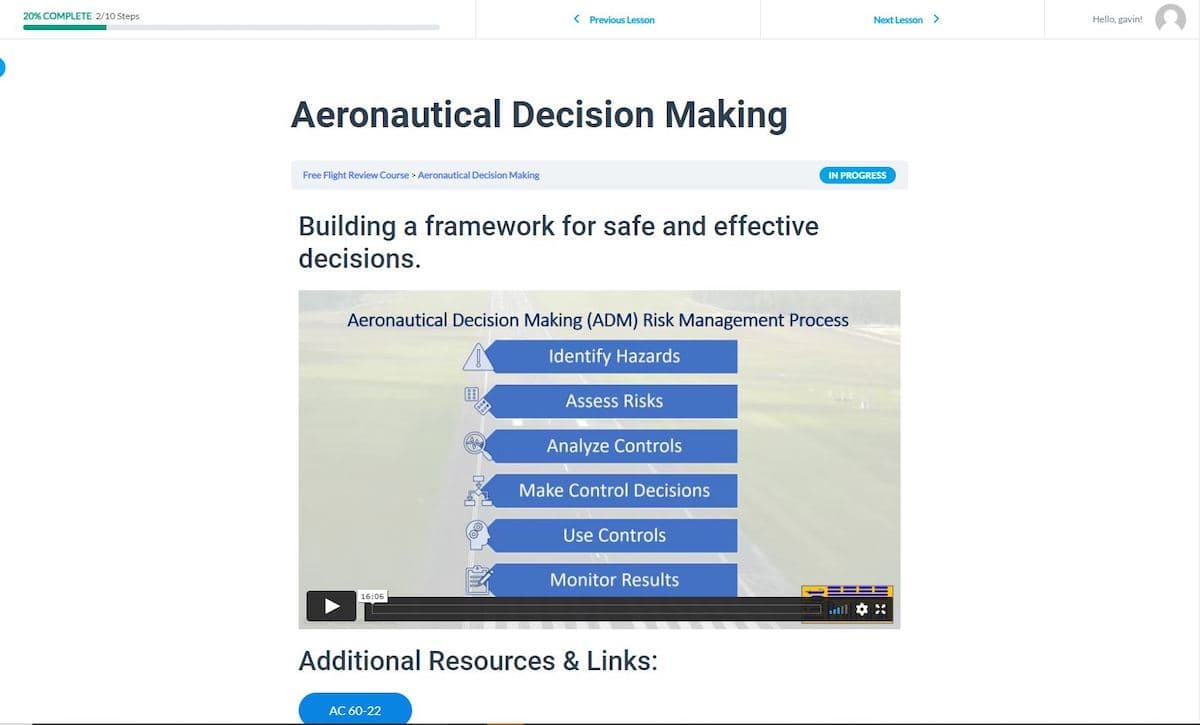 There are no requirements to take the free course, except creating an account.
"Upon successful completion of all the course segments and passing all quizzes with a score of 80% or better, they'll receive a Certificate of Completion," he noted.
He adds that a motivated student can take the Flight Review course in two to three hours.
"There are approximately 1-1/2 hours of combined video content between the course segment modules, as well as additional study references provided," he said.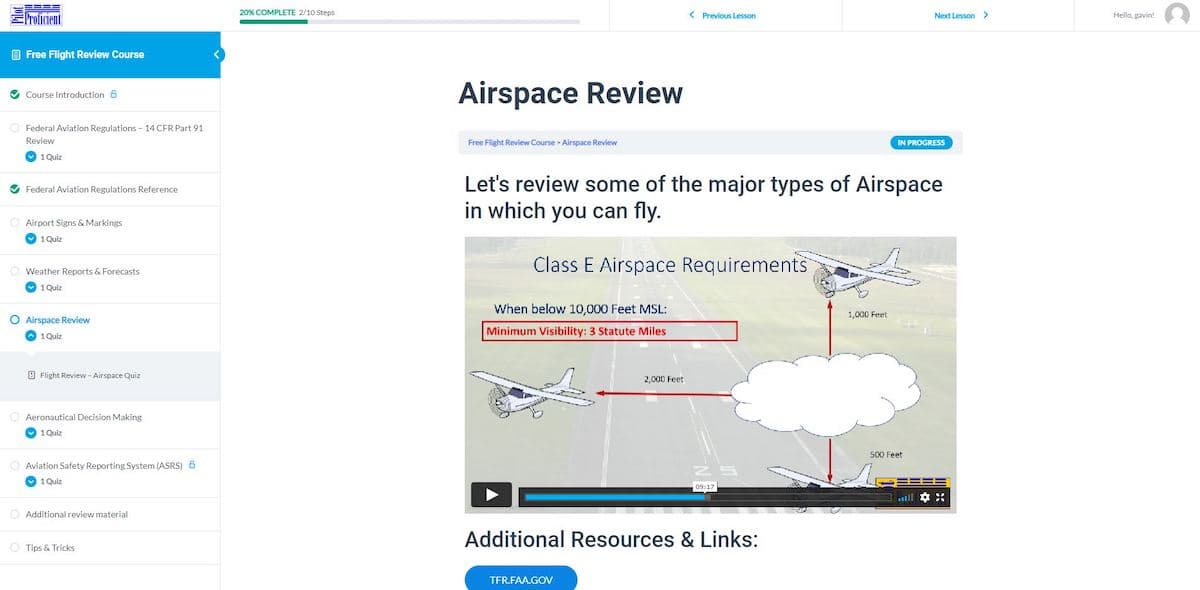 The Men Behind The Company
Leake, who creates a majority of the course content for the company, has been involved in aviation since 2005. He has logged approximately 8,500 flight hours in a variety of aircraft as an ATP/CFI/CFII/MEI. A former Cirrus Standardized Instructor Pilot, he notes he also has extensive experience in the Twin Cessna line (310/340/402/414/421) and Beech King Airs (C90/200/B200/350/360). His day job is as a Part 135 chief pilot, check airman, and aircraft broker.
His partner, Nathan Foreman is an IT professional who handles the Learning Management System, website, and more.
The first Pilot Proficient course was a Multi Engine Ground School designed to help users prepare for their multi engine rating, according to Leake, who notes they have produced "several more courses since then."
"Our focus of late has been on familiarization courses, like our popular Rockwell Collins Proline Fusion course and the very recently launched King Air 200/B200 course," he said. "These programs help familiarize pilots who are new to a technology or aircraft with the systems, controls and inputs, and procedures associated with the new equipment, to help them go into a formal training event (at a simulator facility like Flight Safety, for example) more prepared."
For more information, go to PilotProficient.com.