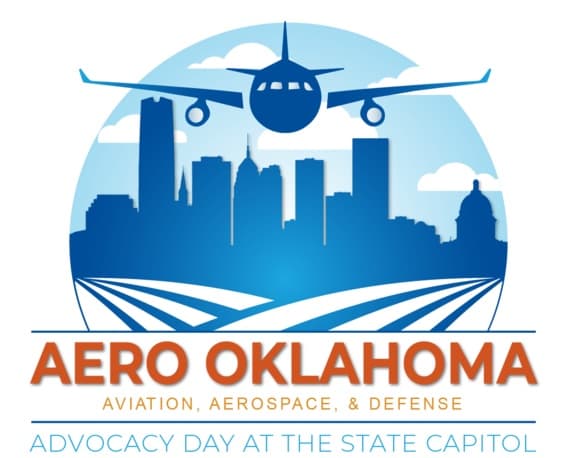 Wednesday, March 30, 2022, the aviation and aerospace industry will assemble at the Oklahoma State Capitol for "AERO Oklahoma" Aviation, Aerospace & Defense Awareness Day.
"The purpose of the day is to recognize Oklahoma's aviation, aerospace, and defense industry as a vital economic engine for our state," said officials with the Oklahoma Aeronautics Commission. "It is a unique opportunity for industry officials to come together in one unified voice and meet with state legislators and other elected officials to remind them of Oklahoma's strong aviation heritage and show them firsthand how the industry continues to solidify our state as a worldwide leader in aviation, aerospace, and aerospace and defense."
The Oklahoma aviation and aerospace industry produces just under $44 billion in annual economic activity, making it the second largest economic engine in the state. Three segments account for this total: Military aviation, $19.3 billion; off-airport aviation and aerospace businesses, $13.9 billion; and commercial and general aviation airports, $10.6 billion. Aviation supports 206,000 jobs totaling an $11.7 billion payroll. The average salary in the industry is $73,300, making it one of the highest average salaries in the state, officials report.
Many of the state's aviation and aerospace companies and organizations will have exhibit booths set up around the second-floor rotunda to promote their organizations and to show what impact they and the rest of the state's aerospace industry have on Oklahoma's economy, commission officials noted.
The schedule of events includes:
8 am Oklahoma Department of Commerce ACES Program Meeting, Fifth Floor
9:30 am Exhibitor Booth's Open
9:30 am Aircraft Technicians Break-Out Session, "Explore Aviation," Rm 100
10:30 am General Assembly with Oklahoma State Officials, Fourth Floor Rotunda
11:30 am Industry Lunch, Second Floor Rotunda, Tickets Required
11:30 am AOPA You Can Fly Student Assembly, Invitation Only, Room 100
11:30 am Engineering Break-Out Session, "Engineers for Hire," Rm 112
12:00 pm Military Appreciation Lunch, Invitation Only, Room 535
1:30 pm Legislative Session
The public is invited to attend the event. If you can't attend, you can join the event on Facebook, officials said.