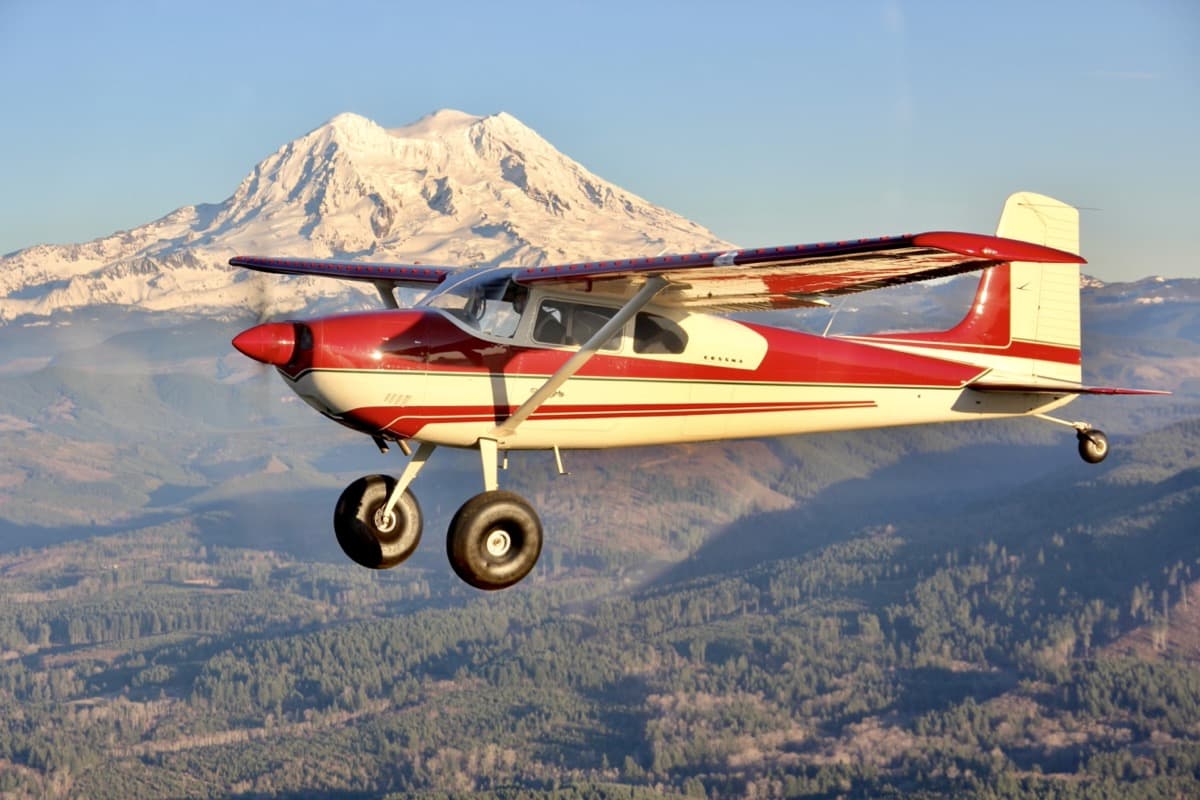 Most pilots who get a new — to them — aircraft usually customize the plane to match the mission. This is particularly true for the Cessna 180/185 Skywagon.
New avionics, an engine upgrade, and numerous interior and exterior changes head the lengthy list of preferred owner modifications.
Full disclosure here: I fly a 1953 Skywagon and for the past two years have been
customizing 2263C to fit my flying habits. In doing so I've developed a list of mods that I have carried out, plus other popular ones suggested by other owners.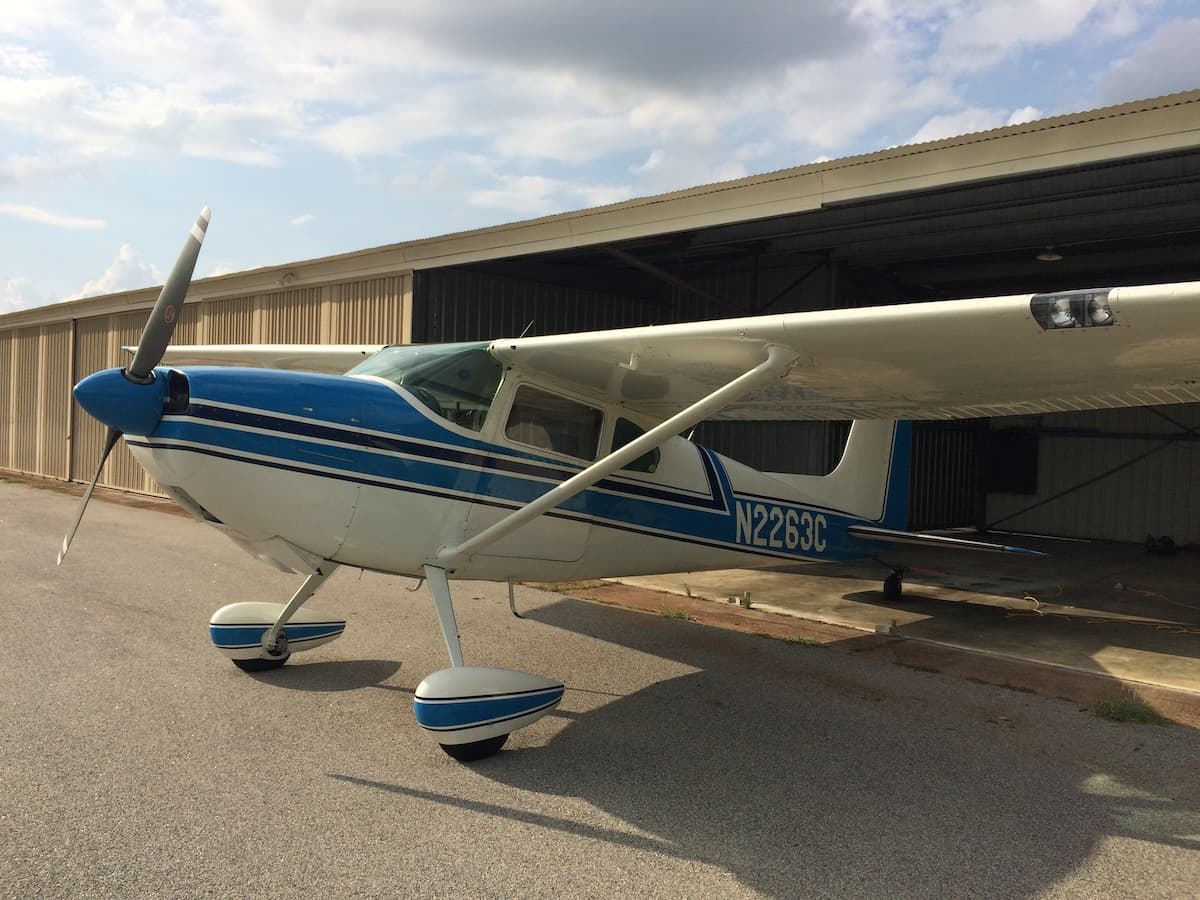 The Cessna 180 was produced from 1953 through 1981. The original engine was the 225-horsepower Continental O-470A, a powerplant that evolved over the lifespan of the aircraft. Altogether 6,193 180s were produced.
The 185, easily distinguished by the larger vertical fin, was built from 1961 to 1985, with 4,448 rolling off the factory line. The 185 was first delivered with a 260-horsepower Continental IO-470-F. That changed during the 1966 production year to the 300-horsepower Continental IO-520-D.
Before changing anything on your 180/185 I suggest you seek advice. My first source was the type club, the International 180/185 Club. The Skywagons.org forums section provides an insider's look at mods.
Check also with the Cessna Owner Organization (CessnaOwner.org), the Cessna Pilots Society (Cessna-Pilots.net) and the Cessna Pilots Association (Cessna.org).
An alternate way to explore the most popular mods is on YouTube. For
starters watch Fat Tire Cowboys leader Bryan Rose's "What Are The Top 20 Mods For The Cessna Skywagon?"
Bryan, who is LaRosa to his viewing fans, spells it out with a nice touch of humor in the process.
And John Bentley, also on YouTube, has detailed, helpful presentations with an emphasis mostly on Cessna 180 mods.
Also look at the YouTube videos done by Mark Kerr of Village Wealth Management for a discussion of the expenses of owning a Cessna 180, including modifications.
Last general tip: Always go to Aircraft Spruce online and search the subject to see what is available.
I won't rank the 180/185 mods, but rather provide a list of the most popular, starting with engines.
Engines
Choose how much power you want and there's almost certainly an engine out
there for your Skywagon. If your O-470A is running fine, there's no reason to abandon it other than the fact that the later engines, such as the O-470U, are superior.
Overhauls for the newer iterations of the O-470 are readily available.
And there are STCs for the carbureted and fuel-injected versions of the Continental O-520 and O-550.
Most people are familiar with the PPonk Aviation (PPonk.com) and Texas Skyways (TxSkyways.com) STCs for increased horsepower. Air Planes Services Corp. (AirPlains.com) and Kenmore Air (KenmoreAirHarbor.com) offer engine upgrades as well.
Kenmore Air also has additional STCs for some 180/185 models, including rear seats, floats, larger tires, and a 185 cargo pod.
I chose the Texas Skyways carbureted O-520 and am pleased with the increased power. The horsepower upgrade yields eye-opening performance improvement over the stock 180, but is hard on the pocketbook. You will spend north of $40,000 for this engine alone, plus labor.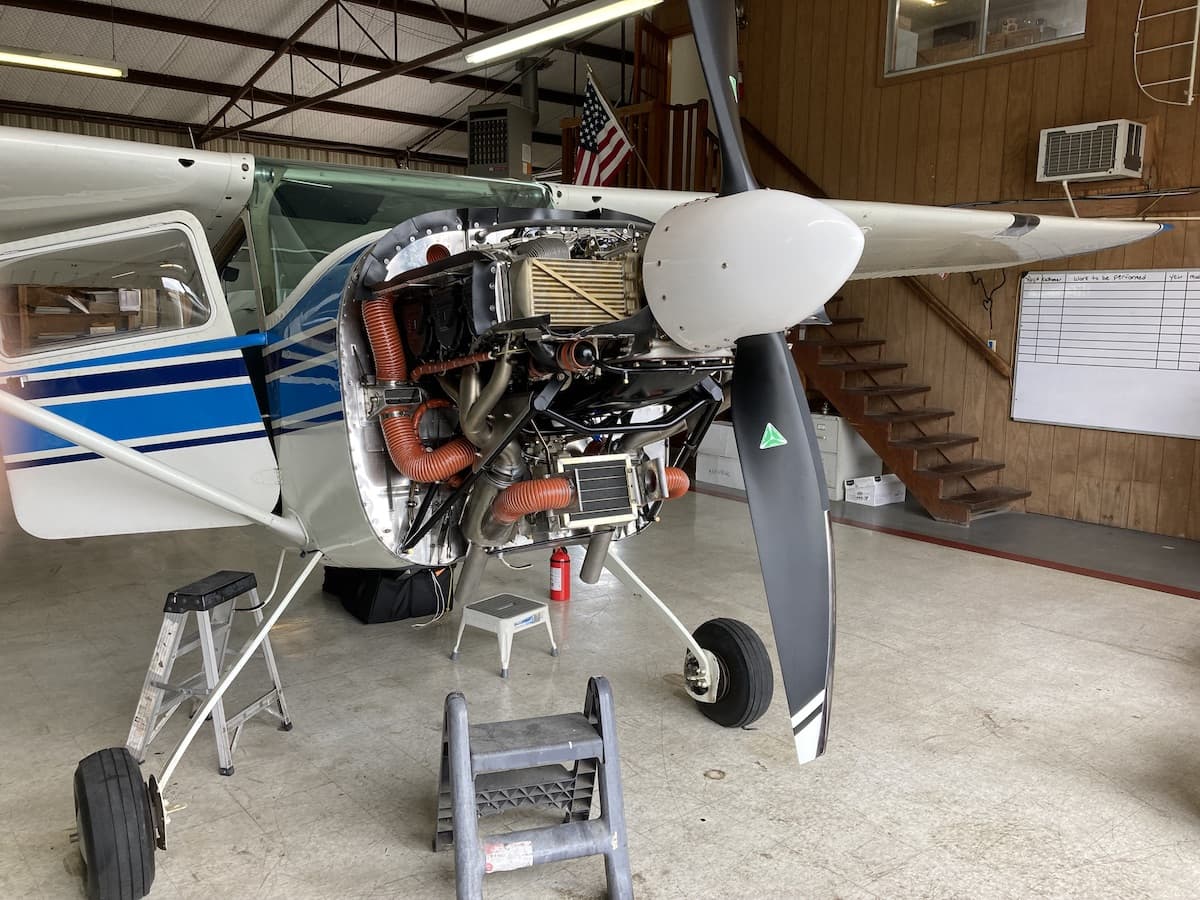 Propellers
If you have a later engine version on your Skywagon, you may be able to use
your current propeller. Hartzell (HartzellProp.com) and McCauley (McCauley.TxtAv.com) offer improved two and three-bladed props certified for the Skywagon.
I had to get a new prop for my Texas Skyways engine and chose the lightweight MT-Propeller (MT-Propeller.com) two-blade 83-inch carbon fiber Expedition, which weighs 46 pounds installed.
It's an easy prop to love, but expensive. Expect to pay $16,000 plus for a new one.
Avionics
The most popular additions are electronic instruments, such as the Garmin G5 or GI 275 instruments coupled with an autopilot. The Garmin GFC500 autopilot and G5s or 275s provide what Bryan Rose calls a "big boy autopilot in a small aircraft."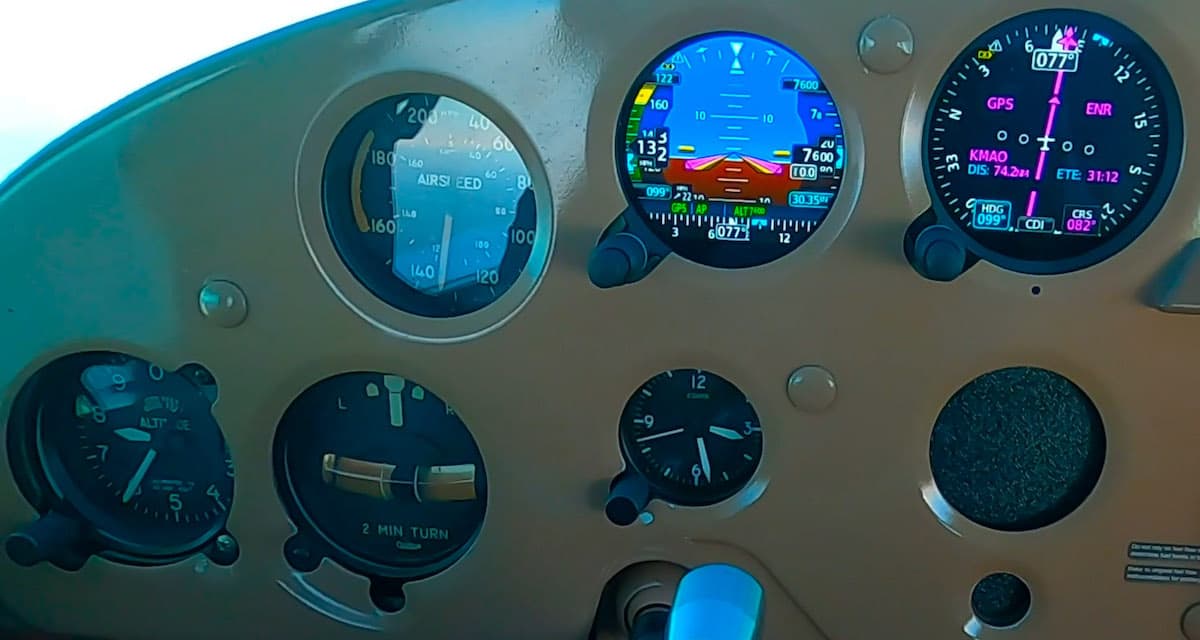 "It's a game changer," he said. "These changes involve elimination of the Skywagon vacuum system, which drops some weight and considerable worry."
S-Tec (Genesys-Aerosystems.com), BendixKing (BendixKing.com) and Trio (check TrioAvionics.com and TheSTCGroupllc.com) are also among the firms offering autopilots for the 180/185.
There are a variety of solutions if you want to go to a more extensive glass panel.
The Cessna forums are alive with discussions on the Garmin G3X and the 500 TXi, the Dynon HDX, plus Aspen and Avidyne products.
Start your search by talking to others who have upgraded a 180/185 panel, then move on to get estimates at avionics shops before making a choice.
Don't expect to get out for much less than $25,000 for even a modest upgrade if you include an autopilot.
Engine analyzers
Aircraft Spruce lists 53 choices under engine monitoring systems. Garmin also offers a GI 275 engine sensor instrument to match the other two round GI 275s.
My plane had an older Electronics International bar graph engine analyzer. I wanted more information and chose the JPI EDM 830 (JPIInstruments.com) engine monitoring system because of its color display and the ability to mount it vertically or horizontally in a standard hole.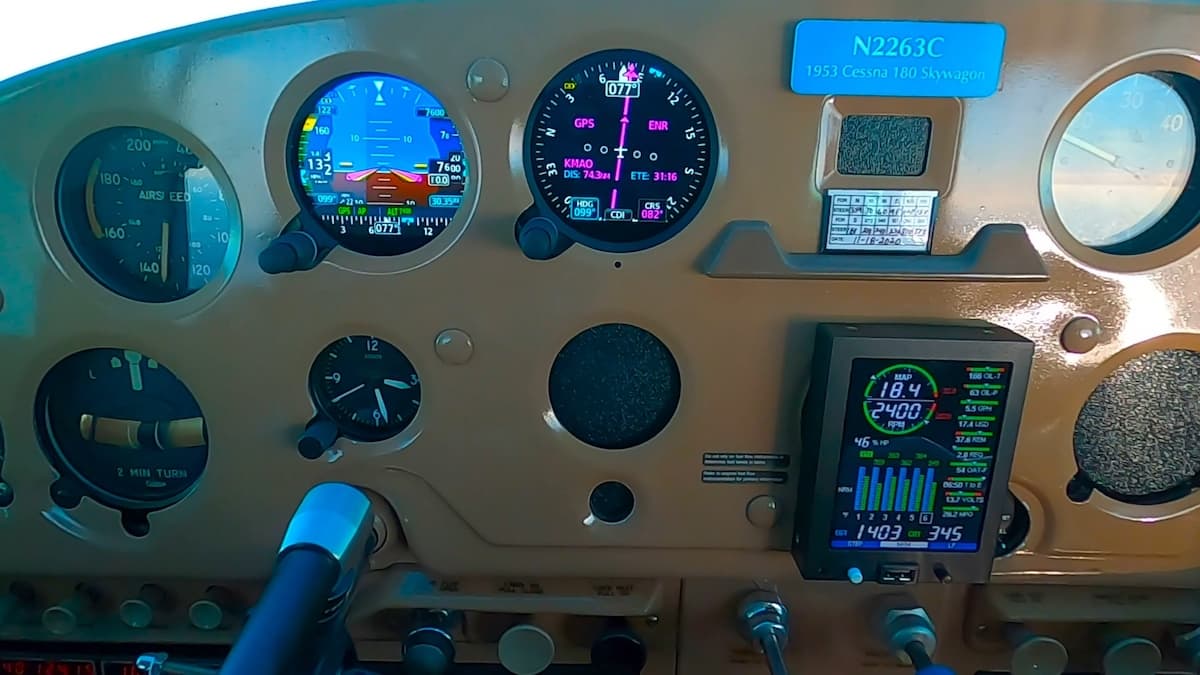 Electronics International (IFlyEI.com) also has similar analyzers for reference or primary models that replace your standard gauges.
Expect to pay from $3,000 to $4,000 for an analyzer and a lot more for a primary instrument replacement analyzer.
Electronic ignition
The two firms always mentioned in the discussion forums are SureFly
(SureFly.aero) and ElectroAir (ElectroAir.net). In brief, you replace one standard magneto with an electronic solid state electronic ignition that uses microprocessors to optimize spark timing, length, and intensity.
You will pay a minimum of $1,900 for the Surefly plus install.
Seat rail lock
A small but important item for 180/185 flyers is seat rail security. This involves installation of a device to stop the accidental backward seat slide.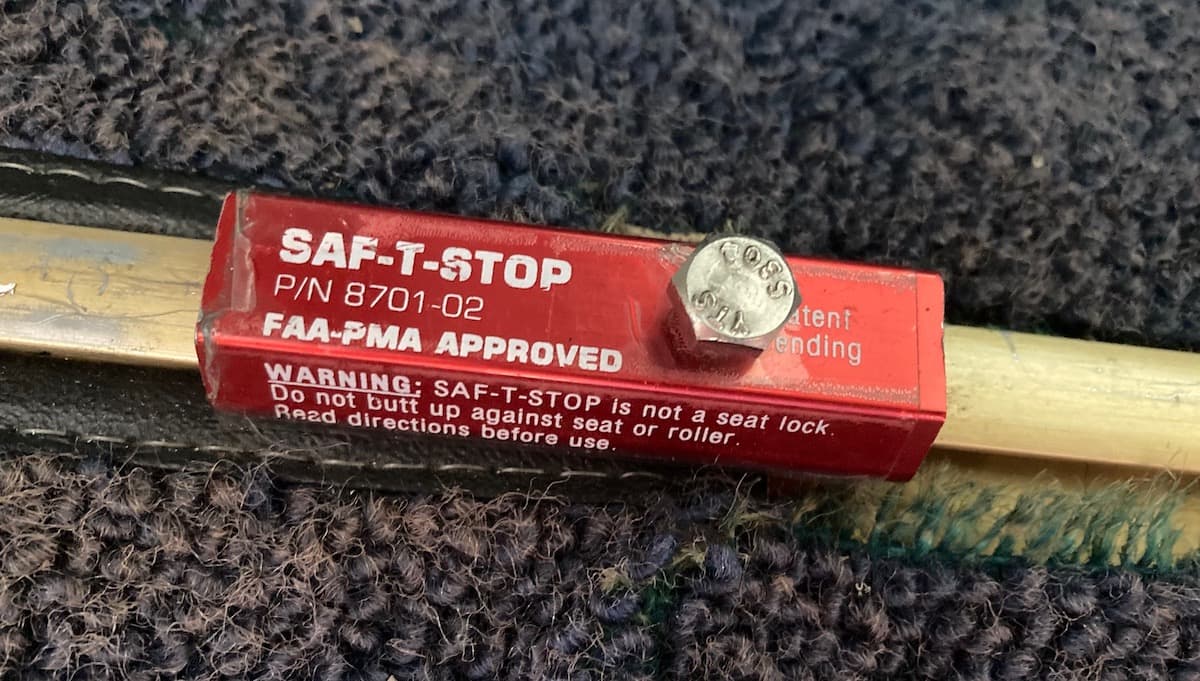 A popular mod is the Amsafe Inertia Reel Seat lock. This is Cessna part 505590-403 and is listed on the Textron site at $587.23.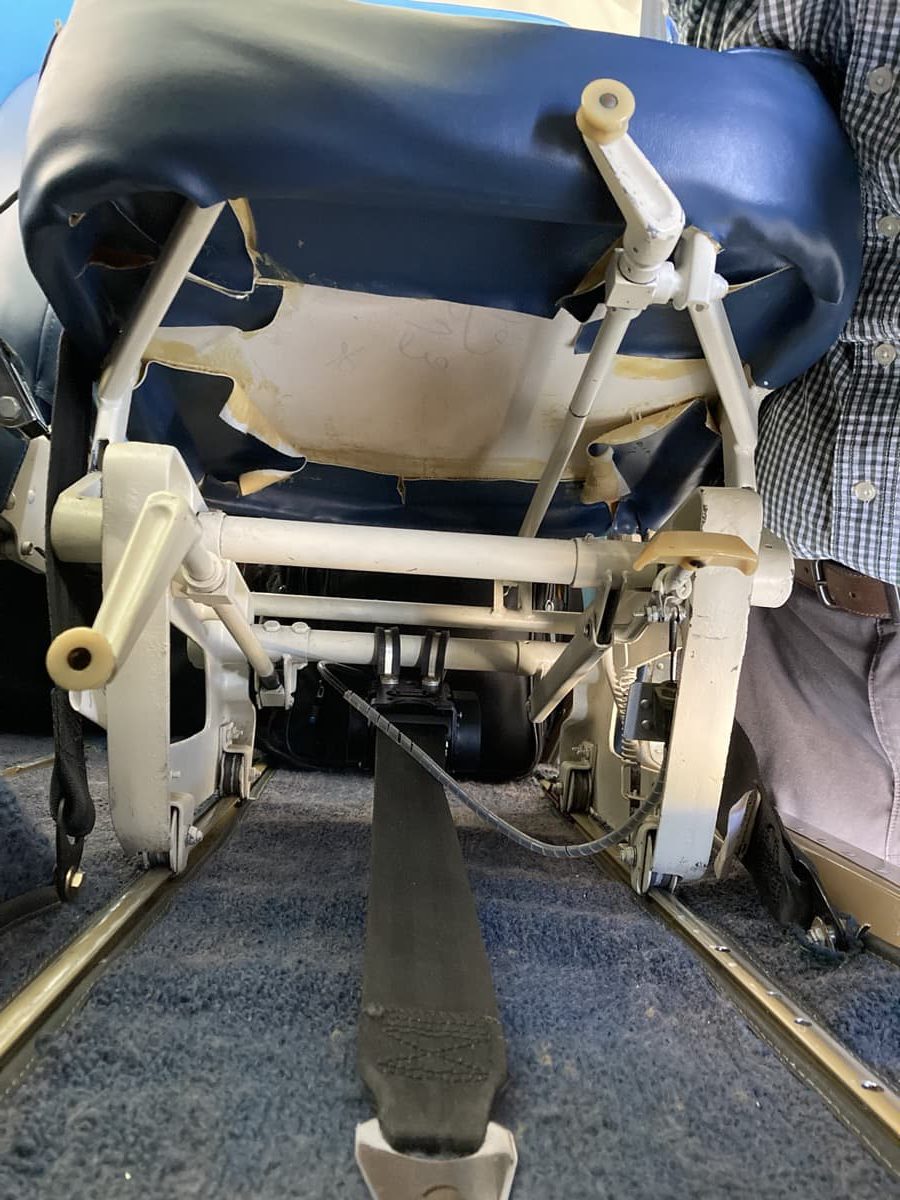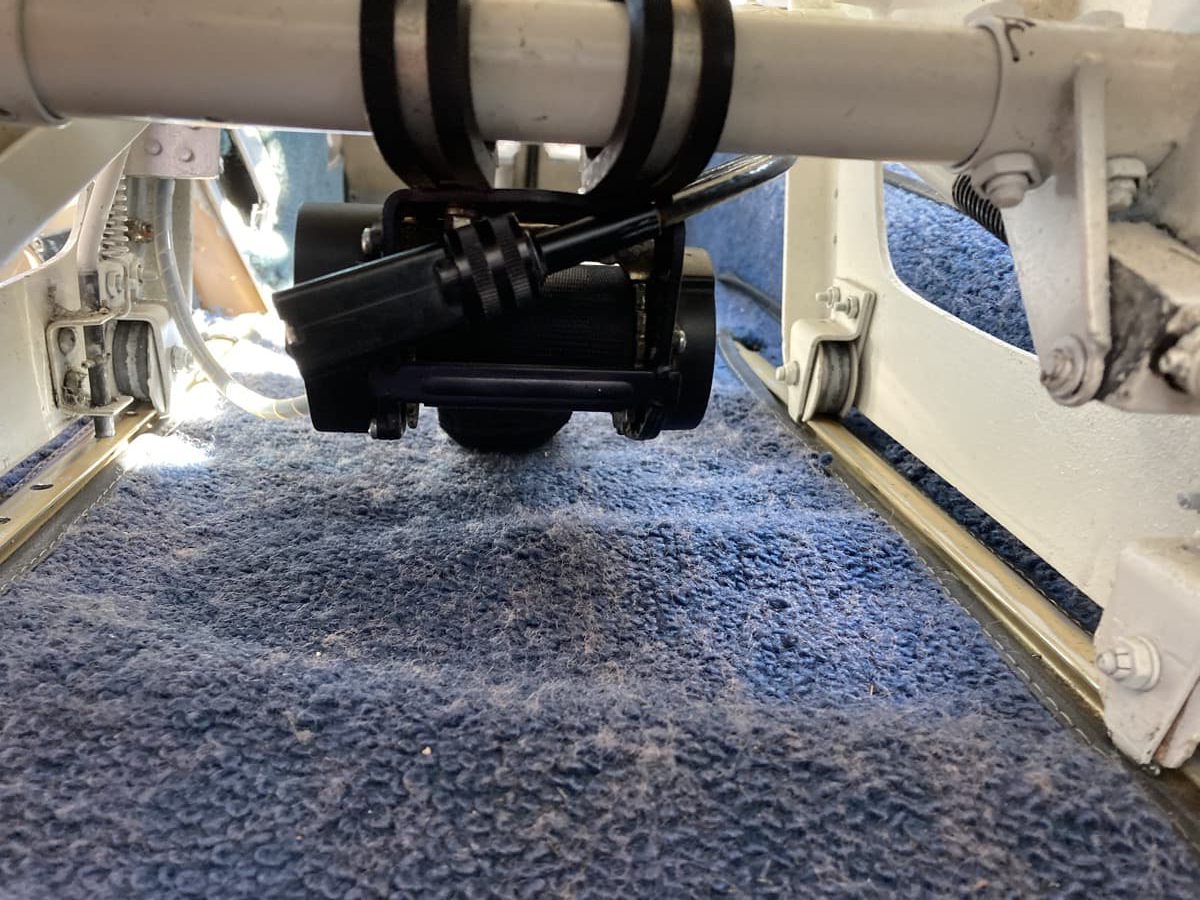 There are offers on salvage sites for considerably less. Check also SAF-T-Stop (AeroTechnologiesInc.com) and the Aerostop Seat Lock (Aerostop.net).
Shoulder harnesses
BAS (BASinc-Aeromod.com) and Hooker (HookerHarness.com) are two
of the most popular outfitters on the 180/185 club site forum.
In addition, there are less expensive approved seat belts you can order from suppliers.
Tail handles
BAS makes the most popular tailwheel handle kit for taildraggers.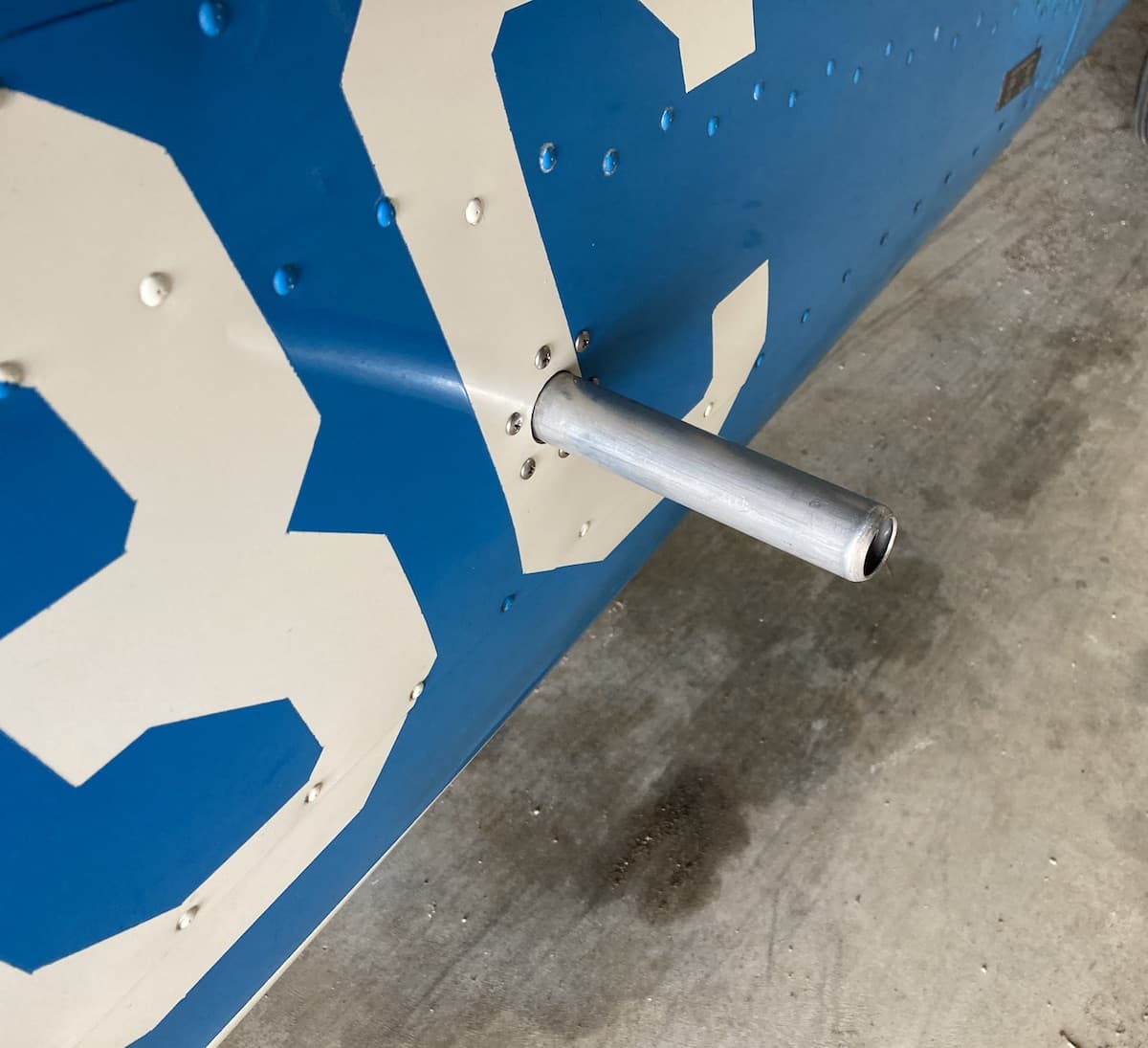 Extended baggage
Selkirk (Selkirk-Aviation.com) offers the most popular model. Expect to
pay at least $1,200. Other firms mentioned by 180/185 members and posts on the Backcountry Pilot website include Air Metal Fabricators (AirMetalFab.com) and Airglas (Airglas.com).
Jump seats
A folding jump seat (or seats) replaces the standard back bench seat and you
drop about 15 pounds in the changeover. F. Atlee Dodge (FADodge.com) is the best-known STC holder. The Dodge seats are currently $2,040 each.
LakeVue (LakeVueAeronautics.com) also offers jump seats. Prices begin at $1,850 for a single seat and $3,600 for a pair.
Also, Kenmore has an STC that replaces the one-piece rear seat with the individual seats from a Cessna 206.
According to Bryan Rose, his Skywagon came with the jump seat option from the factory.
"I have them and love them," he said. "The back of the seat pops right off, making it easy to load stuff."
Aircraft interiors
The complete redo of a Skywagon interior is beyond the scope of this article, but to replace individual interior parts the standard source is Selkirk, mentioned above.
Carpet replacement is a popular upgrade and Airtex (AirtexInteriors.com) and SCS (SCS-Interiors.com) receive good comments on their replacement kits. A basic carpet kit begins at approximately $500.
Sport Aircraft Seats (SportAircraftSeats.com) produces an upholstery kit to your design and then you do the install. Prices begin at $925 for 180 seats.
Oregon Aero (OregonAero.com) offers the most comprehensive interior redo
catalogue by far.
If you don't find what you want with these firms, the Cessna Owners magazine Source Guide 2022 lists two dozen or more additional companies providing interior parts and services.
STOL and wing modification kits
The popularity of short takeoff and landing competitions and the boom in backcountry and off-airport flying have put new emphasis on STOL kits.
I find the 180 without any wing modifications a great flying aircraft right down into and during the stall warning. But I am landing on 1,000-foot grass strips at worst and certainly not gravel bars or high-altitude airstrips that demand extreme short field takeoff and landing performance.
Spend a few minutes watching the Fat Tire Cowboys, Flying Cowboys, Trent Palmer, Mike Patey, Kevin Quinn, the Maule guy (Greg Miller) and others on YouTube and you'll see why STOL has become a hot topic for 180/185 owners.
Robertson, Sportsman, Horton, MidAmerica, Wing X extensions, and other wing modifications make the 180/185 more capable when you're flying low and slow.
My previous tailwheel 172 had a Bush STOL kit that significantly improved control at low speeds. The most popular STOL kit with 180/185 forum participants is the Sportsman wing cuff mod.
Stene Aviation (SteneAviation.com) pops up frequently in forum comments. Expect to pay about $2,600 for the kit and Stene takes 27 to 32 hours, charged at the shop hourly rate, for the install. Expect less experienced installers to take 40 hours plus.
Horton also offers strut cuffs, flap gap seals and other items, plus the Horton STOL Kit. Check Horton products at StackDoor.com.
Vortex generators
Bryan Rose added Micro Vortex generators (MicroAero.com) to his plane.
"They are going to cost you two knots," he said. "But for me, it is mission oriented. If I were only flying this airplane to and from paved runways I wouldn't go out of my way to put them on. We've added them because whenever we got below about 65 mph the plane just started wobbling around. If you're flying a STOL competition it is disconcerting without them. It builds your confidence. I don't think it makes the airplane fly a bit slower. I think it creates fine handling right up to the stall."
You'll pay about $1,450 for the kit plus a few hours install time by your A&P.
Also check BLR Aerospace (BLRAerospace.com).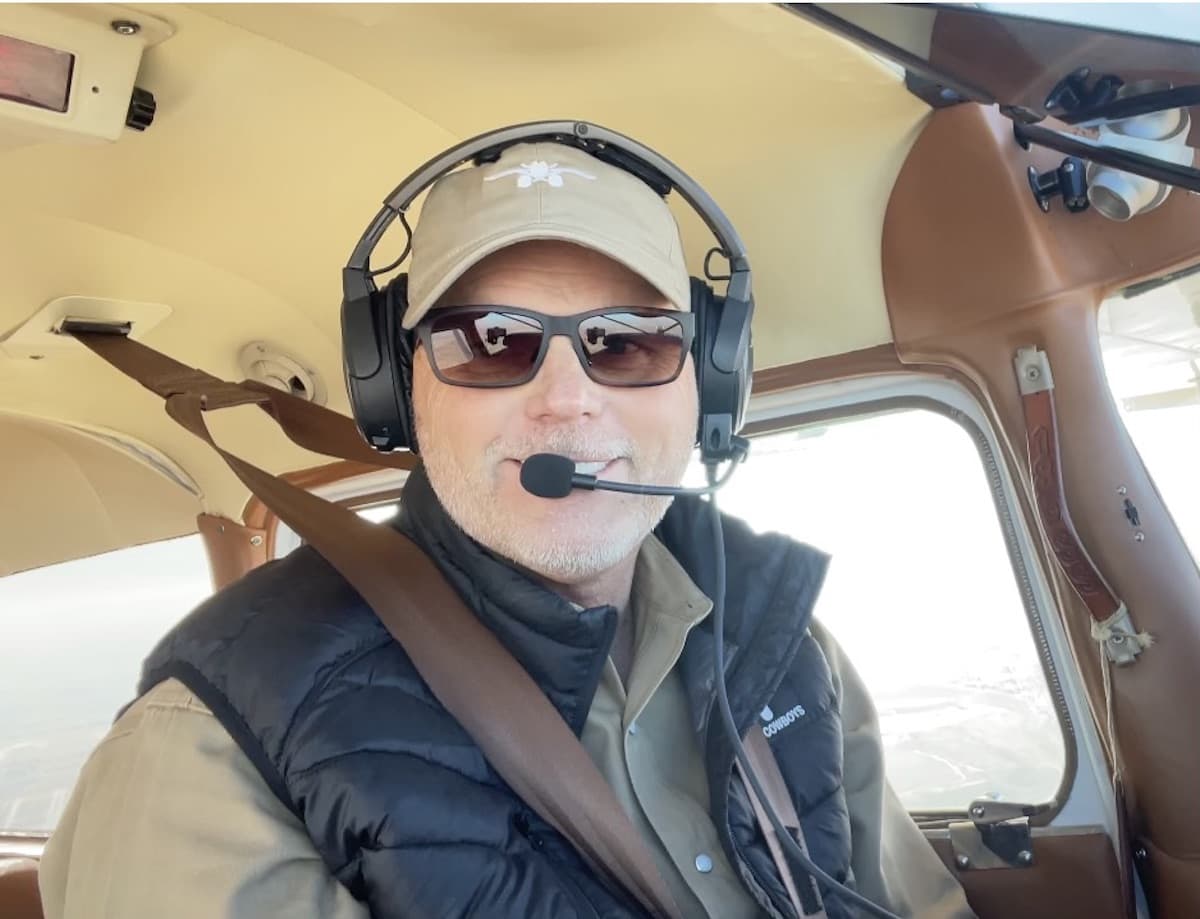 Tires
Bryan Rose says with a wry smile that the big tires on his plane are the number one modification. But he takes that back in the next breath noting that the 8.50 x 6-inch tires or the 8.50 x10-inch tires are good for just about every aspect of his flying, primarily in Texas.
"I now have 26-inch Airhawks on my aircraft, but you can get by with the 10-inch tires," he said. "Still, I have to admit the Airhawks look great on my plane."
The power of YouTube videos is clear in tire mods because so many of the most-viewed pilots are exploring the backcountry with big tires like the Alaskan Bushwheels (AirframesAlaska.com).
Landing gear
Titanium landing gear legs are offered by The Landing Gear Works (TLGW.aero) and there is a PPonk Aviation (PPonk.com) landing gearbox beef-up kit (STCSA2918NM).
Louvers or cowl vents
BVT (BVTAviation.com) advertises cowl louver vents ($320) to suit all Cessnas. The company notes that PMA status is pending. Forum readers say the vents provide additional engine cooling.
Bubble windows
I have the six-inch bubble side windows from Great Lakes Aero (GLAPinc.com) on my 180 and swear by them. You add one foot of elbow and shoulder room to your cockpit with this mod.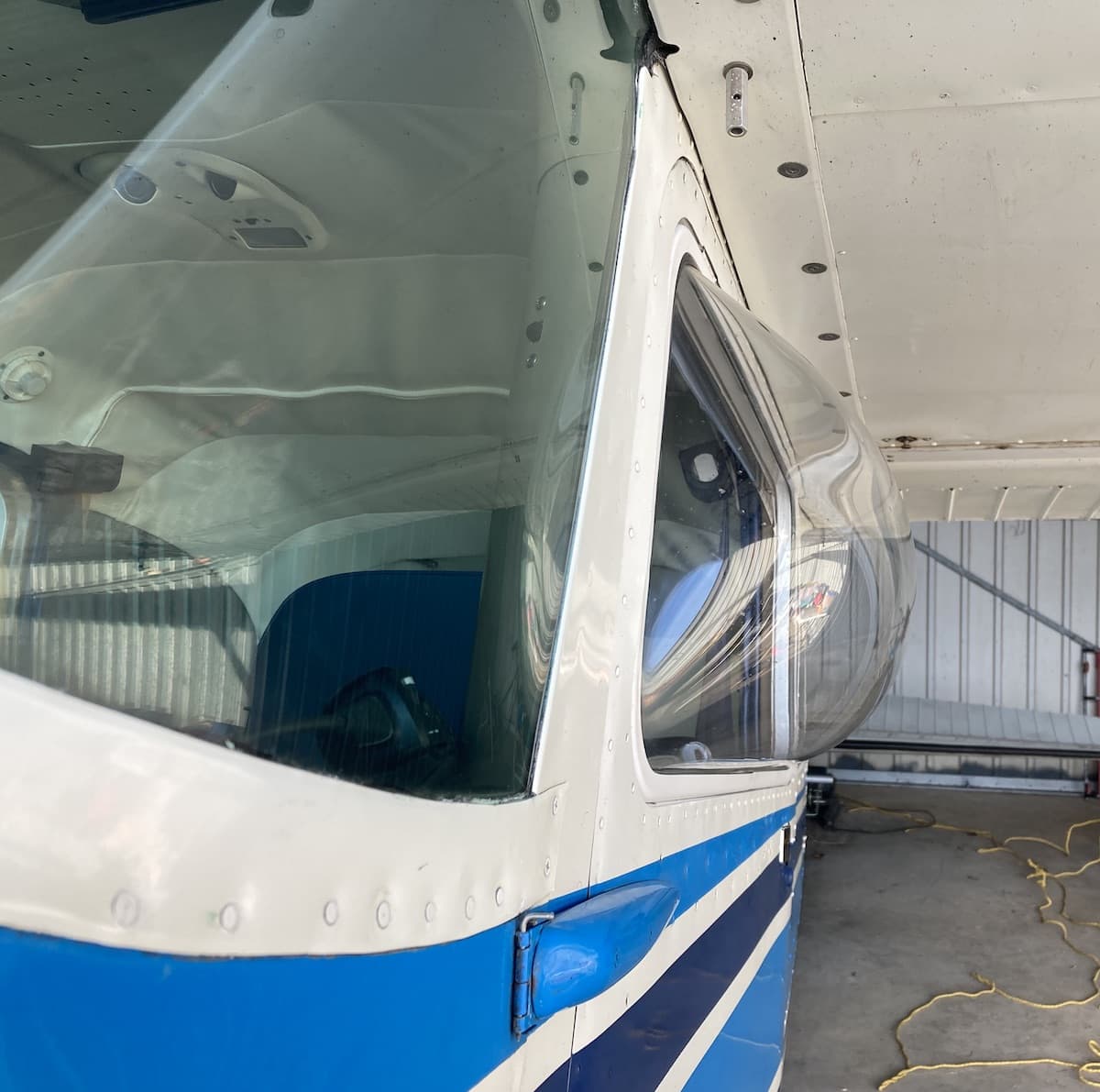 A word of caution: Be sure the latch is down because a bubble window that opens in flight can cause real problems.
"We lost the whole window in flight when a passenger bumped the latch open," Rose said.
I had a similar experience when my elbow bumped the latch and the window blew open. I didn't lose the window, but had to re-rivet the arm to the window frame.
Rose said he added a second latch. A check with Great Lakes did not reveal any requirement for adding a second latch for my 1953. The windows are approximately $250 each.
Visors
Rosen visors (RosenVisor.com) are the standard for this mod. Expect to pay about
$400 for the set.
Rosen offers a third axis kit that allows a third range of pivot. I like the additional movement and the company says the axis mod allows movement of the visor
around the V brace on float planes.
Air Vents
According to Bryan Rose, good air flow vents are "as big a deal as Rosen visors. You take out the old Cessna tin that's up there and put in a set of Precise-Flow vents."
The vents are made by Air Mod for Sporty's Pilot Shop (Sportys.com). They are $450 and you lose the outside air thermometer but get airline-style regulated air flow.
Door stewards
The small gas-filled shocks from Mtn. View Aviation (MtnViewAviation.com) take some of the worry out of wind gusts that could damage your hinges. The price is $420 for a pair plus installation.
LED lights
High intensity lighting is a lively forum topic for 180/185 pilots. The firms
most mentioned in the forums are Whelen (FlyWAT.com) and Aeroled (Aeroleds.com).
Strut fairings
Cessna (Cessna.TxtAv.com) and Knots 2U (Knots2U.net) offer fairings for some of the 180s.
Also check a source like Aircraft Spruce for additional information.
Flap gap seals
If you want to start an argument among Skywagon pilots, suggest adding flap gap seals. The gap seals do add a bit more speed and perhaps some improvement in climbs.
"But the pure STOL guys are going to throw rocks at you," Bryan Rose noted. "They claim a decrease in the effectiveness of your flaps by 20%. But I'm not flying in the mountains. I'm not going to Alaska. It gave me back about 4 or 5 knots that the big tires took off."