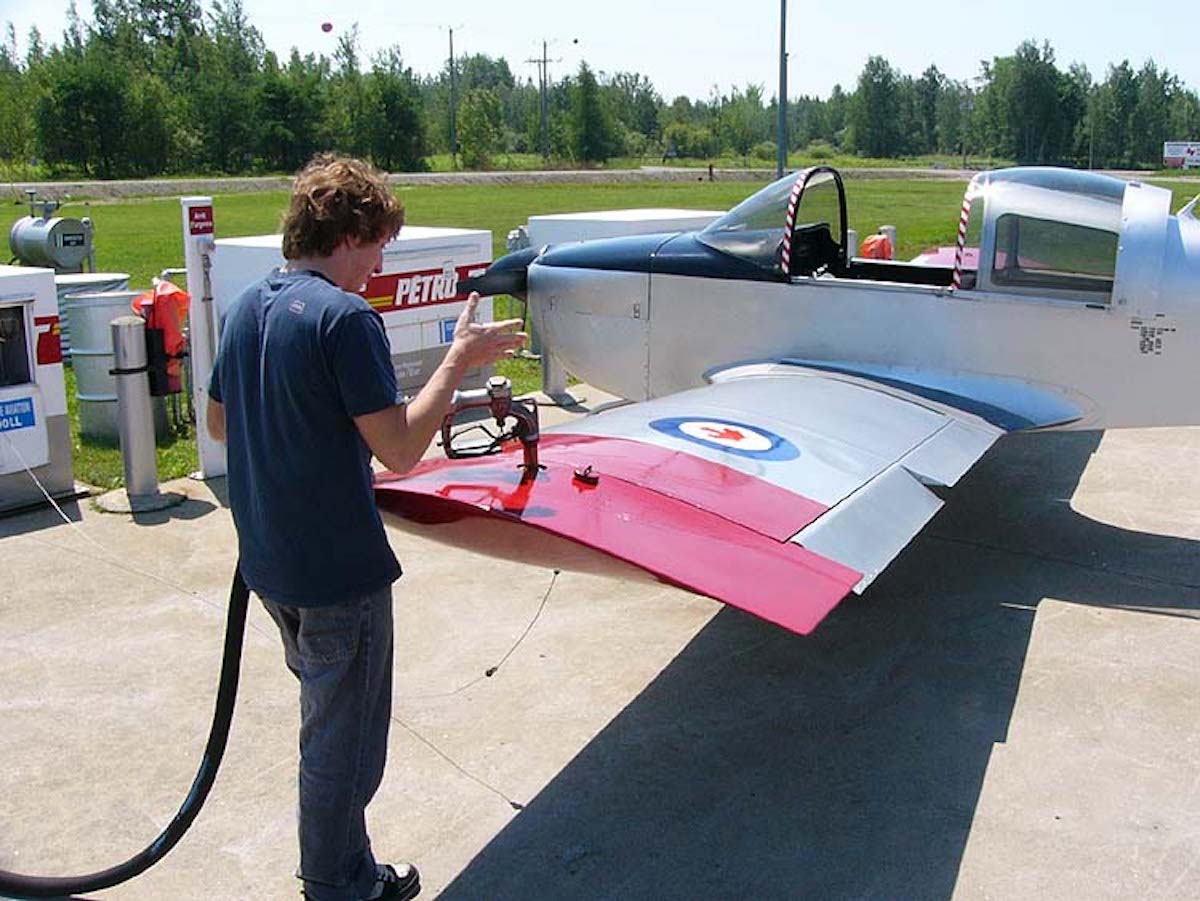 The biggest problem facing general aviation is the search for a drop-in replacement for 100LL. But time is running out to find a solution.
"The clock is ticking," warned Jack Pelton, chairman of the Experimental Aircraft Association (EAA) during a panel discussion about unleaded fuel at the 2022 SUN 'n FUN Aerospace Expo.
In January 2022, EPA officials said they plan to issue a proposed endangerment finding for public review and comment sometime this year for piston-engine aircraft that run on leaded fuel, with a final endangerment finding in 2023.
General aviation is the last mode of transportation that still uses leaded fuel.
"There is no way that the EPA is going to reverse course," Pelton said. "And there is no appetite in Congress to take on this issue. Our biggest supporter has already told us that he won't fight for us."
That ticking clock is one reason for the February 2022 launch of the EAGLE initiative — Eliminate Aviation Gasoline Lead Emissions. Tasked with getting the lead out by 2030, the initiative brings all parties together to find a drop-in solution, from aviation manufacturers to fuel refiners and distributors to airport officials, FAA officials, and more.
It will take input from all sectors to find a solution to "this complicated problem with so many intricacies," Pelton noted.
EAGLE has four pillars — Business Infrastructure, Research and Development, Unleaded Fuel Testing and Qualification, and Regulatory and Policy — with the industry responsible for the first two pillars and the FAA responsible for the last two.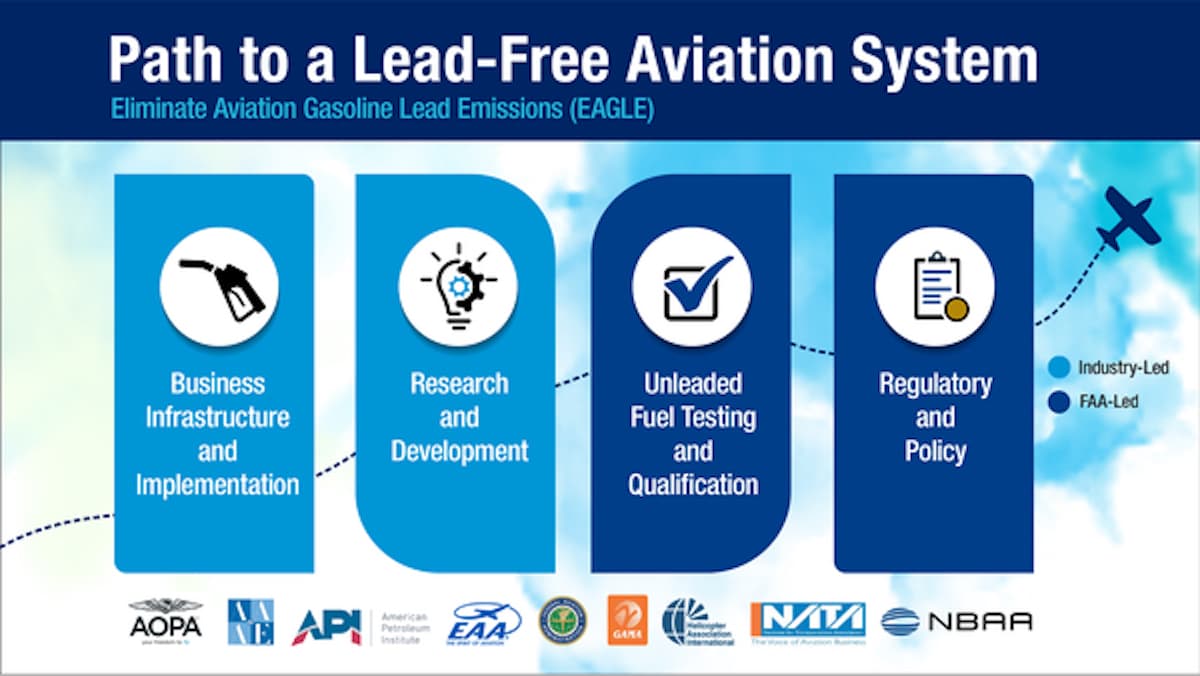 It builds off the Piston Aviation Fuels Initiative (PAFI), a decade-long federal program that was supposed to find an unleaded avgas. None of the fuels in the PAFI program were successful, but officials are now spinning the story, saying PAFI was successful because the FAA came up with a "robust testing program" for unleaded fuels.
"All fuels will have to be tested to satisfaction that they will work for the entire fleet," said Pete Bunce, president and CEO of the General Aviation Manufacturers Association (GAMA).
GA leaders are confident a drop-in solution will be found through the EAGLE initiative and, frankly, hope that more than one fuel makes it through the process.
"We hope they all get to the finish line," Bunce said. "Competition is a good thing."
He's confident a solution will be found that fits all the parameters, what GA advocates refer to as the "silver bullet."
Those parameters:
Must be a drop-in fuel that can be co-mingled with any other fuel
Must be a fleet-wide solution
And must be available at the "right price."
Officials at General Aviation Modifications Inc. (GAMI) say they have the solution: G100UL, an unleaded avgas they developed over the last 12 years.
But the three GA leaders say they don't think the STC process — which is the way GAMI and another unleaded fuel developer, Swift Fuels, are using to get their fuels approved — is the best way to go.
One claim they make is that the STC process doesn't provide the transparency needed to "give everyone confidence" that the fuel meets all the criteria, Pelton said.
"We don't really know what is in those fuels," he said. "We need to know that the chemicals are vetted so we don't have to go through this again in 10 years time."
GAMI officials, however, note that their fuel formulation has been vetted over and over again by the FAA.
The GA leaders said the federal government is behind the search for an unleaded avgas, committing to spend $14 million just this year. With this kind of investment, they believe that multiple fuels will be found that will work, which could help drive down the cost of flying.
But will it be in time?
While general aviation won't survive without fuel, it's important for pilots and aircraft owners to realize that fuel refiners could easily survive without producing avgas, GA officials note.
"Worldwide, 180 million gallons of avgas are burned each year," said Mark Baker, president and CEO of the Aircraft Owners and Pilots Association (AOPA). "That's equal to between three and four hours of car gas."
Yes, the GA fuel market is that small.
Add to that there is only one company in the world, Innospec, that makes tetraethyllead (TEL), the lead that is added to avgas to prevent premature detonation, also known as engine knocking.
"It's not likely that the lead plant in Liverpool (England) will still be around in 10 years," Baker said.
That puts even more pressure on finding a solution while 100LL is still available.
"A number of airports have already eliminated 100LL," said Bunce, referring to Reid-Hill Airport and San Martin Airport in Santa Clara County, California. "This is a huge safety issue."
Besides the risk of misfueling, not having the appropriate fuel at an airport could lead pilots to fly less — or worse — push the envelope and run out of fuel and crash.
"We've got to have fuel," Pelton noted. "We've got to have a certification process. We've got to have production and a distribution system. We need all of those to line up or somebody is going to get left behind."
Launching the EAGLE initiative now shows the EPA that "GA is serious about finding a solution and that our time line is aligned with the EPA's time line," he added.
"Will we arrive at a silver bullet solution? We hope to have several solutions," he concluded.