According to the Hearing Health Foundation, a dishwasher produces 75 dB of noise.
Interestingly, a recent announcement from Hartzell Propeller tells us that marrying the company's Top Prop to a Diamond DA40 NG "delivers light, smooth and state-of-the-art improved climb performance, two to three KTAS faster cruise and is more durable, with an eco-friendly 74.1 dB(a) noise level."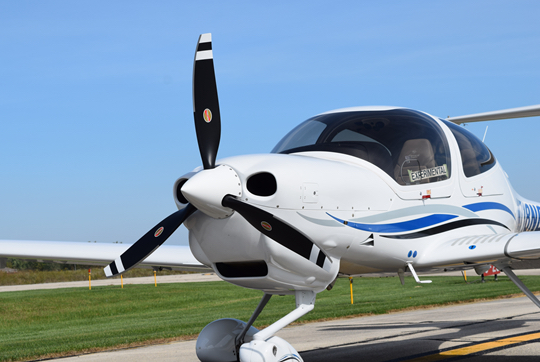 That makes the dishwasher louder than a Diamond.
We replaced our dishwasher a few years ago. If it's running while we are sitting in the living room (15 feet away), it is barely noticeable.
For those people who aren't enamored with aviation, it would be nice if a larger percentage of the aircraft we fly could be as quiet as a dishwasher — or quieter.
I'll even hazard a guess that quieter aircraft would tamp down the pressure to close or restrict operations at the nation's airports. It might even lower the heat on "getting the lead out" of avgas.
A July 10 story in The Wall Street Journal, "Private Aviation Struggles to Move Past Leaded Fuel," has a few interesting nuggets.
"Now, growing opposition from airport neighbors on both coasts may help spur a broader transition away from leaded fuel that has been in a holding pattern for years."
Growing opposition? Opposition to airports has been around for decades. Leaded fuel is simply a relatively new tool being used by anti-airport advocates.
The article quotes Greg Spades, a flight school manager at Reid-Hillview Airport in San Jose, who said the rule banning 100LL from Santa Clara County's airports is "onerous and feels like deliberate interference by politicians."
"They knew it would severely impact our business," Spades told The Wall Street Journal.
Yep. That's the point. Complaining about noise, for decades, has not produced the desired results. Time to change tactics.
Any time I've dug into noise complaint issues, the data shows a small number of people filing the vast majority of complaints. But that doesn't make it any less of an issue.
The squeaky wheel gets the grease is a saying for a reason.
A July 11 story in Aviation International News, "Hawaii Governor Expected to Veto Helicopter Bill," is more of the same.
Hawaii Senate Bill 3272 passed the state senate unanimously in April 2022.
From the bill: "The legislature finds that tour helicopters and small aircraft operations constitute a significant risk to passengers and residents on the ground. Over the past five years, tour helicopters and small aircraft operations in Hawaii accounted for nearly 17% of the nationwide accidents that prompted investigation by the National Transportation Safety Board. In one 10-month period spanning 2019 to 2020, 23 lives were lost in four separate tour helicopter or small aircraft accidents on Oahu and Kauai. Therefore, it is important that tour operators carry insurance in sufficient amounts to cover potential losses in the event of an accident. The legislature also finds that residents in the state must endure the excessive noise that helicopter tours generate." [Emphasis added.]
Thankfully, as AIN's headline reads, the governor is expected to veto the bill.
We can't sit back and rest on the "airports were here first" retort. Well, we can, but that's a bad idea, in my opinion.
If I happened to be the first person to move into a new community, I don't automatically get my way just by being first. And yet, I often read, "the airport was there first, the complainer can go pound sand," often given to someone who complains about aircraft noise.
I no longer wonder if it is possible to make aircraft quieter. The Hartzell announcement tells me so.
Now, I'm not a mechanic. Nor am I an engineer. But it seems to me the three biggest contributors to internal combustion engine aircraft noise, in no particular order, are the engine, the muffler, and the propeller.
I do know that everything in aviation is a trade-off. I expect people who know such things will tell me that producing a muffler that actually muffles the sounds of the engine will result in reduced performance in some manner. And to reduce the sound from a propeller, the performance of the aircraft will suffer. And if you want a quieter engine, that means a smaller engine, and that means…you guessed it, reduced performance.
And yet, I still want our aircraft to be quieter.
So, if it'll help the engineers make aircraft quieter, it's okay if they can't also do dishes.