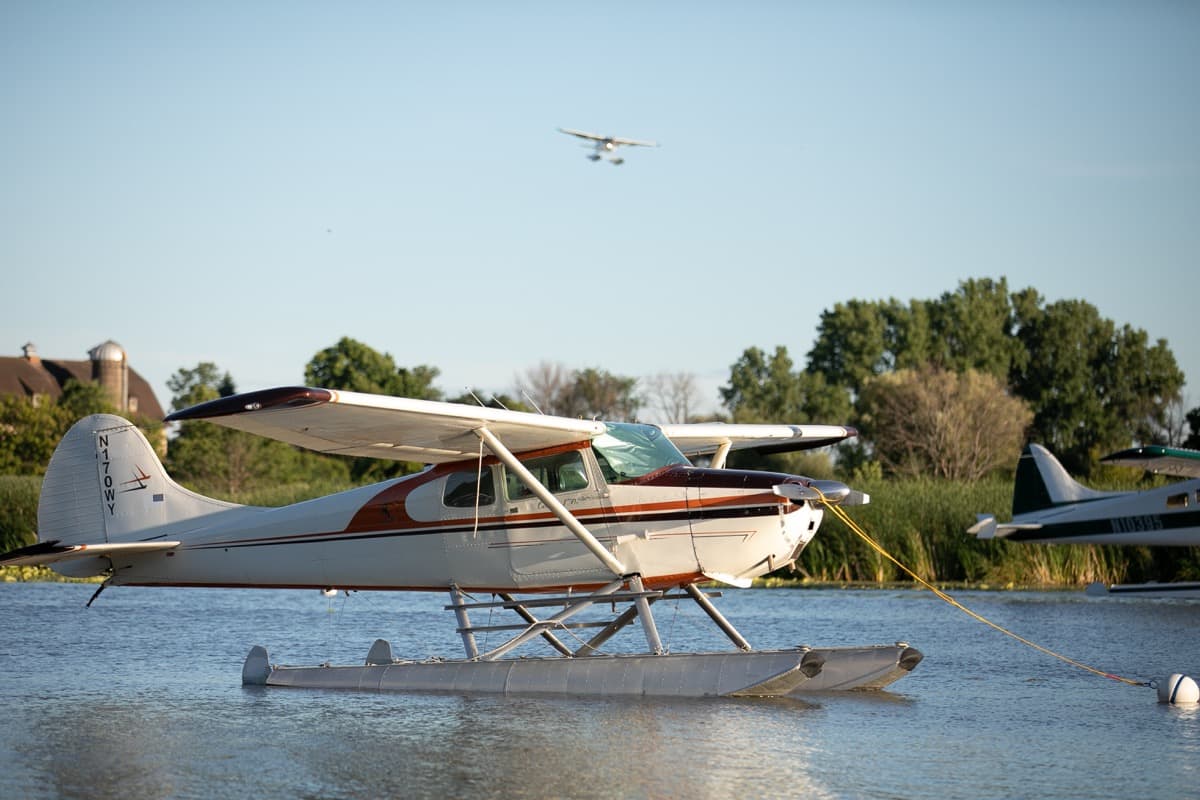 Seaplane accidents, while few, represent an area of general aviation where targeted training could pay real dividends.
That's the takeaway from a new seaplane accident analysis report by the Aircraft Owners and Pilots Association Air Safety Institute (ASI).
Funded in part by the Seaplane Pilots Association, the Seaplane Accident Analysis Report 2008 – 2022 offers a detailed accident analysis, addressing flight conditions, fleet composition, accident causes, NTSB findings, and more.
The report also includes recommendations to reduce the number of accidents, including several training tips.
"Seaplanes are highly capable and uniquely suited for a wide variety of operations, but seaplane flying carries additional risk — due to the environment in which they operate — when not flown safely by proficient seaplane pilots," says Robert Geske, AOPA Air Safety Institute manager of aviation safety analysis.
During the report period, 2008 to 2022, there were 406 seaplane accidents, with 77 ending in fatalities, he reports.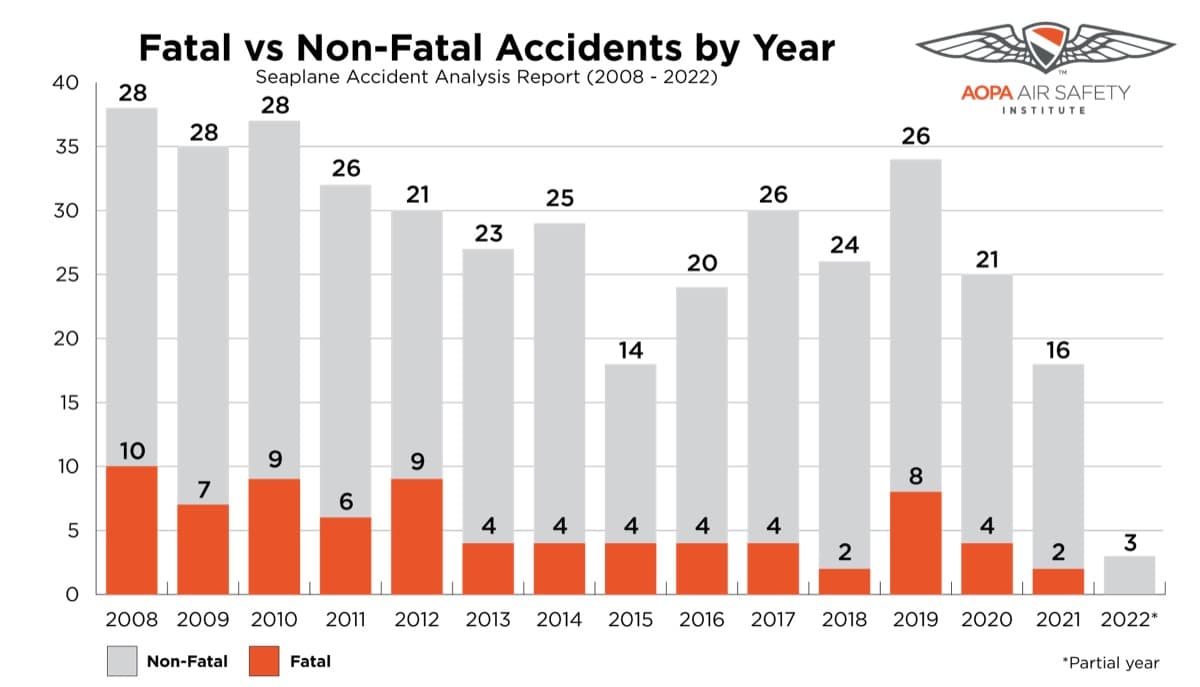 "For reference, general aviation accidents during the same period averaged 1,200 to 1,500 with 200 ending in a fatality," he says. "The seaplane fleet makes up less than 5% of all general aviation aircraft, so understanding these types of accidents is valuable to the seaplane community."
This report is also important as getting data has been increasingly difficult since the FAA began "repressing" seaplane activity data in 2015 "due to unreliable reporting and analysis."
"For example, few seaplane aircraft operators report their hours. In addition, aircraft that switch out floats for other landing gear — as the season dictates — make reporting more difficult," it continues.
The limited availability of seaplane flight hours and activity prevents a rate-based analysis of seaplane accidents. It also prevents "a meaningful year-to-year comparison and understanding of whether the rise and fall of accidents is attributed to flight activity or to an actual change," the report notes.
With all that said, the report finds that one factor dominates the cause of seaplane accidents: Abnormal runway contact (ARC).
"This is best thought of as a landing surface contact since seaplanes do not need to operate from a paved runway surface," according to the report. "These types of accidents occur mainly during landing (90%), with many resulting from gear-down water landings."
The report recommends that a "broader adoption and installation of gear warning systems that aid in identifying the landing surface should reduce accidents in this category."
It also suggests more participation by pilots in the Seaplane Pilots Association's "Positive rate, gear up" campaign.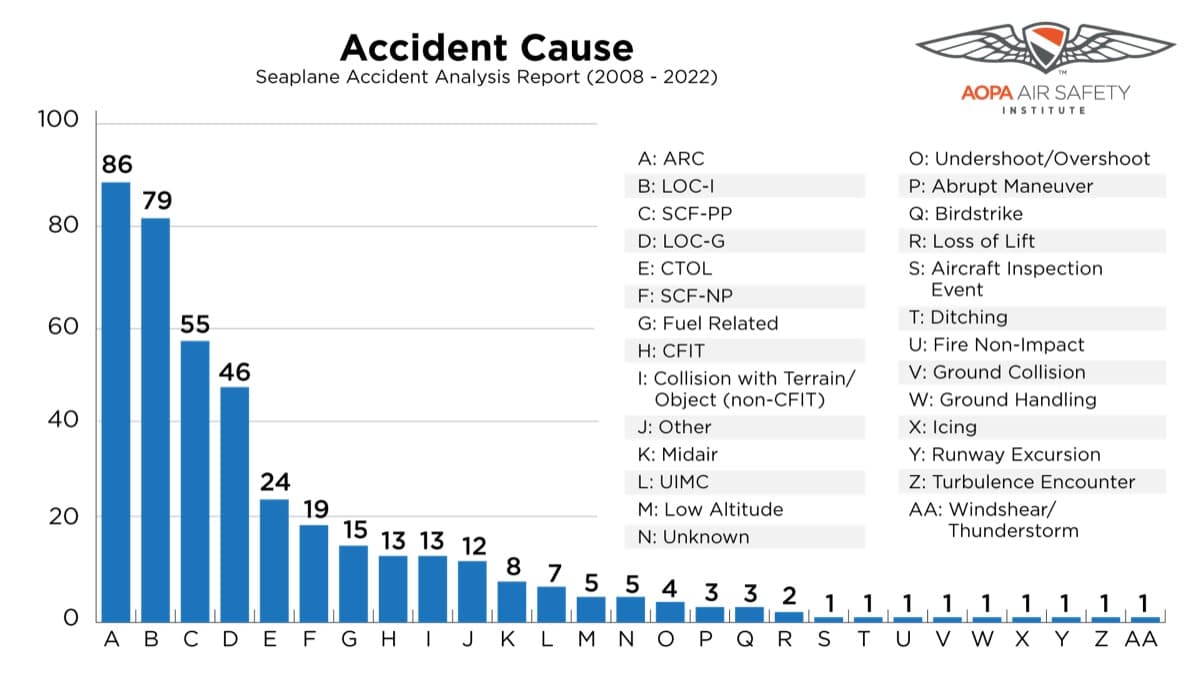 Loss of control in flight (LOC-I) is the deadliest cause of seaplane accidents.
"Given seaplanes' unique operating environment, the maneuvering phase is where most of these accidents occur," the report notes.
"Dedicated efforts targeted at low-speed awareness, distraction prevention, and positive aircraft control could drive down the frequency of fatal accidents," it continues. "Seaplane pilots may also benefit from the installation and use of angle of attack indicators."
It also notes that the installation of gear warning and advisory systems, which work to identify the landing surface and inform pilots of proper surface or water gear configuration, may drastically reduce nose-over events.
"While not as deadly as LOC-I, reducing the volume of accidents would, most likely, positively impact the cost and availability of insurance," the report states.
The report concludes with a number of recommendations, including additional training, specifically in aircraft control, loss of control prevention, gear configuration, and operations during maneuvering.
One of the big issues with seaplane training are gaps in flying and training, according to the report, which notes that many pilots swap floats for skis or wheels as the seasons change.
"Seaplane pilots may experience six or more months away from seaplane operations, a situation that hinders their proficiency and impacts their training. Pilots who experience gaps due to seasonality need to take added precautions when resuming seaplane operations. Combating these gaps through a training course could help mitigate proficiency-related accidents."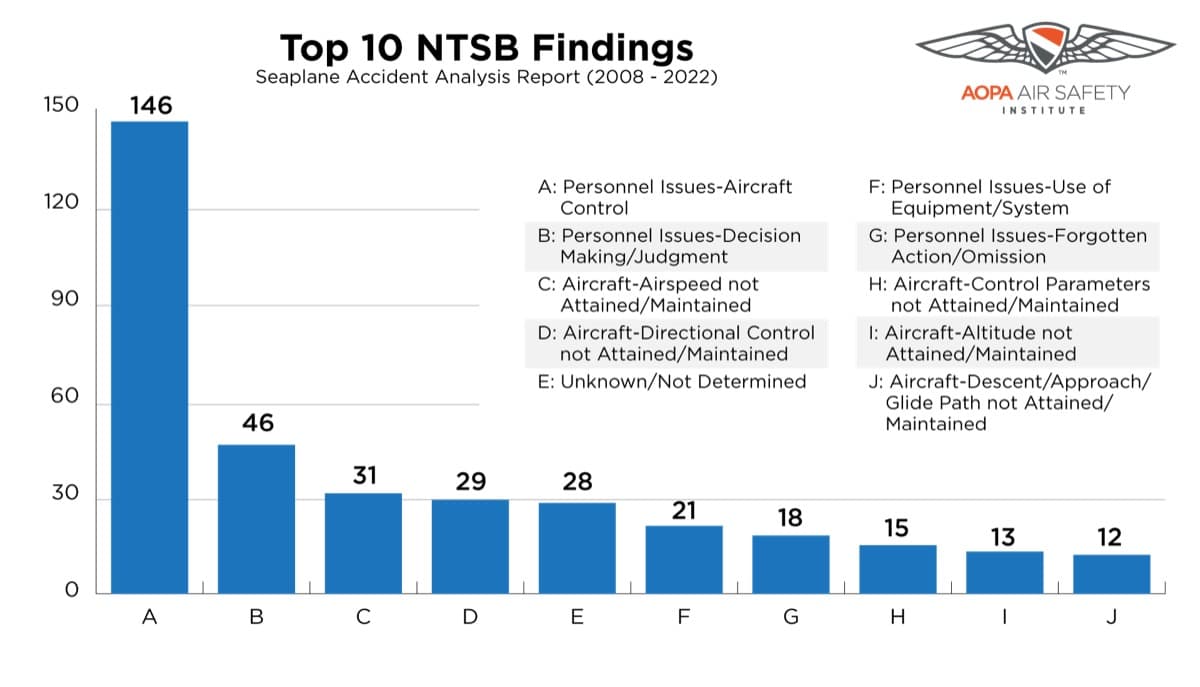 Another critical area for increased training is in decisionmaking, which was cited by the NTSB as a key contributor to seaplane accidents.
"Safety starts and ends with good decisions," the report noted. "Reminding pilots of the effect their choices have on the outcome of the flight and helping them understand how to mitigate risks will further reduce all GA accidents."
You can read the full report at AOPA.org/Training-and-Safety/Air-Safety-Institute/Accident-Analysis/Seaplane-Accident-Report.