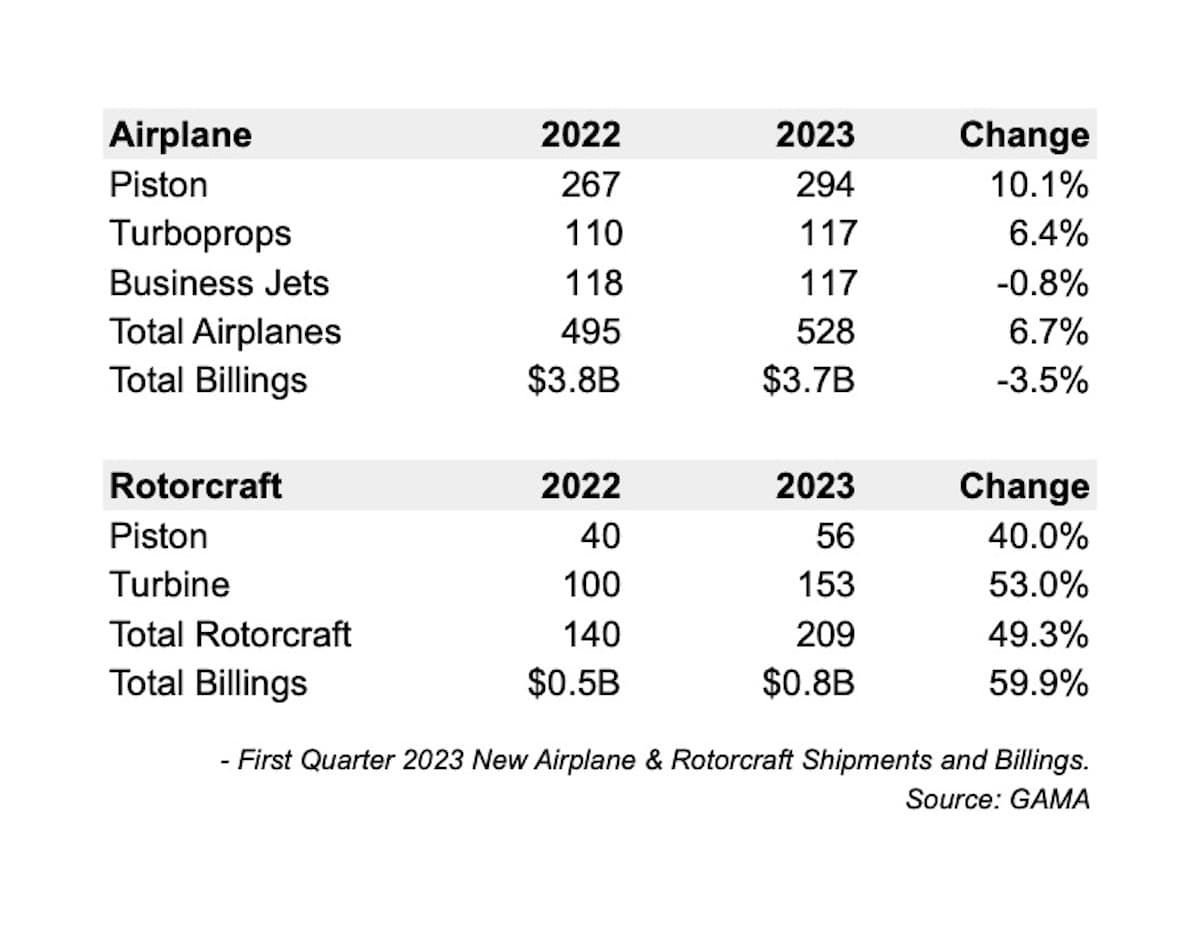 Helicopter shipments were up dramatically in the first quarter of 2023, according to the latest figures from the General Aviation Manufacturers Association (GAMA).
The First Quarter 2023 General Aviation Aircraft Shipments and Billings Report shows that piston helicopter deliveries increased 40% to 56, while turbine helicopter deliveries increased 53% to 153. Total helicopter billings were up almost 60% from the $500 million in the first quarter of 2022 to $800 million in the first quarter of 2023.
Aircraft shipments through the first quarter of 2023 were 6.7% higher than the first quarter of 2022, according to the GAMA report.
The report shows that 294 piston airplanes were delivered in the first three months of the year, up 10.1% from a year ago. Turboprop deliveries increased 6.4% to 117, while business jet deliveries were flat at 117.
The value of airplane deliveries through the first quarter of 2023 was $3.7 billion, down 3.5% from $3.8 billion a year ago.
"The continued health of the general aviation manufacturing industry is encouraging, particularly in light of persistent supply chain, workforce, and North American regulatory process challenges," said Pete Bunce, GAMA President and CEO.
Bunce noted that GAMA members participated in more than 125 meetings with U.S. legislators across the political spectrum in early May 2023.
Issues discussed with the elected officials included "the immediate need for a confirmed FAA administrator, improved training for the young FAA workforce, strengthened bilateral engagement, and timely passage of an FAA reauthorization bill to provide clear, multi-year direction for the agency," Bunce said.
You can see the full first quarter report, which breaks down deliveries by manufacturer, at GAMA.aero.