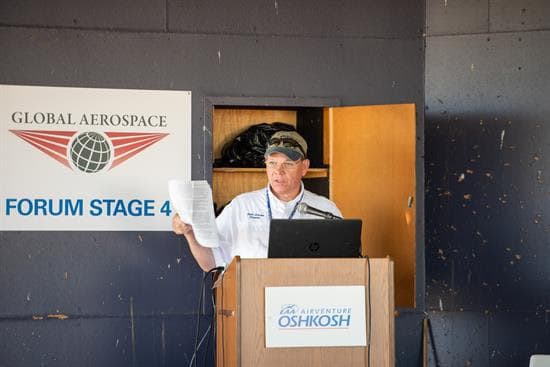 Congressman Sam Graves (R-Missouri) led a general aviation Town Hall discussion during EAA AirVenture Oshkosh 2023 with executives from several of GA's advocacy groups.
Graves, who is an avid pilot and aircraft owner, noted the Town Hall came on the heels of the passage of FAA reauthorization in the U.S. House of Representatives.
H.R. 3935, known as the Securing Growth and Robust Leadership in American Aviation (SGRLAA) Act, is a five-year reauthorization of the FAA and aviation safety and infrastructure programs. It was "overwhelmingly approved" by the House by a vote of 351 to 69, noted Graves, who is chairman of the House Transportation and Infrastructure Committee.
Graves told the crowd that he worked to ensure that the SGRLAA Act included the first-ever title in an FAA bill dedicated specifically to GA.
"It was absolutely vital to me to include the first GA title in this FAA bill, because the success of our aviation system is built upon a strong GA foundation," Graves said. "If GA in the U.S. isn't successful, then aviation in the U.S. will not be successful."
The Senate still has to pass its version of FAA reauthorization before it can be signed into law. That needs to happen before Sept. 30, 2023, when the FAA's reauthorization expires.
What Is Reauthorization and Why Is It Important?
Every five years, Congress must pass a bill to reauthorize funding for the FAA. The reauthorization also outlines the next steps Congress wants the FAA to take to "promote the growth and safety of U.S. aviation."
"The future success of the general aviation community depends on stability for the FAA so it can work with our community to plan in an orderly fashion," said Experimental Aircraft Association (EAA) Chairman and CEO Jack Pelton during the Town Hall. "That's why a completed reauthorization that includes GA is so important."
The general aviation industry is "particularly appreciative" of Graves' "willingness to keep general aviation as a key focus as Congress continues its work to enhance the FAA's ability to deliver critical activities that promote safety, infrastructure, innovation, and competitiveness," added Pete Bunce, chairman and CEO of the General Aviation Manufacturers Association (GAMA).
According to James Viola, president of Helicopter Association International (HAI), the House reauthorization bill will "significantly address the pilot shortage, streamline regulatory processes, facilitate Unmanned Aerial Systems (UAS) beyond visual line of sight operations and, most importantly, implement numerous safety and training enhancements."
The success of the House bill shows "just how important it is for the GA community to continue to be active in pushing Congress to ensure an FAA bill gets signed into law as soon as possible," concluded Aircraft Owners and Pilots Association (AOPA) Senior Vice President of Government Affairs and Advocacy Jim Coon.