Aviation Performance Solutions (APS) will host a summit on upset prevention and recovery training on LinkedIn Live Sept. 29, 2023.
The event brings industry experts together to discuss inflight loss of control (LOC-I) and explores how upset prevention and recovery training can reduce the risk of LOC-I, according to officials with APS, which specializes in upset prevention and recovery training (UPRT).
"This summit is for passionate aviators, professional pilots, flight instructors, and safety advocates around the world," said APS Executive Vice President Randy Brooks. "We hope the event will reshape the way we approach operational risk management in aviation."
The General Aviation track features two longtime safety advocates: Master Instructor-Emeritus Rich Stowell, and Shane Tobin, director and instructor at UPRT Australia.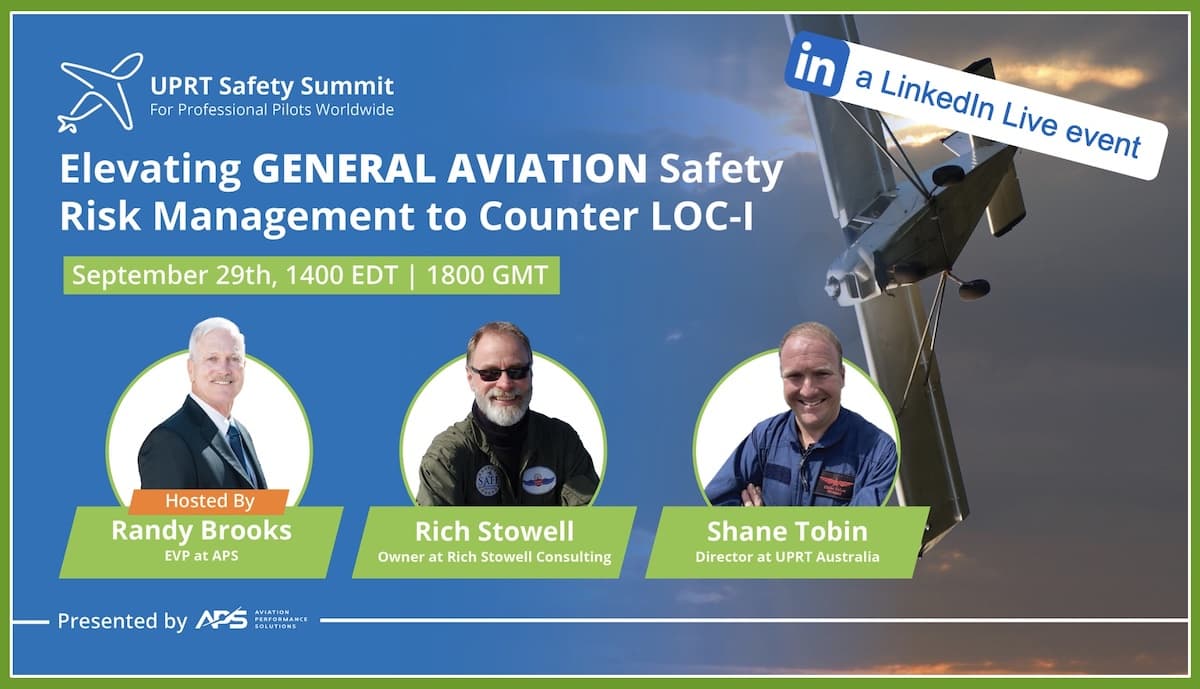 Stowell, dubbed the "grandfather of GA UPRT" by APS, will discuss the truth about current flight instructor training. Tobin will discuss how UPRT can enhance the safety and confidence of GA pilots.
Summit Schedule
1200 EDT: Airline/Air Carrier Track with Brad Bennetts and Brian Sims
1300 EDT: Corporate Flight Department Track with Sonnie Bates, Jeff Wofford, and David Ryan
1400 EDT: General Aviation Track with Rich Stowell and Shane Tobin
1500 EDT: Experts Panel and Q&A Track
For more information and to register, see "Upcoming Events" at LinkedIn.com/Company/Aviation-Performance-Solutions-llc/Events. There is no cost associated with attending the summit.