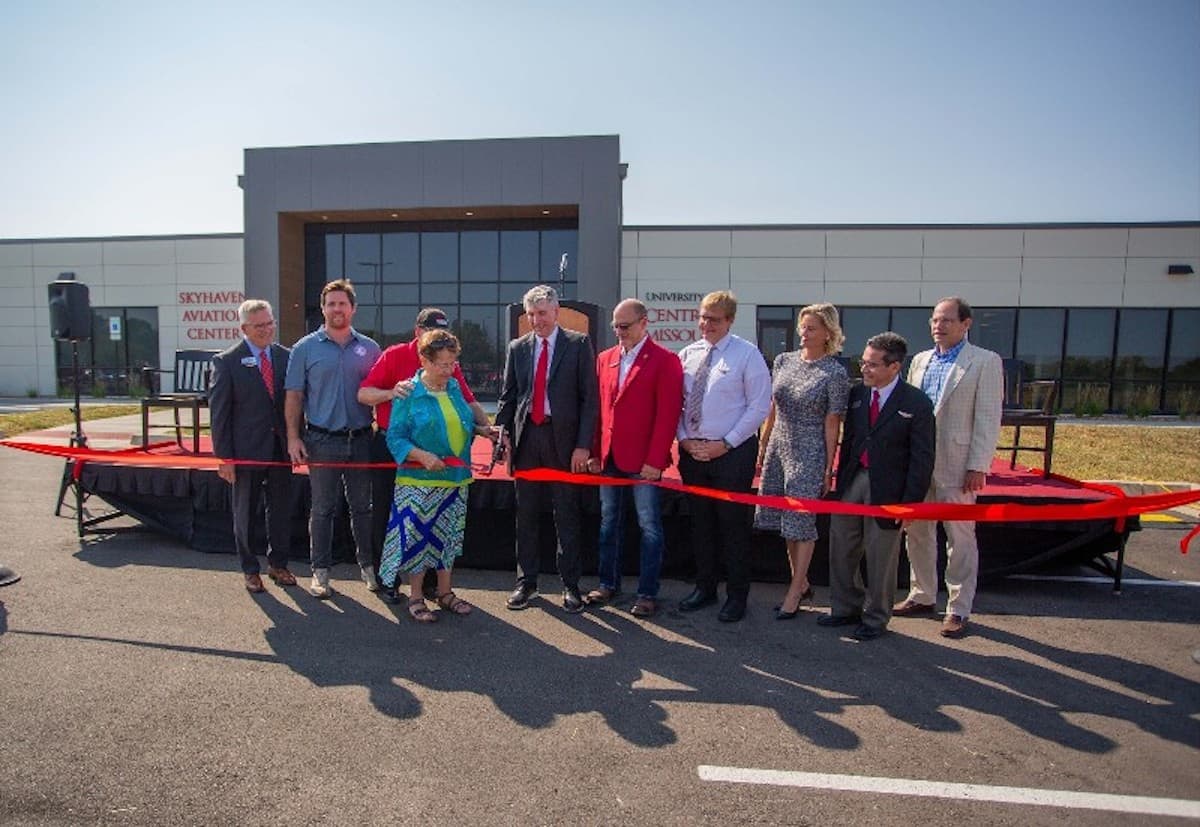 WARRENSBURG, Missouri — The University of Central Missouri celebrated the opening of its new Skyhaven Aviation Center at the Max. B. Swisher Skyhaven Airport (KRCM) Sept. 8, 2023.
"Serving as a catalyst for local and regional economic development while also contributing to the advancement and future of aviation education at UCM, the Aviation Center is a 10,000-square-foot facility that will become the airport's centerpiece," university officials said.
The $5.1 million project was made possible by a combination of funding sources that include private gifts totaling $2.8 million from Warrensburg residents Lynn and Jackie Harmon, the Sunderland Foundation in Kansas City, and other private donors, and $1 million in state funding. The university funded the rest, officials noted.
UCM is the only university in the state of Missouri to operate its own public-use airport, and the only institution in the nation to offer a master's degree in Aviation Management, according to university officials.
The new Skyhaven Aviation Center was designed to serve the needs of private pilots while also preparing UCM students to become professional pilots.
The new facility includes amenities such as a pilots' lounge, lockers, bathroom with a shower, and quiet room to serve local and corporate aviators. It also has a large shared space with a dispatch station, break room, airport staff offices, vending machines, conference room, work room, and 30 private flight instructor-aviation student pods for individual meetings and educational purposes, university officials said.
The ribbon-cutting ceremony celebrating the opening of the University of Central Missouri's new Skyhaven Aviation Center included David Pearce, UCM executive director for governmental relations; Scott Fitzpatrick, Missouri state auditor; Warrensburg residents Lynn and Jackie Harmon; Roger Best, university president; Senator Denny Hoskins, Missouri District 21; Tyler Young, senior professional pilot student from Troy, Missouri; Courtney Goddard, vice president for advancement and executive director of the UCM Alumni Foundation; Mark Suazo, dean of the Harmon College of Business and Professional Studies; and Ed Hassinger, Missouri Department of Transportation deputy director and chief engineer.