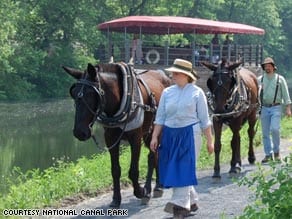 Two mule skinners, who are seasonal workers dressed in colonial garb at a historical park which has one boat pulled by two mules, are being subjected to nonsensical TSA rules similar to those currently threatening general aviation, according to Mike M. Ahlers, writing for CNNPolitics.com.
A federal anti-terror law that requires many pilots, truckers, ship and boat crews, longshoremen and others to submit to criminal background checks has ensnared another class of transportation worker: mule drivers, Ahlers wrote. Mule skinners must abide by federal law and apply for Transportation Worker Identification Credentials, the TSA says. This revelation comes as general aviation pilots, airport officials and FBO operators are beginning to push back on TSA initiatives, hoping to force them through the NPRM process when the initiative would have long term financial and operational consequences to airports, airlines and the GA community.
The staff of the Airports Council International has been directed to work with Congress and the new Administration to achieve that goal, wrote Greg Kelly of the Savannah/Hilton Head International Airport. "We feel strongly that the TSA is engaged in mission creep and that they should be forced back into line as a Federal Agency and only engage in regulatory and passenger/bag screening activities," he stated. "Initiatives…which bypass the NPRM process are actually unfunded mandates that do little to improve security at our airports but go a long way toward dragging our industry down. They are systematically suffocating the very industry they were created to protect."
Kelly believes the TSA can be forced to change its proposed rules affecting general aviation "if all of the members of the aviation community form a unified front on this. Now is the time to make headway while the new Administration personnel are being infused into the agencies," he wrote.
As to the mule skinners – in the case pointed out by Ahlers, seasonal workers who dress in colonial garb at a historical park in Easton, Pennsylvania – they must apply for biometric Transportation Worker Identification Credentials, according to the TSA, which says it simply is bound by federal law.
The requirement has officials of the Hugh Moore Historical Park perplexed, Ahlers wrote. "We have one boat. It's pulled by two mules. On a good day they might go two miles per hour," Sarah B. Hays, the park's director of operations, told him. The park's two-mile canal does not pass any military bases, nuclear power plants or other sensitive facilities and, park officials commented wryly, the mules "could be considered weapons of mass destruction only if they were aimed at something resembling food."
In December, Hayes wrote to Rep. Charles Dent, R-Pennsylvania, about the requirement. He, in turn, wrote to the TSA requesting a waiver, noting that the mode of transportation involved was "mule-drawn canal boats."
In January, the TSA responded, stating that the Maritime Transportation Security Act of 2002 applies to "all mariners holding U.S. Coast Guard-issued credentials." That apparently includes canal-barge drivers. "We encourage the crew members…to obtain a TWIC at their earliest convenience to comply with these requirements and not risk suspension or revocation of their other credentials," the TSA wrote ominously.
On Feb. 25 the mule skinner debate reached Capitol Hill, when Dent asked new Homeland Security Secretary Janet Napolitano about the necessity for conducting background checks on mule drivers. He displayed a photograph of the two mules in question, Hank and George, tugging a canal boat in the company of two park employee mule drivers in colonial working attire.
"Now, Hank and George, while sometimes ornery, are not terrorists," Dent explained to Napolitano.
Napolitano said she would try to be flexible. "Obviously, this is a picture designed to say, 'Hey, isn't it absurd that they be required to have TWIC cards,'" she responded. "Um, let's work with you on this particular case, if we might." Dent said he will work on a "common sense" solution with Napolitano.
General aviation needs a friend like Dent in Congress.