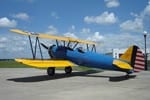 This summer, the Air Zoo in Kalamazoo, Mich., will offer flights -courtesy of Waldo Wright's Flying Service – in a rare 1929 New Standard D-25 biplane and a PT-17 Boeing Stearman (pictured).
Advance gift certificates for these flights, which will be flown from June 11 through Sept. 8, are now available for purchase.
The New Standard D-25 is one of only seven still flying in the world. This model was produced in the United States from 1929-1931 and only 62 were originally made. The aircraft was designed by Charles Day for Ivan Gates' Flying Circus. The New Standard can hold up to four passengers (plus the pilot). There is no minimum age for flying. Flights are $69.95 plus tax for each person.
The Boeing Stearman was designed by Lloyd Stearman in 1934 and was then purchased by Boeing to fulfill the need for a trainer for World War II. The Stearman flight is for the adventurous – the passenger will fly the plane for 30 minutes. The pilot will handle the takeoff and landing. No prior flying experience is necessary to enjoy this adventure. Flights in the Stearman are $229 plus tax (one passenger at a time). While no acrobatics will be performed, passenger-pilots will be given the opportunity to perform some of the same maneuvers the cadets flew in World War II: shallow and steep bank turns, lazy eights, chandelles and stalls, after which they will fly back to the home field and shoot the pattern to land. Passenger-pilots must be at least 5 feet tall and weigh 220 pounds or less.
For more information: 269-382-6555 or AirZoo.org.