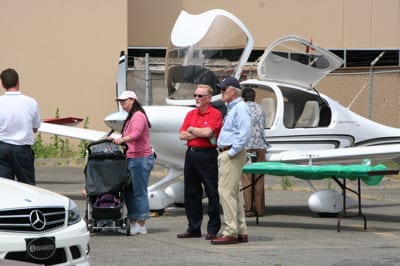 Galvin Flying Services hosted its first Piston Aircraft Expo last Friday at Seattle's Boeing Field. The idea was simple enough. Galvin opened a portion of their ramp to showcase some of the new aircraft a prospective buyer might find on the market. This was not a Galvin exclusive event either. Pete Aldassy, an aircraft salesman for Galvin, invited a number of area salespeople to show off their product.
Included on the ramp was a CubCrafters SportCub, a Cessna Corvaliss TT and 400, a Hawker Beechcraft Premier I, a KingAir B200 and a Baron 58, a Piper Meridian G1000, one Remos GX, a Jabiru J250-SP, an Evektor SportStar Plus, a Diamond Star XLS, a Mooney Acclaim, and a Cirrus SR22 Turbo GS. In addition, to spice up the ramp even more, local auto dealer, Barrier Motors was invited to bring a few vehicles as well. Barrier brought a Porsche Carrera S, an Audi Q5, a Porsche Cayenne Transsyberia Tiptronic, a Mercedes Benz C63, and a Volvo XC60.
While traffic was a bit light, a high traffic count was not the goal. "We sent about 6,000 postcards to local area prospects," said Emily Steiner from Galvin Flying. "We'll be thrilled to get a hundred or so people down to see some of what is currently available on the market."
The dealers I spoke with were happy to be their, regardless of traffic count. John Forehand brought the Meridian G1000 from Oregon. He said they are looking to do the same thing at their base of operation. "Bringing in as many different kinds of aircraft will attract the broadest range of customers possible, and that's a good thing."
Be on the lookout for more of these small events to pop-up around the country.